Good morning, Quartz readers!
Here's what you need to know
Mali's president resigned and dissolved the government. Ibrahim Boubacar Keïta made the announcement in a televised address, after being detained alongside the prime minister by soldiers yesterday. Protesters have called for Keïta's ouster for weeks, and the UN security council will convene an urgent meeting to discuss the situation.
The EU holds an emergency summit on Belarus. The bloc's leaders will meet today in response to Minsk's violent crackdown on protesters, as president Alexander Lukashenko tries to hold on to power and even suggested the possibility of Russian military intervention. Meanwhile, the newly formed opposition council, which Lukashenko has accused of attempting to stage a coup, will discuss its plans.
Australia announced a coronavirus vaccine deal. Under the partnership with British-Swedish pharmaceutical company AstraZenec, the country will be able to provide every Australian with the vaccine for free, should trials prove to be successful. The vaccine, developed by the University of Oxford, is currently in its phase-three trial.
Japanese experts headed to Mauritius for an oil spill clean-up. They will use special oil-absorbent materials to help soak up the tonnes of oil that leaked from a Japanese-owned ship, which ran aground on a coral reef last month and whose captain has been arrested by Mauritian authorities.
The Democrats formally nominated Joe Biden. Party leaders including former presidents Bill Clinton and Jimmy Carter, as well as prominent Republicans including former secretary of state Colin Powell, spoke in support of the presidential candidate on the second night of the Democratic national convention.
---
The climate economy in one chart
ExxonMobil used to be the crown jewel of the US economy. From 2006 to 2011, with oil prices at historic highs, it was the most valuable company in the S&P 500, with a market capitalization that exceeded $500 billion.
Since then, ExxonMobil's fall from grace has been swift and steep. It now ranks at #24 in the S&P—below Home Depot. And it's not alone: Oil companies, which once held center stage in the S&P, are now bit players, thanks to the crashing price of oil and its increasingly dim outlook. The oil industry's decline is evidence of a global economy that is shifting inexorably toward cleaner fuels.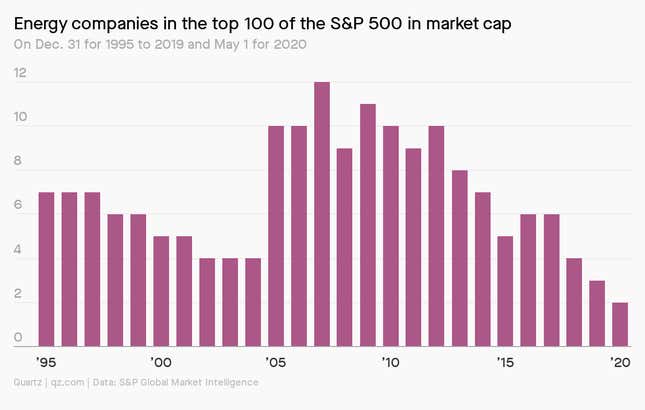 Go deeper into the fate of fossil fuels, and keep an eye on Quartz's Climate Economy obsession.
---
For better Covid communication, go Dutch
Many governments and public health systems around the world have failed at communicating critical Covid-19 information so that most people could understand it, according to a new analysis published on the JAMA network (pdf). The average American, for example, reads at an 8th grade level—that's about 13-14 years old—but the study showed that literature made available about Covid-19 by the Centers for Disease Control and Prevention assumed an 11th grade reading level. Information from the UK, Germany, South Korea, Israel, and Norway, in addition to the World Health Organization, were all on par with the US, while the Netherlands made its information the simplest to understand, at just below an 8th grade level.
The researchers didn't compare countries' reading levels with Covid-19 outcomes like the infection and mortality rate. But they did touch on how these scores can be correlated with how a country manages the coronavirus: "Nonadherence to readability standards may have a greater influence in communities with lower health literacy, potentially exacerbating the disparate effects of the pandemic," the researchers write.
---
We've got you covered
On June 30, China enacted a national security law in Hong Kong criminalizing secession, terrorism, collusion with foreign forces, and subversion. Who does the law cover?
Hong Kong citizens living in Hong Kong
Hong Kong citizens living in Hong Kong and abroad
All Chinese citizens
Everyone on Earth
The pro-democracy fight over Hong Kong has evolved from local protest movement to global issue at remarkable speed, with the security law pushing discussion of the city's freedoms into the highest levels of government, and prompting a coordinated international response by some of the world's most powerful nations.
The answer to the above question is 4. Everyone on Earth. Learn how the fight for the future of Hong Kong has become the world's fight, in our latest field guide.
✦ Becoming a member directly supports the work we do—including the work of those who report from Hong Kong—and gives you access to every bit of it. Join us for 40% off your first year.
---
You asked about air purifiers
Do air filters and purifiers actually help reduce risk of getting infected by the coronavirus? 
There's no one foolproof system to combat Covid-19 indoors. Buildings with central heating and cooling already have air filtration systems that can help reduce the amount of coronavirus particles in the air, lowering the risk that the particles will cause new infections. Many of them use mechanical filters to trap microbes and other particles in the air; depending on their performance level, filters can collect large particles such as dust and pollen, or particles as fine as smoke and pollution.
Some systems on the market are less well understood, and may come with additional risks. If you live in a single-family household, a regular mechanical filter central air system is probably fine, says Bill Bahnfleth, a professor of architectural engineering at Pennsylvania State University. If you don't have central air, an air purifying system may do the trick. If you're noticing a lot of "may" and "probably" in our answer, that's because there's no magic bullet. "No filter is really perfect protection against infection. There are many ways for them to fail to capture all the particles that are in the air," Bahnfleth says. In shared indoor spaces, masks are still a great way to keep coronavirus-carrying particles out of the air we breathe.
---
Surprising discoveries
A "lottery lawyer" was accused of fraud. The New York attorney promised to protect jackpot winners from scammers but swindled them instead, according to federal prosecutors.
Centuries-old mud could hold the secret to saving polluted rivers. Researchers in the US say that removing colonial-era "legacy sediment" could be a new approach to restoring waterways.
Someone needs to explain to Brits what "furlough" means. Two-thirds of those paid not to work in April and May did their jobs anyway.
Researchers rediscovered the Somali sengi elephant-shrew. None of the mouse-like creatures had been seen in the wild since the 1960s.
Cloudy with a chance of cocoa powder. A Swiss town was dusted in cocoa after a ventilation system malfunction at a local chocolate factory.
---
Our best wishes for a productive day. Please send any news, comments, legacy mud, and missing shrews to hi@qz.com. Get the most out of Quartz by downloading our app on iOS and becoming a member. Today's Daily Brief was brought to you by Mary Hui, Isabella Steger, Liz Webber, and Susan Howson.