Good morning, Quartz readers!
Here's what you need to know
Joe Biden accepts the Democratic Party nomination for US president. The former vice president's speech caps off night four of the Democratic National Convention on Thursday, local time. Earlier in the day, new US jobless claims climbed back above 1 million while household wealth may be at a new record high.
Russia will start large-scale vaccine trials next week. After the global scientific community questioned the rapid approval of the so-called "Sputnik V" vaccine, researchers said they would conduct mass testing on 40,000 people and provide data to the World Health Organization. Meanwhile, Johnson & Johnson announced a trial of 60,000 volunteers and Australia is debating a decision to make vaccines mandatory.
Alibaba is riding high on China's recovery. The tech giant reported quarterly revenue increased 34% year-over-year, yet more proof that retail's future is in Asia. However, Alibaba executives said they're keeping an eye on US actions against Chinese companies.
TikTok took down 380,000 US videos for hate speech this year. Civil rights groups have warned the app has been spreading white supremacist content. TikTok has other problems to worry about as well due to a looming US ban, while users in post-ban India are finding out that copycats are no replacement for the original.
A Hong Kong court rules on habeas corpus for the national security law. The High Court will decide Friday if the first man charged under the new law is being detained lawfully. Meanwhile, Hong Kong said it will end a mutual legal assistance agreement with the US as retaliation for the US suspending its extradition treaty with Hong Kong.
---
Obsession Interlude: The Climate Economy
We asked two of the minds behind our Climate Economy obsession—Tim McDonnell and Michael J. Coren—to recommend three books about climate change. They gave us four (reporters!):
Go deeper into the fate of fossil fuels, and keep an eye on Quartz's Climate Economy obsession.
---
Belarus's crackdown could squash a budding tech sector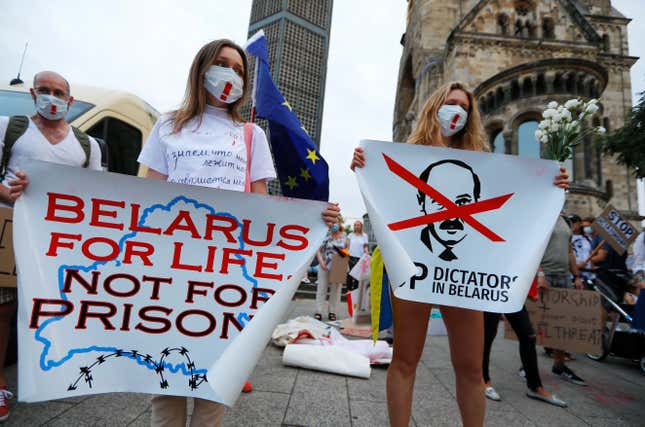 Recent protests mark the end of an uneasy truce between Belarusian president Alexander Lukashenko and the tech sector. Over the past two decades, a prosperous tech hub has emerged in the capital city of Minsk. But in an open letter, over 2,500 tech workers say the country's ongoing political repression threatens to wipe out the $3.1 billion industry.
But now the turmoil in Belarus—one of many countries that have established growing tech hubs as international companies increasingly outsource software development—highlights how a globalized tech workforce can be vulnerable to political upheavals.
---
Charting the cost of childcare
US senator Elizabeth Warren isn't the first to say that America's childcare system is broken. But in a speech during the Democratic National Convention, she chose a striking comparison. "It's time to recognize that childcare is part of the basic infrastructure of this nation. It's infrastructure for families," Warren said.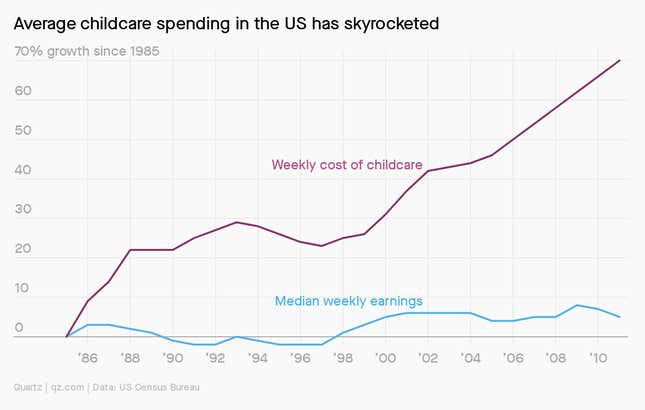 The US has some of the highest childcare costs in the world. A couple with two young children on average wages have to spend over 33% of their income on childcare. And due to Covid-19, many US parents are also now responsible for their children's online education.
---
A more valuable—and more Chinese—financial hub
Amid political upheaval, the Hong Kong Exchanges & Clearings has reclaimed its crown as the most valuable exchange operator in the world by market capitalization thanks to the decoupling between the US and China.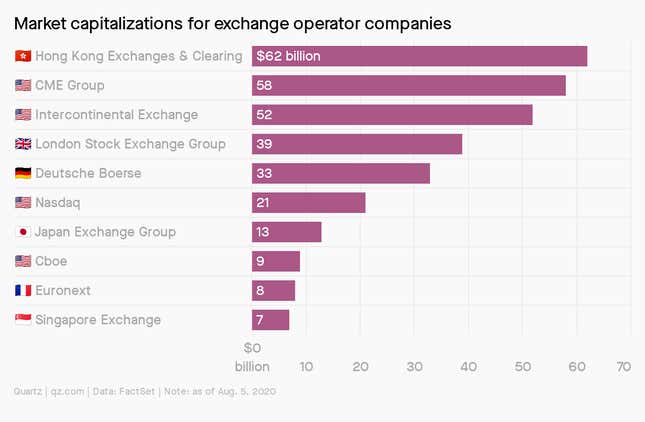 The question is whether this recent success is fleeting and whether deeper structural factors—fewer freedoms and changes to the rule of law—will erode Hong Kong's financial stature over time. Read more in our field guide to Hong Kong's global fight.
✦ Becoming a member directly supports the work we do—including those who report on the unfolding situation from Hong Kong—and gives you access to every bit of it. Join us for 50% off your first year by using code "SUMMERSALE".
---
You asked about the dual purpose of masks
One keeps hearing that surgical masks only protect others but not the wearer. How is it possible for it to work one way and not the other? And if I have to be in an environment where nobody else wears a mask indoors, should I not even bother to wear one for my own protection?
We hear you, reader: Communication about masks is all over the place. The truth is that a mask helps to protect in both directions, but it's a matter of degree.
If you're sick, surgical and fabric masks catch most of the virus in your coughs and sneezes, reducing the infectious stuff out in the world for others to inhale. You can be sure that if you wear a mask, you're lowering the risk that you'll infect people around you.
You can't be sure your mask will block every incoming virus. This virus can exist in very small, airborne particles—light enough to wind around the edges of a loose-fitting mask and into your airways. If you do inhale viral particles, your mask can help ensure that there are fewer of them, which could play a role in how sick you get. But it's not perfect protection.
That's why, to your second question, you should always wear a mask indoors, especially if others aren't being careful and wearing their own masks. Some protection is better than none.
Surprising discoveries
Try it sotto voce. Researchers found singing or playing softly makes musicians less likely to spread Covid-19.
A pair of Gandhi's glasses are up for auction. The spectacles are valued at up to $19,500 but could sell for much more.
There's a dating app just for Tesla owners. Perhaps its developers will next make one for owners of Tesla stock, which topped $2,000 Thursday.
Alaskan salmon are getting smaller. A study looking at fish size over the last 60 years pointed to climate change as a likely factor.
The party is over. Airbnb banned events at its listings, while Los Angeles cut power at an "influencer house" that kept holding illicit bashes.
---
Our best wishes for a productive day. Please send any news, comments, mumbly music, and significant spectacles to hi@qz.com. Get the most out of Quartz by downloading our app on iOS and becoming a member. Today's Daily Brief was brought to you by Michael J. Coren, Tim McDonnell, Nicolás Rivero, Cassie Werber, Jackie Bischof, Katie Palmer, Liz Webber, and Max Lockie.