Good morning, Quartz readers!
Here's what you need to know
Russian doctors denied that opposition leader Alexei Navalny was poisoned. The dissident is in a coma in a Siberian hospital, after suddenly falling ill on a flight, and medical specialists there won't allow him to be moved to Germany. His spokeswoman called their decision "a direct threat to his life."
Joe Biden accepted the Democratic nomination for US president. The former vice president's speech capped off night four of the party's national convention. Earlier, new US jobless claims climbed back above 1 million while household wealth may be at a new record high.
South Korea could have a new coronavirus outbreak on its hands. The government said a cluster of cases in the capital Seoul could spread quickly. Conservative groups held a political rally last week, attended by thousands, including churchgoers who have been accused of not adhering to restrictions.
Retail sales in the UK have recovered to pre-pandemic levels. Sales shot up in July, the first full month where stores selling non-essential goods were allowed to open since the start of Britain's lockdown in late March. But public debt topped £2 trillion ($2.6 trillion).
The biggest soccer competition for women's clubs resumes today. The European Champions League is at the quarter-final stage and, because of Covid-19, all eight teams will play a mini-tournament in northern Spain. The men's final, between Bayern Munich and Lyon, is in Lisbon on Sunday.
---
Vinyl sales rock on
It's not often that a 19th century old technology makes a comeback. But that's exactly what has happened to the phonograph record, Quartz's Dan Kopf reports. After more than a decade of increasing sales, and the boom continuing through a pandemic, it's safe to say it: Vinyl is back, baby.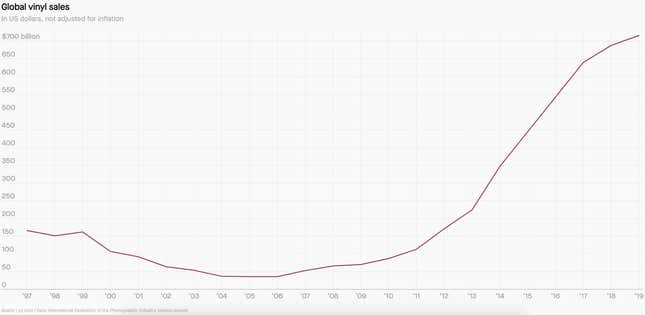 Despite coronavirus, the demand for vinyl records has been too too strong to keep the industry down. Manufacturing quickly got back to normal, and, in the US, 2020 unit sales are up over 17% from 2019. The appeal of the record, with its tangibility, beauty, and history, just keeps on growing.
---
Obsession Interlude: The Climate Economy
We asked two of the minds behind our Climate Economy obsession—Tim McDonnell and Michael J. Coren—to recommend three books about climate change. They gave us four (reporters!):
Go deeper into the fate of fossil fuels, and keep an eye on Quartz's Climate Economy obsession.
---
Belarus's crackdown could squash a budding tech sector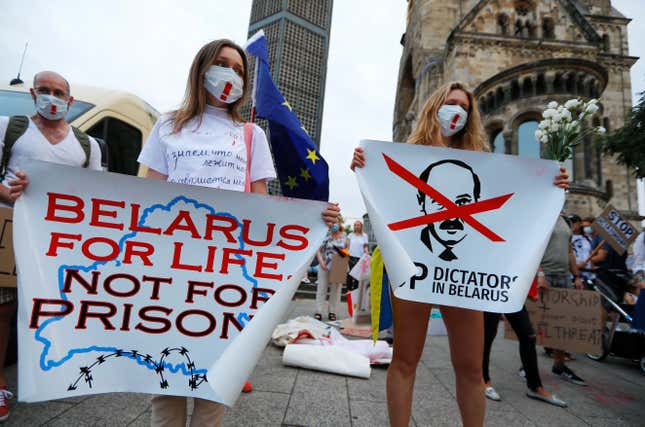 Recent protests mark the end of an uneasy truce between Belarusian president Alexander Lukashenko and the tech sector, writes Nicolás Rivero. Over the past two decades, a prosperous tech hub has emerged in the capital city of Minsk. But in an open letter, over 2,500 tech workers say the country's ongoing political repression threatens to wipe out the $3.1 billion industry.
The turmoil in Belarus—one of many countries that have established growing tech hubs as international companies increasingly outsource software development—highlights how a globalized tech workforce can be vulnerable to political upheavals.
---
A more valuable—and more Chinese—financial hub
The Hong Kong Exchanges & Clearings has reclaimed its crown as the most valuable exchange operator in the world by market capitalization thanks to the decoupling between the US and China.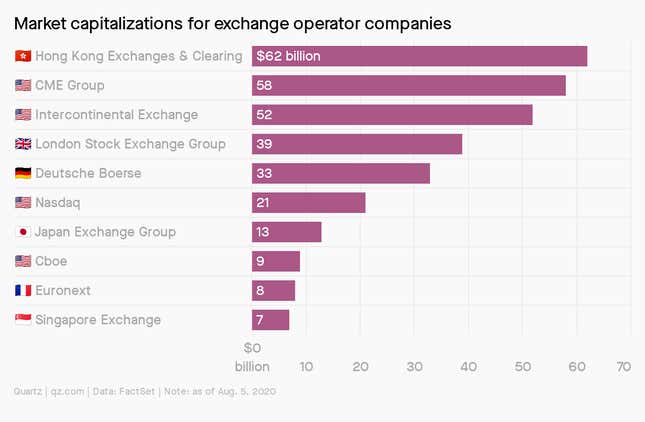 The question is whether this recent success is fleeting and whether deeper structural factors—fewer freedoms and changes to the rule of law—will erode Hong Kong's financial stature over time. Read more in our field guide to Hong Kong's global fight.
✦ Becoming a member directly supports the work we do—including those who report on the unfolding situation from Hong Kong—and gives you access to every bit of it. Join us for 50% off your first year by using code "SUMMERSALE".
---
You asked about the dual purpose of masks
One keeps hearing that surgical masks only protect others but not the wearer. How is it possible for it to work one way and not the other? And if I have to be in an environment where nobody else wears a mask indoors, should I not even bother to wear one for my own protection?
We hear you, reader: Communication about masks is all over the place. The truth is that a mask helps to protect in both directions, but it's a matter of degree.
If you're sick, surgical and fabric masks catch most of the virus in your coughs and sneezes, reducing the infectious stuff out in the world for others to inhale. You can be sure that if you wear a mask, you're lowering the risk that you'll infect people around you.
You can't be sure your mask will block every incoming virus. This virus can exist in very small, airborne particles—light enough to wind around the edges of a loose-fitting mask and into your airways. If you do inhale viral particles, your mask can help ensure that there are fewer of them, which could play a role in how sick you get. But it's not perfect protection.
That's why, to your second question, you should always wear a mask indoors, especially if others aren't being careful and wearing their own masks. Some protection is better than none.
Surprising discoveries
Thieves broke into a ninja museum in Japan. They stealthily stole a million yen.
Try it sotto voce. Researchers found singing or playing softly makes musicians less likely to spread Covid-19.
There's a dating app just for Tesla owners. Perhaps its developers will next make one for owners of Tesla stock, which topped $2,000 yesterday.
A German school is offering money for nothing. The University of Fine Arts in Hamburg is taking applications for "idleness" grants.
Alaskan salmon are getting smaller. A study looking at fish size over the last 60 years pointed to climate change as a likely factor.
---
Our best wishes for a productive day. Please send any news, comments, an original 1987 pressing of The Black Album, and quiet footsteps to hi@qz.com. Get the most out of Quartz by downloading our app on iOS and becoming a member. Today's Daily Brief was brought to you by Hasit Shah, Katie Palmer, Liz Webber, and Max Lockie.