Good morning, Quartz readers!
Here's what you need to know
Wisconsin called in the National Guard to deal with escalating protests. Jacob Blake, who is Black, was shot in the back by Kenosha police at the weekend in front of his three children, causing an eruption of anger over the last two nights across the US state. Blake remains in serious condition in a Milwaukee hospital.
Virgin Atlantic creditors are voting on a $1.6 billion rescue plan. The UK-based international airline, which the British government refused to bail out, set out the terms of the deal last month. It owes hundreds of suppliers—many of whom are having their say today—thousands of dollars each, and has already cut more than 3,500 jobs.
India is reportedly cutting Huawei technology from its telecoms networks. There are no specific directives from the government, but according to the Financial Times (paywall), the ongoing border dispute between India and China is leading to an informal ban on Chinese technology.
Germany's economy shrank nearly 10% compared to the previous quarter. The April-June period was the peak of the pandemic across Europe and consumer spending, company investments, and exports all collapsed. The 9.7% fall in GDP is not as bad as feared, and a recovery is expected in the next quarter as the economy reopens.
Donald Trump formally received the Republican nomination. On the opening day of the party's national convention in Charlotte, North Carolina, the US president tried to convince supporters that, despite no evidence to support the claim, November's election will be "rigged."
---
Obsession Interlude: Fixing capitalism
To understand a Quartz obsession, it helps to ask the experts. Here's how Roberto Mangabeira Unger, a philosopher, Harvard Law professor, and former Brazilian "minister of ideas," explains the perils of modern capitalism:
"The axis of ideological controversy in the world for 200 years has been the state against the market—more state less market, more market less state, or some synthesis of market and state. Under this view we can do only two things with the market economy. We can regulate it or we can attenuate its inequality…What we cannot do is what we must in fact now do, which is to reinvent the market economy, the institutional arrangements, and the legal rules that make it what it is, so that more people can have more access to more markets in more ways, but also so that we can create a basis on which the most advanced practice of production, the knowledge- based productive activity, can be propagated throughout the entire economy and include the majority of the labor force."
Keep tabs on the Fixing Capitalism obsession here.
---
Charting H-1B software engineer salaries
American companies are so dependent on the talent that comes to the US on H-1B visas that they're willing to pay top dollar for it. Facebook and Google dominated the top-paid jobs among H-1B applicants in software engineering roles in the first eight months of this year, with one Facebook employee granted a visa on a $1.9 million base salary.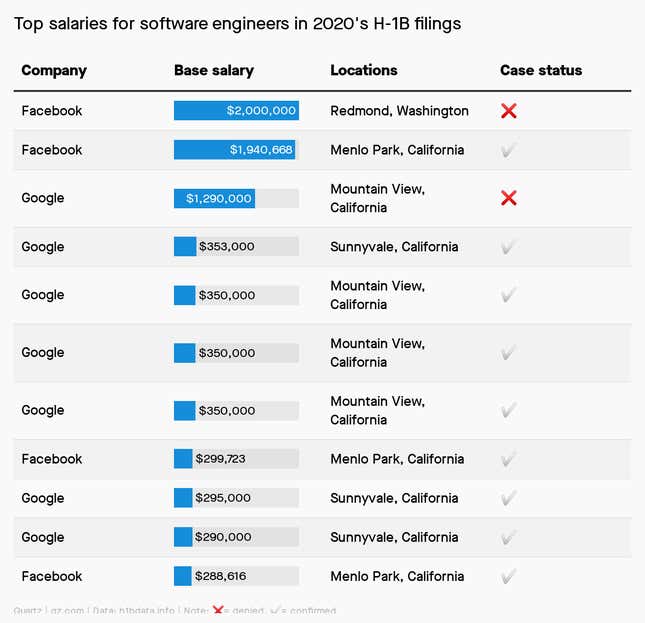 Of course, these are anomalies in the most popular H-1B profession. The average salary for the 190,000 software engineers applying for H-1B visas was just over $100,000. And despite a recent crackdown, Big Tech giants still saw 99% of their H-1B applications approved so far this year.
---
A short history of online higher education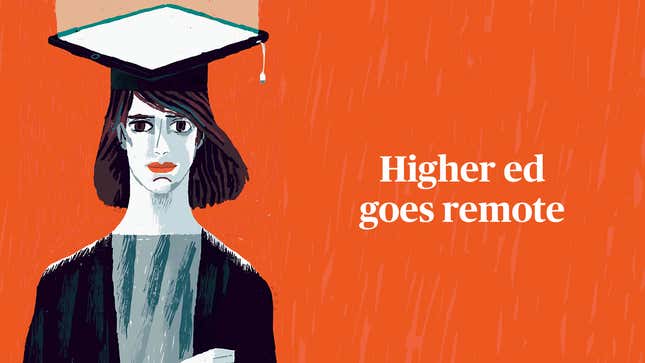 🎓 Remote learning in the form of mail-in college correspondence courses dates back to the 19th century. The first institution to offer degrees online was Jones International University, a for-profit school founded by cable TV entrepreneur Glenn Jones.
🎓 Other for-profit schools soon followed. Using aggressive—and at times deceptive and fraudulent—marketing techniques and pushing federal student loans, the for-profit online sector boomed. By 2010, more than 2 million learners, a tenth of all college students, were enrolled in for-profit institutions.
🎓 It didn't take long for the industry to collapse, however, as investigations and lawsuits exposed the for-profit institutions' low graduation rates, high levels of student indebtedness, and poor record of career placement.
🎓 Now, an eclectic group of private, non-profit schools have seized the opportunity to invest in their online capabilities and, just as critically, their marketing. 
Read our field guide to higher ed to learn how the coronavirus pandemic is redirecting remote education yet again.
✦ Even if your student days are behind you, a Quartz membership ensures you'll keep learning every day. Get 50% off your first year with the code "SUMMERSALE."
You asked about endemic diseases
Is coronavirus going to stay with us like the HIV virus?
Yes and no. Experts—including Anthony Fauci, director of the US National Institute of Allergy and Infectious Diseases—say the ease with which coronavirus is passed from one person to another means that Covid-19 will likely become endemic in society. That's another way of saying that it's constantly present in a population at a baseline level, like the flu. In that sense, coronavirus is going to stay with the world more than HIV.
But on an individual level, Covid-19 may be easier to immunize against than HIV. An HIV vaccine has eluded researchers for decades because it's a particularly wily kind of pathogen called a retrovirus, and theoretically, a coronavirus vaccine should be much more straightforward. A vaccine won't eliminate Covid-19 entirely—we've only ever gotten rid of one disease, smallpox, through vaccination, and we've been struggling to stamp out polio for decades. But it could be a valuable tool in holding it at bay.
---
Surprising discoveries
An escaped tortoise didn't make it very far. More than 10 weeks after it bolted from its Tennessee home, the slow-moving reptile was discovered less than a mile away.
Rogue planets can run but no longer hide. Thanks to a new telescope, NASA will be able to identify mysterious planets that float in space without orbiting a sun.
Two soccer teammates are having very different weeks. Manchester United's Harry Maguire is on trial for assault in Greece, while his defensive partner Victor Lindelof caught a thief who stole an old lady's purse.
Your face mask is even more valuable than you think. An American wearing a mask for one day helps prevent future lockdowns and in turn, boosts US GDP by $56.14.
A tiny meteorite may shed light on evolution. Asuka 12236 is the size of a golf ball, but its amino acid concentration could help researchers understand how life developed.
---
Our best wishes for a productive day. Please send any news, comments, successfully escaped reptiles, and important rocks to hi@qz.com. Get the most out of Quartz by downloading our app on iOS and becoming a member. Today's Daily Brief was brought to you by Hasit Shah, Susan Howson, and Max Lockie.