Good morning, Quartz readers!
Here's what you need to know
Davos is delayed, but not denied. The World Economic Forum rescheduled its annual summit in Davos, Switzerland, from January to summer 2021 due to coronavirus. A virtual forum will still take place in January, while the summer session may still feature in-person events.
Huawei faces more headwinds. The UK's Supreme Court threw out appeals by Huawei and ZTE over alleged patent infringement, while India reportedly told telecom firms to avoid using Huawei's technology. Meanwhile, the US and Taiwan were probably subtweeting Huawei when they warned against using "untrusted" suppliers for 5G infrastructure.
Amazon and Alibaba are also having trouble abroad. More than 2,000 Indian sellers have filed an antitrust case against Amazon for its alleged favoritism of certain vendors, and Alibaba is reportedly pausing planned investments in the country due to geopolitical tensions.
The US issued sanctions over China's South China Sea operations. The US added export restrictions for 24 Chinese state-owned companies and placed visa limitations on their executives. US legislators are also reportedly debating whether SpaceX's NASA contracts are a national security risk due to Tesla's dealings in China.
China's foreign minister continues his Eurotrip. Wang Yi's stopover in the Netherlands likely didn't go as smoothly as hoped, as Dutch politicians spotlighted China's alleged human rights abuses in Xinjiang and Hong Kong. His impending Norway visit is also a reminder of China's plans to redraw the map of global trade routes.
US venture capital firms added diversity riders. Ten prominent firms said they will now require startups they invest in to "make commercial best efforts" to include investors from underrepresented groups.
Obsession Interlude: Fixing capitalism
Should we be worried about a stock bubble? It seems odd to discuss irrational exuberance when the economy is anything but exuberant, but these are unlikely times.
To help answer this question, consider Boom and Bust: A Global History of Financial Bubbles, a new book by William Quinn and John Turner. Their research suggests there are three necessary ingredients for a financial firestorm: speculation, marketability (how easy it is to buy an asset—think innovation in stock trading apps, or the brainiacs who brought us mortgage-backed securities), and credit.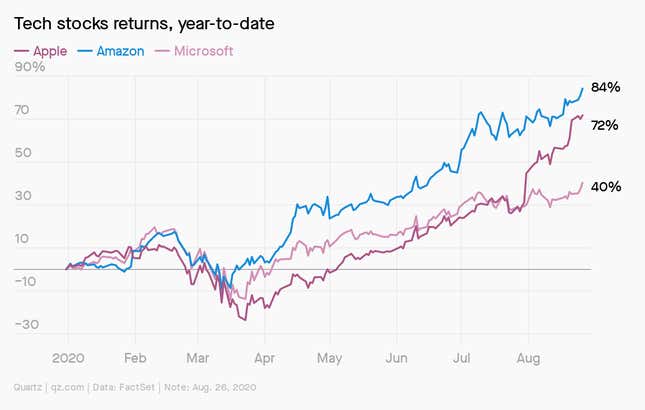 Quinn and Turner find that asset booms are happening more frequently, and that government policy—meant to make housing more affordable, or shed unsustainable debts, for example—is often the spark that lights the financial fire. If ultra-low interest rates and the boom in brokerage apps like Robinhood are any indications, a bubble in equities could be inflating as we speak.
Pop in here to see what else we're covering in our new Fixing Capitalism obsession.
---
Charting the US pandemic pump
The demand for home exercise equipment skyrocketed as a result of US stay-at-home orders. Google searches for "home workout" reached their peak on March 22, the same month that Chinese exercise equipment exports to the US dipped to their lowest point in more than 15 years.
The lion's share of imported exercise equipment in the US comes from China—some 65% last year—where factories were shutting down at the beginning of 2020 due to Covid-19. But imports have since bounced back, nearing $250 million in June. Still, many of those dumbbells are already spoken for, so those who didn't successfully pillage their local gyms may still face delays on orders for new weights.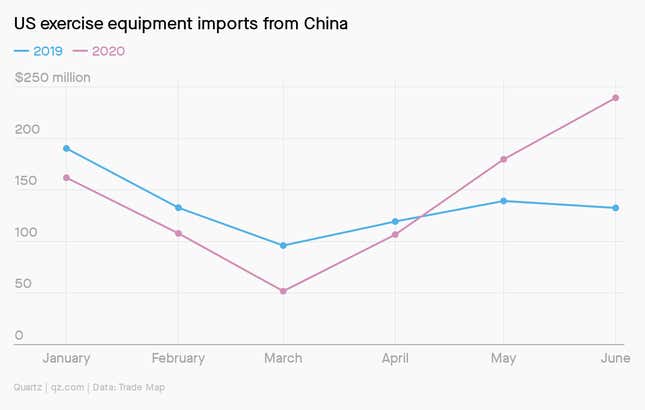 ---
ONLINE LEARNING: PROS AND CONS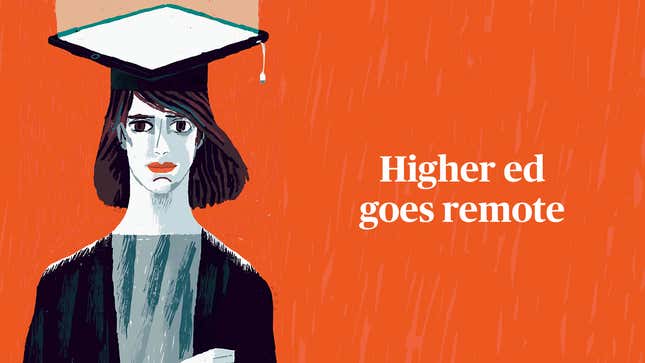 👍 Pros: Online education expands opportunities to students for whom a college degree was previously impossible: working adults, single parents, the disabled, full-time caregivers, and students who couldn't afford the rapidly rising tuition.
👎 Cons: The organic process of learning from peers is replaced by a regimented experience, and that eliminates the campus atmosphere designed to foster critical thinking. Or worse still, online education is just a credentialing service that doesn't leave room for actual learning.
🤔 The debate: Is college about economic advancement and social mobility, and preparing millions of high school graduates for well-paying careers? Or is it about building character and citizens, and training minds to think critically and with skepticism about the world?
Still on the fence? Read more in our field guide to higher ed going remote.
✦ Even if your student days are behind you, a Quartz membership ensures you'll keep learning every day. Get 50% off your first year with code "SUMMERSALE."
We're obsessed with supermarkets
Our pandemic paradise. They're sprawling, they're crowded, they're overwhelming, and they're notorious for tricking you into buying beyond your shopping list. But the pandemic has proven how these cold, giant warehouses of excess can still be essential. From initial panic buys to weekly trips that served as our only exposure to the outside world, supermarkets may have bought themselves more time. The Quartz Weekly Obsession needs a price check at register three.
Add the Quartz Weekly Obsession newsletter to your shopping cart today (it's free!):
---
Surprising discoveries
Music piracy site Napster still exists…and it was just sold to a virtual reality events company.
Rich Nigerians are buying citizenship in the Caribbean. The island nations have fewer visa restrictions than their home country.
Borat beach fashion is back. There's a new one-shouldered men's swimsuit called the "brokini."
Scientists built a teeny-tiny robot army. The nanobots could be used to study the insides of the human body.
Rap's biggest rivals are reuniting…at an auction. Sotheby's is selling love letters written by a teenage Tupac, as well as the crown worn by the Notorious B.I.G. three days before he was shot.
---
Our best wishes for a productive day. Please send any news, comments, hip hop headwear, and any weights you might have lying around to hi@qz.com. Get the most out of Quartz by downloading our app on iOS and becoming a member. Today's Daily Brief was brought to you by Jenni Avins, Jackie Bischof, Liz Webber and Max Lockie