Good morning, Quartz readers!
Here's what you need to know
Shopify is teaming up with TikTok. The deal will enable the e-commerce platform's million-plus merchants to sell their wares via shoppable video ads. Meanwhile, Amazon won an interim order against Reliance Industries' deal to buy the retail business of India's Future Group—but Reliance will likely still come out ahead.
A new bill spells new trouble for Chinese companies in the US. Republican senator Marco Rubio's proposed legislation would block US firms from investing in blacklisted entities and force such companies to delist from US exchanges.
Tencent is buying a stake in a music scouting platform. The Chinese tech conglomerate reportedly plans to announce a deal today with the UK's Instrumental, which uses artificial intelligence to analyze musicians' potential.
Facebook's public policy director for India quit. Ankhi Das had faced questions, including from India's parliament, over a report she discouraged the social media platform from classifying posts from members of the ruling BJP party as hate speech. Facebook said Das is leaving to "pursue her interest in public service."
The US rejected four Hong Kong asylum seekers. The activists were turned away from the US consulate hours after three others were arrested under a provision of the national security law, according to the South China Morning Post. One of those arrested, Tony Chung Hon-lam, the former leader of an activist group, had been planning his own asylum bid.
Tech CEOs testify before the US Senate. Facebook's Mark Zuckerberg, Google's Sundar Pichai, and Twitter's Jack Dorsey are expected to defend their companies' liability protections, data privacy policies, and industry consolidation in a Commerce Committee hearing Wednesday.
---
Charting US voter income levels
Rich places don't necessarily vote the way rich people do. It's a confusing dichotomy, but it played out in the 2016 general election, and looks like it will have a role in the upcoming one as well.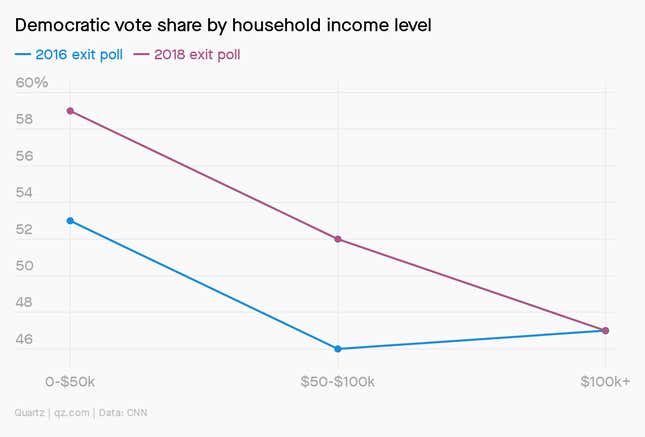 How can Republicans do better among the richest Americans but worse in the richest counties? And how do Democrats do so well in the very richest places, when their strength is among low-income Americans? The high rates of Democratic voting in the poorest counties is the only fact that, on the face of it, makes sense. Dan Kopf will help you untangle it all.
---
Communication conundrums
Getting another human to understand what you want from them is hard, even in the best of conditions. Quartz at Work has advice for all your 2020 communication problems:
😷 Here are three ways to get your point across while wearing a face mask.
📹 It's not just about your face—the secret to better Zoom calls is zooming out.
📣 While it's vital for Black employees to be heard, here's how to make sure your company isn't "fronting."
---
Mental health in the workplace. Join us on Oct. 29 from 11am-12pm US eastern time for our free virtual workshop on how to manage mental health at every level of your organization. Our experts will guide you on how to effectively support your employees' states of mind—whether you're an individual contributor or in middle- or upper-management. Hope to see you there.
---
A safe space for European data
For our latest field guide on the splinternet, we imagined hypothetical news events taking place in 2025, as a way of unpacking the stakes of present-day battles between tech giants, politicians, and internet freedom fighters that are directly shaping our online future.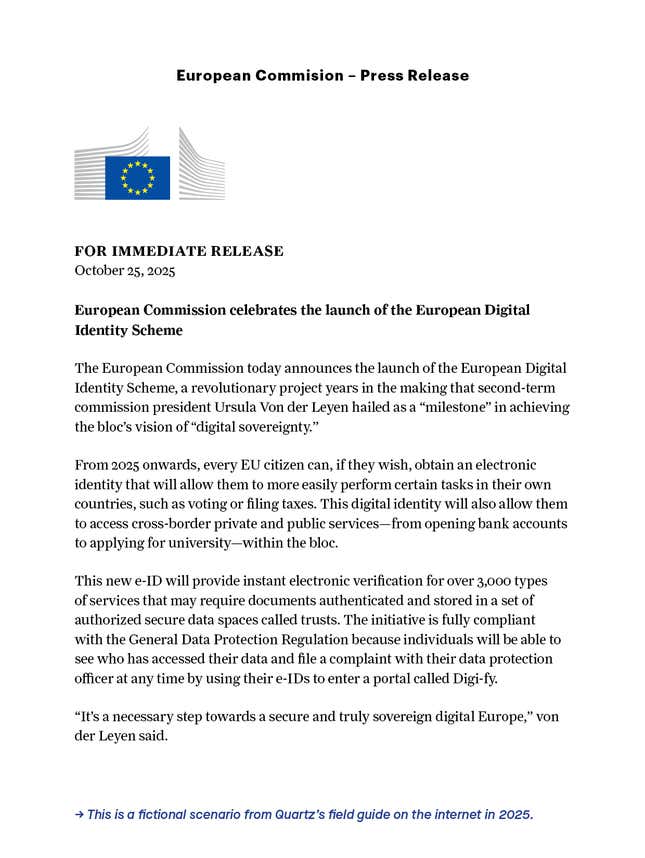 We may look back on the pandemic as having created a historic opportunity for Europe to forge a bloc that's more unified digitally. With offline activities hammered by lockdowns and travel restrictions, the EU saw momentum grow around digitizing public services, including the creation of a voluntary, pan-European method for electronically identifying people, called e-ID.
This nascent initiative has the potential to be transformative for the EU's roughly 450 million citizens—and our fictional example above imagines its success. Read more in our guide to the splinternet.
✦ Let's unify ourselves into one big happy Quartz bloc. Use code QZTWENTY for 20% off a year of membership, and discover all we have to offer.
We're obsessed with GPS
Guidance from above. GPS, or Global Positioning System, is simple in concept, but extensive in the technology and mechanics needed to allow drivers to avoid a traffic-causing accident five miles up ahead. A space-age defense secret turned consumer appliance, GPS continues to shape how we get around. But as the system becomes more accurate, it might actually be making our navigation less efficient. Plug in the coordinates for the Quartz Weekly Obsession.
---
Surprising discoveries
Kazakhstan hated the first Borat, but loves its sequel. Its tourism board is embracing Sacha Baron Cohen's new satire and the titular character's catchphrase, "very nice!"
Japan wants to sweep away its tattoo taboo. Ink aficionados hope tattooed foreign athletes at next year's Tokyo Olympics will help tattoos go mainstream.
Escape room thieves were presented with a riddle. A clue was the only thing they found when they finally broke open the antique prop safe.
Who shot the USSR? Former leader Mikhail Gorbachev blamed the 1980s drama Dallas for sowing enough discontent among Soviet citizens to dismantle communism.
Japan's box office darling is taking other brands to the top. Being associated with Demon Slayer has been golden for a conveyor-belt sushi chain and a canned coffee company.
---
Our best wishes for a productive day. Please send any news, comments, Olympic ring tattoo pics, and ten-gallon hats to hi@qz.com. Get the most out of Quartz by downloading our iOS app and becoming a member. Today's Daily Brief was brought to you by Dan Kopf, Jackie Bischof, Susan Howson, and Liz Webber.