Good morning, Quartz readers!
Here's what you need to know
France and Germany buckle under a new coronavirus wave. In a tacit admission that current measures have failed, both countries announced new partial lockdowns after setting new records for daily infections on Wednesday.
Apple is searching for answers. The Financial Times reports that the iPhone maker is "stepping up its efforts" to develop its own search tool to ward off potential regulations stemming from the US antitrust case against Google. Apple has recently been on a buying spree for AI startups to bolster its Siri voice assistant.
South Korea joined the carbon-neutral club. One day after Japan made a similar pledge, president Moon Jae-in announced that South Korea would also meet the international climate benchmark by 2050. China has said it will achieve carbon neutrality by 2060.
Financial technology is growing up fast. Consumer cryptocurrency leader Coinbase announced a new Visa debit card, payments giant Stripe added a feature to allow its clients to easily invest in carbon reduction companies, and personal loan startup SoFi won preliminary US approval to form a national bank.
Five Chinese nationals were arrested for intimidation of US residents. A total of eight people have been charged over threats and coercion of Chinese individuals living in the US who Beijing alleges have committed crimes. Meanwhile, the New York Federal Reserve published a new paper that questions China's reporting of economic data.
Every organization needs support. Join us on Oct. 29 from 11am-12pm EDT for our free virtual workshop on how to address mental health at the workplace.
---
The great voting debacle
Why don't Americans know how to vote? At least it sure seems that way, judging from their recent Googling. The confusion stems from the US having no central authority in charge of elections.
Maybe the US can learn from other countries' elections. Shorter campaign seasons and a more centralized voting system would go a long way.
And no. Despite what president Donald Trump says, if you've already cast a US ballot, you're most likely unable to change your vote.
Speaking of the election… We're less than a week out from election day in the US—though who knows how long it will be until there's a definitive winner. As we gear up for next week, there's a question we're trying to keep top of mind: What do readers need from us? So we're hoping you'll tell us directly. What are you looking for in Quartz's election coverage?
---
Charting student visas to the US
Covid-19 has led to a massive decline in international students coming to the US, with Chinese student enrollments falling the most. The US's inability to control the virus kept many Chinese students away, but a ban on students and researchers with ties to China's People's Liberation Army also played a role in the drop. Dan Kopf breaks down the data.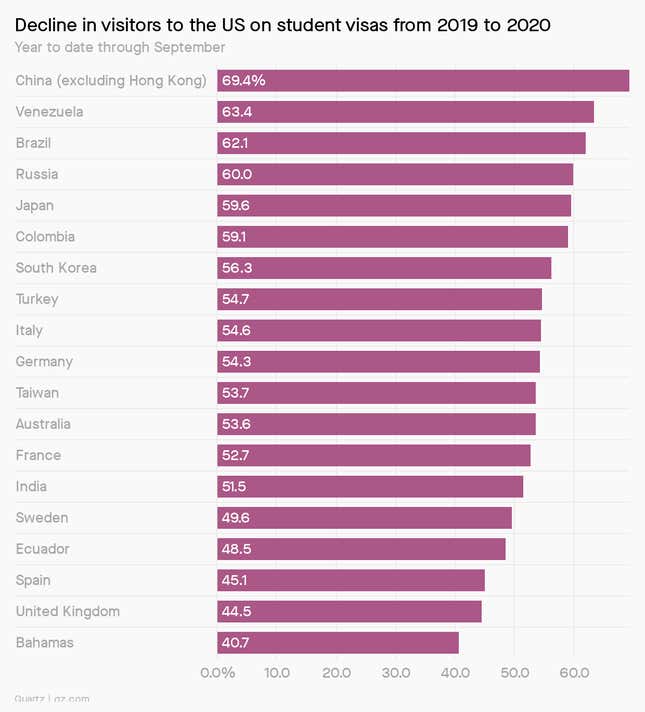 ---
AFRICA, ONLINE YET SHUT OUT
Two trends are on a collision course across several African countries. By 2025, nearly half a billion people will be using mobile internet services in sub-Saharan Africa. But their internet reality could well consist of questionable laws and penalties to limit online expression and frequent shutdowns of the internet to hobble organizations of protests offline.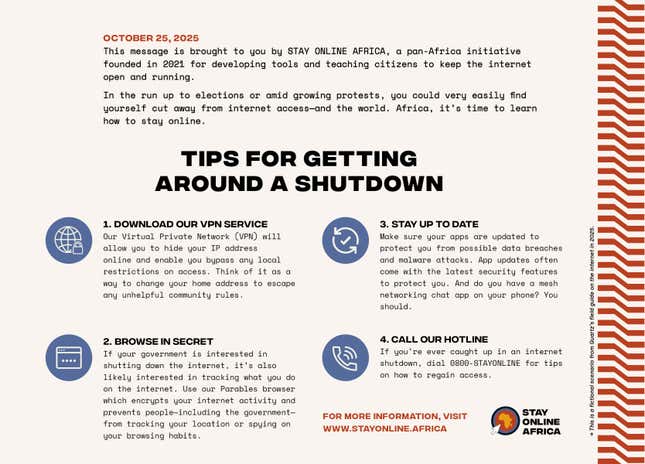 It's unlikely that governments' antics will pass without pushback. Our fictional example imagines what that could look like, in the form of a tip sheet to staying online. Read more in our guide to the splinternet.
✦ Never get shut out of Quartz content by becoming a member today. Use code QZTWENTY for 20% off a year of membership, and discover all we have to offer.
We're obsessed with H.P. Lovecraft
The horror Hollywood can't quit. American author H.P. Lovecraft never saw commercial success during his lifetime, but his terrifying legacy looms large across modern film, TV, comics, and even video games. The thing is, as popular as Lovecraft may be, the guy was an undeniable racist, and it often served as the foundation of his writing. Whether or not we should still enjoy or even appreciate Lovecraftian horror is a question scholars continue to debate. The Quartz Weekly Obsession invites you to be afraid, be very afraid.
---
Surprising discoveries
Japan has a new "Trump" card. An English-language school is learning by playing a game using cards printed with quotes from both Donald Trump and Joe Biden.
Before reality TV, there were dance marathons. But it turns out that the Great Depression-era relic has a depressing story to tell.
Pop stars need to compete with virtual idols now. No longer satisfied with training children from an early age, a new K-pop group will feature virtual members.
Global financial plumbing breaks down. A European Central Bank glitch caused a $473 billion error with the potential to cause real-world damage.
This email seeks a new deputy editor. If you think you'd enjoy writing the Quartz Daily Brief as much as you enjoy reading it, do consider applying.
---
Our best wishes for a productive day. Please send any news, comments, dance marathon numbers, and fake pop singers to hi@qz.com. Get the most out of Quartz by downloading our iOS app and becoming a member. Today's Daily Brief was brought to you by Adam Epstein, Dan Kopf, Susan Howson, and Max Lockie.