Good morning, Quartz readers!
Here's what you need to know
The European Central Bank holds its firepower. It's expected to resist calls for additional stimulus measures and instead signal action for December, as fresh lockdown measures to control surging infections raise fears of more economic gloom. Meanwhile, European Commission president Ursula von der Leyen will meet EU leaders to coordinate pandemic measures, including mapping out ICU capacity.
A report on anti-Semitism in the UK Labour party. The equality watchdog, which launched an investigation last May, will publish its findings on allegations that the party is institutionally anti-Jewish. Separately, UK trade minister Liz Truss is expected to lay out principles that will guide the country's future trade policy, and criticize the US and EU's "pernicious" trading practices.
The anonymous Trump critic revealed his identity. Miles Taylor, a former senior official at the US homeland security department who resigned from his post last June, confirmed that he was the author behind the 2018 New York Times op-ed in which he claimed to be "part of the resistance" inside US president Donald Trump's administration.
Tech giants report their third-quarter earnings. Amazon is expected to be the biggest winner, as consumers globally flocked to the e-commerce giant during pandemic lockdowns. Apple, Google, and Facebook will also publish results.
China unveils its latest strategic plans. Initial details on how it will steer its economy in the next five years, as well into 2035, will be published as party leaders wrap up their four-day meeting at which tensions with the US were in focus. However, Huawei might get a lifeline, with the US planning to allow some chip firms to sell components to the Chinese tech giant for non-5G use.
A Hong Kong activist was charged with secession and denied bail. Nineteen-year-old Tony Chung was arrested near the city's US consulate on Tuesday, where he was reportedly hoping to seek refuge alongside four other activists. He was denied bail and ordered detained until his next hearing in January.
Every organization needs support. Join us on Oct. 29 from 11am-12pm EDT for our free virtual workshop on how to address mental health at the workplace.
The great voting debacle
Why don't Americans know how to vote? At least that's what their recent Googling suggests. The confusion stems from the US having no central authority in charge of elections.
Maybe the US can learn from other countries' elections. Shorter campaign seasons and a more centralized voting system would go a long way.
And no. Despite what president Donald Trump says, if you've already cast a US ballot, you're most likely unable to change your vote.
Speaking of the election… We're less than a week out from election day in the US—though who knows how long it'll be until there's a definitive winner. As we gear up for next week, one question we're thinking about is: What do readers need from us? So we're hoping you'll tell us directly. What are you looking for in Quartz's election coverage?
---
Charting student visas to the US
Covid-19 has led to a massive decline in international students coming to the US, with Chinese student enrollments falling the most. The US's inability to control the virus kept many Chinese students away, but a ban on students and researchers with ties to China's People's Liberation Army also played a role in the drop. Dan Kopf breaks down the data.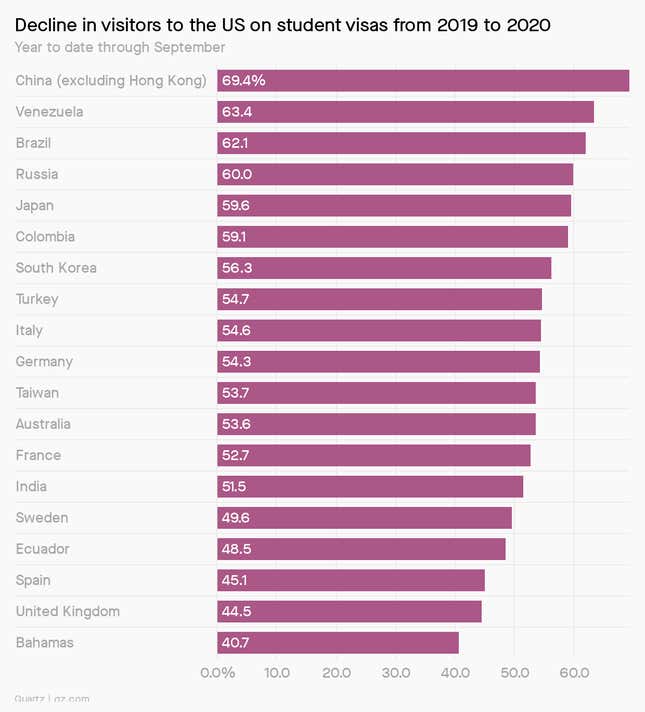 ---
AFRICA, ONLINE YET SHUT OUT
Two trends are on a collision course across several African countries. By 2025, nearly half a billion people will be using mobile internet services in sub-Saharan Africa. But their internet reality could well consist of questionable laws and penalties to limit online expression and frequent shutdowns of the internet to hobble organizations of protests offline.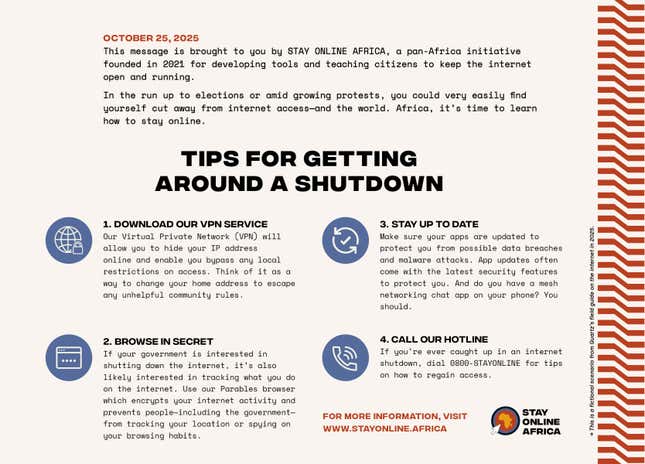 It's unlikely that governments' antics will pass without pushback. Our fictional example imagines what that could look like, in the form of a tip sheet to staying online. Read more in our guide to the splinternet.
✦ Never get shut out of Quartz content by becoming a member today. Use code QZTWENTY for 20% off a year of membership, and discover all we have to offer.
We're obsessed with H.P. Lovecraft
The horror Hollywood can't quit. American author H.P. Lovecraft never saw commercial success during his lifetime, but his terrifying legacy looms large across modern film, TV, comics, and even video games. The thing is, as popular as Lovecraft may be, the guy was an undeniable racist, and it often served as the foundation of his writing. Whether or not we should still enjoy or even appreciate Lovecraftian horror is a question scholars continue to debate. The Quartz Weekly Obsession invites you to be afraid, be very afraid.
---
Surprising discoveries
The KGB Espionage Museum is closing its doors. Hammered by the pandemic, the New York-based institution is auctioning off its collection of relics like the Deadly Kiss lipstick gun.
Japan has a new "Trump" card. An English-language school is learning by playing a game using cards printed with quotes from both Donald Trump and Joe Biden.
Pop stars need to compete with virtual idols now. No longer satisfied with training children from an early age, a new K-pop group will feature virtual members.
Massive birds used to patrol Antarctica. With a 20-foot (6-meter) wingspan, the pelagornithid lived some 50 million years ago and used its bony teeth to catch seafood.
This email seeks a new deputy editor. If you think you'd enjoy writing the Quartz Daily Brief as much as you enjoy reading it, do consider applying.
---
Our best wishes for a productive day. Please send any news, comments, spy antiques, and language learning tricks to hi@qz.com. Get the most out of Quartz by downloading our iOS app and becoming a member. Today's Daily Brief was brought to you by Mary Hui, Tripti Lahiri, Susan Howson, and Max Lockie.