Good morning, Quartz readers!
Here's what you need to know
The Supreme Court weighs in on election deadlines. Justices said that the battleground states of North Carolina and Pennsylvania can extend their deadlines to count mail-in ballots by a few days as long as they are postmarked by Nov. 3. Data show that millions of voters who requested mail-in ballots haven't returned them yet. USPS said that ballots mailed less than one week before Election Day may not be delivered in time.  
Coronavirus cases spike in the US. That timing is inconvenient for president Trump, as it keeps the election focused on his handling of the pandemic, and could complicate efforts to get out the Republican vote in states where hospitalizations are rising. Trump is hoping today's third-quarter GDP report will bolster his credentials for economic stewardship. 
Tech giants report their third-quarter earnings. Amazon is expected to be the biggest winner, as consumers globally flocked to the e-commerce giant during pandemic lockdowns. Apple, Google, and Facebook will also publish results. A trio of big-tech bosses sparred with US senators yesterday over their influence in politics and public discourse. 
Plane makers are cutting jobs. Europe's Airbus said it stopped bleeding cash in the third quarter, as it looks to slash headcount and struggles to cope with a glut of undelivered aircraft. Boeing is laying off another 7,000 workers; the US aerospace company expects its staff to be 20% smaller at the end of the year than it was before the pandemic. 
China unveils plans for the future. Initial details on how Beijing will steer its economy in the next five years and into 2035 will be published as Communist Party leaders wrap up a four-day meeting during which tensions with Washington were in focus. Meanwhile, US secretary of state Mike Pompeo is in Indonesia today, where he castigated China for its actions in the South China Sea.
Every organization needs support. Join us on Oct. 29 from 11 am-12 pm US eastern time for our free virtual workshop on how to address mental health at the workplace.
The great voting debacle
Why don't Americans know how to vote? At least that's what their recent Googling suggests. The confusion stems from the US having no central authority in charge of elections.
Maybe the US can learn from other countries' elections. Shorter campaign seasons and a more centralized voting system would go a long way.
And no. Despite what president Donald Trump says, if you've already cast a US ballot, you're most likely unable to change your vote.
Speaking of the election… We're less than a week out from election day in the US—though who knows how long it'll be until there's a definitive winner. As we gear up for next week, one question we're thinking about is: What do readers need from us? So we're hoping you'll tell us directly. What are you looking for in Quartz's election coverage?
---
Charting student visas to the US
Covid-19 has led to a massive decline in international students coming to the US, with Chinese student enrollments falling the most. The US's inability to control the virus kept many Chinese students away, but a ban on students and researchers with ties to China's People's Liberation Army also played a role in the drop. Dan Kopf breaks down the data.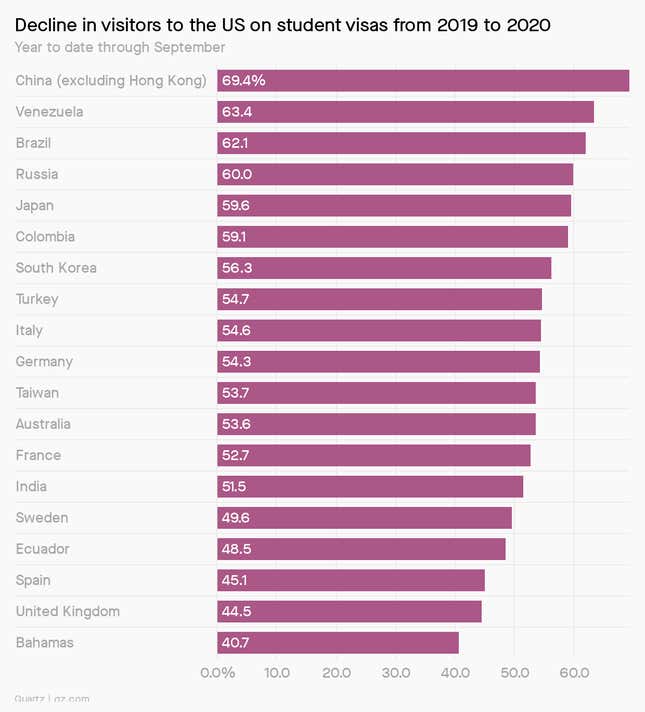 ---
AFRICA, ONLINE YET SHUT OUT
Two trends are on a collision course across several African countries. By 2025, nearly half a billion people will be using mobile internet services in sub-Saharan Africa. But their internet reality could well consist of questionable laws and penalties to limit online expression and frequent shutdowns of the internet to hobble organizations of protests offline.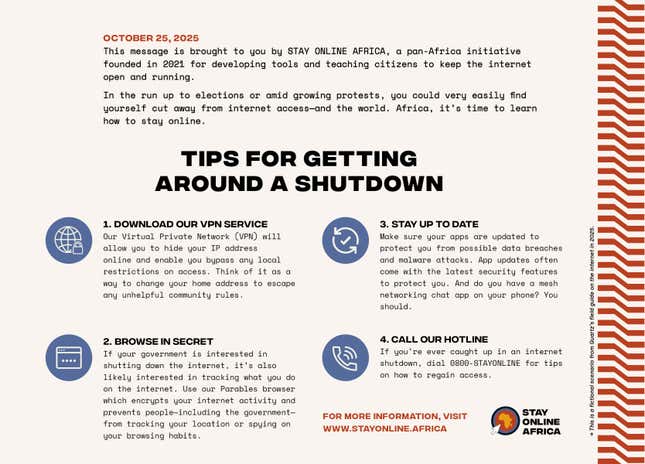 It's unlikely that governments' antics will pass without pushback. Our fictional example imagines what that could look like, in the form of a tip sheet to staying online. Read more in our guide to the splinternet.
✦ Never get shut out of Quartz content by becoming a member today. Use code QZTWENTY for 20% off a year of membership, and discover all we have to offer.
We're obsessed with H.P. Lovecraft
The horror Hollywood can't quit. American author H.P. Lovecraft never saw commercial success during his lifetime, but his terrifying legacy looms large across modern film, TV, comics, and even video games. The thing is, as popular as Lovecraft may be, the guy was an undeniable racist, and it often served as the foundation of his writing. Whether or not we should still enjoy or even appreciate Lovecraftian horror is a question scholars continue to debate. The Quartz Weekly Obsession invites you to be afraid, be very afraid.
---
Surprising discoveries
Make sure your Halloween decorations are PG-13. A homeowner's association in Richmond, Texas, asked a resident to take down her display of pole-dancing skeletons. Spooky.
The KGB Espionage Museum is closing its doors. Hammered by the pandemic, the New York-based institution is auctioning off its collection of relics like the Deadly Kiss lipstick gun.
Japan has a new "Trump" card. An English-language school is learning by playing a game using cards printed with quotes from both Donald Trump and Joe Biden.
Massive birds used to patrol Antarctica. With a 20-foot (6-meter) wingspan, the pelagornithid lived some 50 million years ago and used its bony teeth to catch seafood.
This email seeks a new deputy editor. If you think you'd enjoy writing the Quartz Daily Brief as much as you enjoy reading it, do consider applying.
---
Our best wishes for a productive day. Please send any news, comments, spy antiques, and language learning tricks to hi@qz.com. Get the most out of Quartz by downloading our iOS app and becoming a member. Today's Daily Brief was brought to you by Annabelle Timsit, Yomi Kazeem, John Detrixhe, Adam Epstein, Dan Kopf, Susan Howson, and Max Lockie.