Good morning, Quartz readers!
Here's what you need to know
It's election day in the US of A. Partly due the 90 million Americans who have already voted early and/or by mail in this year's presidential election, the winner will very likely not be known on election night. Social media platforms say they will—for better or worse—be on the hunt for misinformation, while physical retailers are bracing for the worst.
Chinese regulators summoned Jack Ma ahead of the Ant Financial IPO. The Alibaba founder, who is also Ant's controlling shareholder, attended the surprisingly public meeting with four regulatory bodies and other Ant executives to discuss "the health and stability of the financial sector," according to Ant. Thursday's IPO is expected to raise over $30 billion, valuing the firm at well over $300 billion.
Apple announced its third product launch in three months. Following an Apple Watch event in September and last month's iPhone 12 launch, the Nov.10 presentation, taglined "One more thing," is expected to feature new laptops powered by Apple-made microchips over Intel's processors.
TikTok signed a deal with Sony Music. The agreement is the first official licensing deal that the ByteDance-owned app has inked with a "Big Three" US record label, and will allow more hit songs to appear in TikTok videos. Meanwhile, the Commerce Department said it still intends to "vigorously defend" US president Trump's TikTok ban despite a newly upheld injunction.
There's a new king of video games. Chinese tech giant Tencent says its new title, Honour of Kings, has surpassed 100 million daily active users—a first, the company claims, for any game on any platform. In other record-breaking news, a steam locomotive train inspired by Japan's box-office behemoth Demon Slayer is now operating a limited service in the country's southwestern region.
---
What's at stake?
There are several ways today's presidential election could go, but behind the vote lie policies that will shape the country and the world for the next four years and beyond. Here's what we want to know:
📞 Are all these polls worth the effort? The experience of American elections has arguably become more stressful thanks to the proliferation of polls, but the alternative would be much worse.
👩‍⚖️ What's going on with Obamacare? The Affordable Care Act's constitutionality is set to be argued before the Supreme Court in two weeks. If the high court strikes it down, a future president Biden would have a few options.
💰 What's the smaller picture? The US economy grew a lot in the third quarter, but personal income dropped, highlighting the challenging financial situation for millions of Americans ahead of the election.
---
Charting stimulus plans
If a stimulus check isn't spent, is it still a stimulus check? There is no doubt a second round of stimulus checks would be incredibly helpful for millions of struggling and unemployed Americans. But how much would it boost overall consumer spending, the key driver of the US economy? New research from the New York Federal Reserve shows more than 70% of a potential $1,500 second payment would be saved or put towards debt payments rather than on buying goods. Karen K. Ho took a look at the data.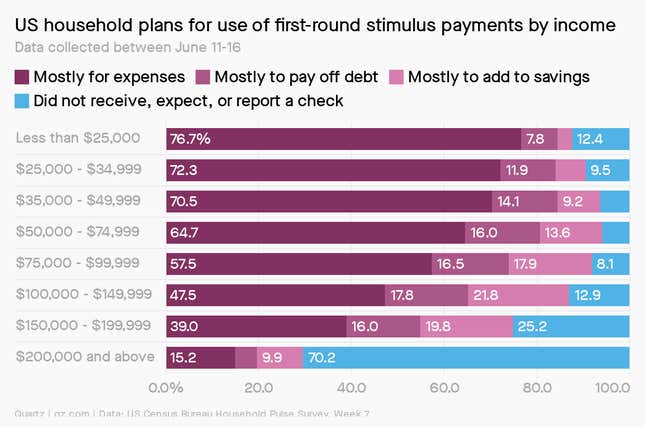 ---
STILL CHARMED
The Donald Trump administration has been extremely hard on the H-1B visa, which allows highly skilled professionals to live and work in the US for up to six years.
But data show that despite the clampdown, the H-1B's charms remain. Approximately 275,000 H-1B applications were filed for the 2021 fiscal year—the highest number in 15 years—despite only 85,000 visas being available.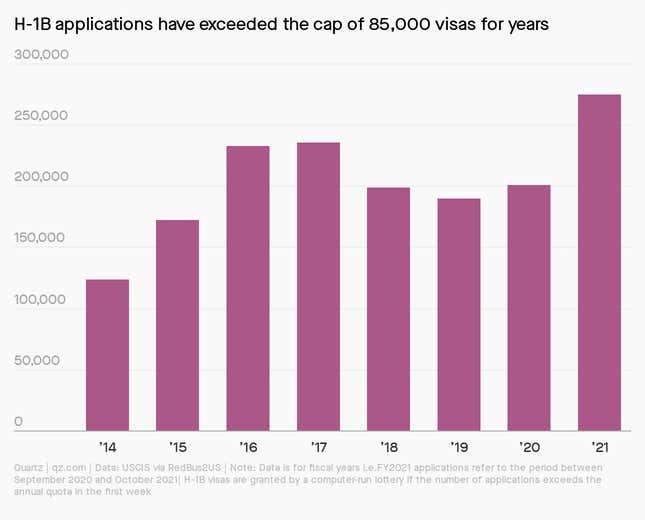 To understand why the visa is still so appealing to highly-skilled workers across the world, read our latest field guide on the status of the H-1B.
✦ Celebrate our 100th field guide by diving into the archive. You'll need a Quartz membership, but lucky you, it's 20% off the first year, with code QZTWENTY.
---
We're obsessed with flying cars
Where we're going we don't need roads. For as long as there have been planes and automobiles, people have been hoping to hitch a ride to the future in a flying car, our universal sign that the future will have finally arrived. But the idea has always run up against technological struggles, regulatory issues, and money problems. Now, inventors are trying to get cars in the sky once again, this time with the hope of reducing traffic on the ground and making transportation greener in the process. The Quartz Weekly Obsession wants what we were promised.
Surprising discoveries
Climbing Mt. Everest gets you high. Seep altitudes affect the body's circulation, which brings with it other elevated side effects.
A whale tail bailed out a train fail. The polyester sculpture of whale flukes stopped a Rotterdam metro train from crashing into the water below.
Pranks ruin everything. Two women trying to pull off a mildly funny jape for their YouTube channel ended up delaying the flight by three hours.
It's getting harder to find Nikes and Under Armour. And that's how the brands want it.
A rising tide floats all burgers. Fast-food chain Burger King encouraged customers to eat at McDonald's for the good of the restaurant industry.
---
Our best wishes for a productive day. Please send any news, comments, fishy failsafes, and sarcastic sandwiches to hi@qz.com. Get the most out of Quartz by downloading our iOS app and becoming a member. Today's Daily Brief was brought to you by Susan Howson, Karen Ho, Jackie Bischof, and Max Lockie.