Good morning, Quartz readers! Sorry we sent you another edition last night. Consider yourself extra informed!
Here's what you need to know
US House Democrats moved to impeach Donald Trump… Meanwhile, House Republicans are expected to introduce a resolution today to censure Trump's role in the insurrection. Read more below.
… and more pro-Trump protests are on the horizon. The FBI has warned against protests planned in all 50 states and Washington ahead of president-elect Joe Biden's inauguration next week.
The UK tightens restrictions on Chinese imports. The changes aim to address concerns that some goods from China could be linked to forced labor among Uyghurs in Xinjiang.
A new report on abuses at Ireland's mother and baby homes. Results of a years-long investigation will reveal how thousands of children died in religious institutions during the 20th century.
Parler sued Amazon… The social media app favored by the far-right alleges Amazon halted its web services for anti-competitive and political reasons.
…while some WeChat users sued Tencent in the US. They accused the Chinese messaging app's parent company of violating their privacy by allegedly freezing their accounts over critical remarks about Beijing.
Malaysia declared a state of emergency to curb Covid-19. The decision will help prime minister Muhyiddin Yassin avoid a leadership challenge as parliament is suspended during the emergency.
Moderna expects its Covid-19 vaccine protection to last at least a year. The drugmaker's chief medical officer told investors the firm will also test to see if a third, or booster dose, can extend immunity.
What to watch for
Impeachment, again. The US House of Representatives is headed back to Washington today, where they'll vote to urge vice president Mike Pence to invoke the 25th Amendment to remove Trump. If Pence isn't on board, they'll vote tomorrow on impeachment. Trump would become the first president in US history to be impeached twice, and though the Dec. 2019 proceedings may seem like yesterday, the situation has changed. Let's review.
The 25th Constitutional Amendment allows for the removal of a president who is deemed unfit, and it would require cooperation with the vice president and cabinet members.
Impeachment does not mean he's out. The House will vote to formally bring charges against Trump. It's the Senate who votes to acquit or convict and remove.
There are consequences beyond just removal. That's partly the reason the House is pursuing impeachment with so few days left in Trump's term—the Senate can vote to disqualify him from holding public office in the future.
Plus, it sends a clear message. Lawmakers will need to indicate in no uncertain terms that the kind of behavior Trump encouraged last week is absolutely unacceptable.
---
Charting clothing prices
With education and wages on the rise, shrinking its cost advantage, China now wants to focus on higher-end manufacturing, lean on domestic consumption to fuel its economy, and leave the work of cranking out cheap, labor-intensive goods to others.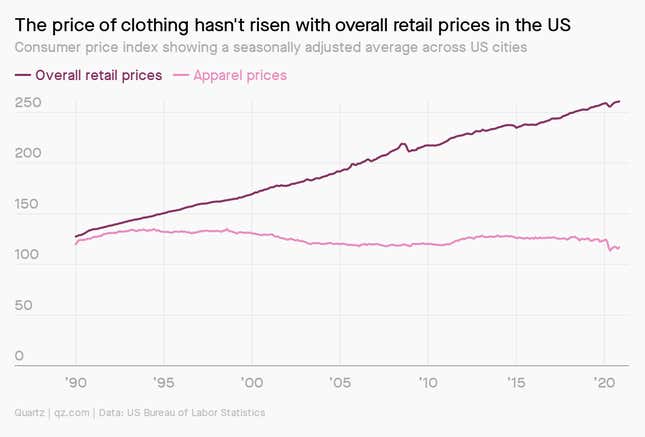 If others step in to take China's place as the world's workshop, it could result in higher prices on clothes and footwear. "We've gotten used to very low prices in these goods, and I don't know if we fully appreciate how much the price of these goods relative to other goods has declined over the past 20 years," says Gordon Hanson, a professor of economics at the Harvard Kennedy School. "Fast fashion is a consequence of China's rise."
---
Who's doing vaccines right?
The speed of Covid-19 vaccine development may be a miracle of modern medicine, but the rollouts seem to have fallen victim to good old-fashioned logistical hurdles. Israel, Bahrain, and the United Arab Emirates (UAE) all seem to have the process figured out. What are they doing that the rest of the world isn't? For starters…
🗺 They're small. No sprawling distances to travel while keeping vaccines at -70 to -80°C.
🏥 They've got universal healthcare. Centralized and digitized data mean citizens can access an app or call a hotline and receive an immediate appointment for a jab if they are eligible.
🗣They're not skeptical. Communication around the vaccines' safety and efficacy has been clear and convincing.
✦You know what you're doing right? Trying out a Quartz membership free for seven days. Nice work.
---
Surprising discoveries
A mutilated manatee is under investigation. Authorities are seeking information after spotting the creature with "Trump" etched into its back.
Ben & Jerry's announced a dog dessert. Owners can choose between flavors like pumpkin with cookies or peanut butter with pretzels.
Don't Pokémon Go and drive. Deaths, injuries, and damages caused by game players cost at least $2 billion nationwide.
Lobsters have their own health data monitors. Researchers developed trackers to pinpoint weak links in the supply chain.
Robots can show primitive empathy. A robot from Columbia Engineering learned to predict a partner robot's actions with just a few video frames.
---
---
Our best wishes for a productive day. Please send any news, comments, compassionate droids, and ice cream meant for humans to hi@qz.com. Get the most out of Quartz by downloading our iOS app and becoming a member. Today's Daily Brief was brought to you by Jane Li, Mary Hui, Tripti Lahiri, Annabelle Timsit, and Jordan Lebeau.