Good morning, Quartz readers!
Here's what you need to know
Indian users challenged WhatsApp's new privacy policy in court. A petition claims the update threatens the country's security. Despite concerns, most of India's more than 400 million users are likely to stick around.
US jobless claims approached 1 million. New unemployment claims are at their highest level since the pandemic began. Meanwhile, president-elect Joe Biden has unveiled his $1.9 trillion economic stimulus plan.
A US Congress commission accused China of possible genocide. The Congressional Executive Committee on China claimed new evidence of possible crimes against humanity in Xinjiang has emerged.
China blocked World Health Organization observers over failed antibody tests. Two members of the WHO team of 13 scientists sent to Wuhan to investigate the origins of the pandemic are being retested in Singapore.
The trade war with China cost the US 245,000 jobs. A scaling back of tariffs on both sides would lead to economic growth and 145,000 jobs created, according to a new study.
---
What to watch for
India begins its first phase of Covid-19 vaccines. Starting Saturday, the government plans to vaccinate 300 million people, including healthcare and frontline workers, people over 50, and those with comorbidities.
Here's India's vaccine plan, by the digits:
30 million: Healthcare and frontline workers, including the police and paramilitary forces, to be vaccinated in the first round
6 months: The broad timeline the government has set to vaccinate 300 million people
1 billion: People who would remain to be vaccinated after this first phase, though India may not need to inoculate its entire population
2: Vaccines that have currently been approved for emergency use in India: Serum Institute of India's Covishield, which is manufactured using the master seed from the University of Oxford-AstraZeneca vaccine, and Covaxin, India's homegrown Covid-19 vaccine
$2.75: What the Covishield vaccine costs the Indian government per shot
16.5 million: Vaccine doses of Covaxin and Covishield combined that have been ordered by the Indian government so far. It will likely buy another 45 million doses by April.
154,000: Auxiliary nurse midwives out of a total 239,000, who act as vaccinators for India's universal immunization program, who will be diverted towards the Covid-19 vaccination drive
---
Charting the rise of SPACs
Special purpose acquisition companies (SPACs) have been on fire in the US, raking in more money last year than in the entire decade before. The US had more than 190 SPAC offerings in 2020, according to Refinitiv data.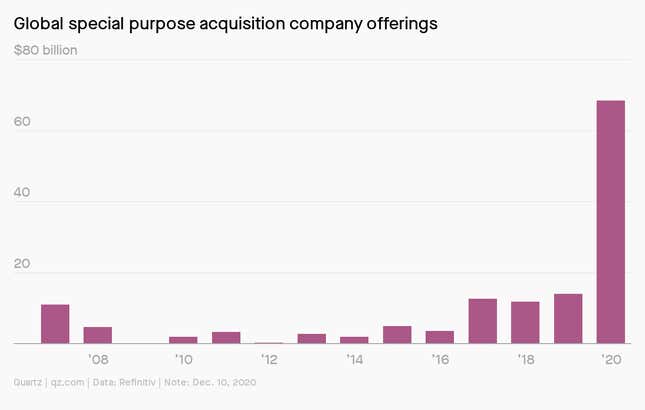 In contrast, Europe had just three SPAC offerings last year. Xavier Rolet, the former CEO of London Stock Exchange Group, believes there will have to be some changes in Europe before tech investing catches up with the other side of the Atlantic. That's why instead of going public in London at his old employer, the SPAC he joined raised money in New York.
---
What's the Covid-19 infection rate in my community?
How safe is it to leave the house during the pandemic? The answer is far from simple.
The more widespread Covid-19 infections are in your community, the more likely it is that you'll encounter the virus. Checking in regularly on daily case rates—new infections confirmed in an area as a share of its population—can help you get a sense of your own community's transmission level, and the precautions you should take to protect yourself and others.
Use Quartz's tool to explore the daily case rates on a county-by-county level in the US, and read more on what such figures mean, no matter where you live.
✦ There's a lot more to explore with a Quartz membership. Try it free for seven days.
---
You asked about post-vaccine virus spread
Can you spread Covid-19 if you get the vaccine?
The short answer is: We don't know yet. The first reason for that is practical: Vaccines' priority is preventing exposed individuals from getting sick, so that's what the clinical trials for Covid-19 shots were designed to determine. We simply don't have public health data to answer the question of transmission yet.
The second reason is immunological. From what we know so far, Covid-19 vaccines cause the body to produce a class of antibodies called immunoglobulin G, or IgG antibodies. These antibodies are heavyweights: They react swiftly to all kinds of foreign entities. They make up the majority of our antibodies, and are confined to the parts of our body that don't have contact with the outside world, like our muscles and blood.
But to prevent Covid-19 transmission, another type of antibodies could be more important. The immune system that patrols your outward-facing mucosal surfaces—like the nose, throat, lungs, and digestive tract—relies on immunoglobulin A, or IgA antibodies. People who get sick and recover from Covid-19 produce a ton of these more-specialized antibodies, but we don't yet know how well existing vaccines incite them.
Because of all that complication, it's unlikely that immunological research alone will reveal how well vaccines can prevent Covid-19 transmission—at least, not for years. Until then, community spread is the best way to tell if a vaccine can stop a person from transmitting a virus to others.
---
Surprising discoveries
This stock is no joke. LMF Acquisition Opportunities, which filed to raise $75 million in an IPO, will trade under the symbol LMAO.
Crypto advice from the planets. A bitcoin investor used the stars to warn of a bitcoin price correction. She was right.
A missing Tower of London raven is a bad sign for the UK. According to lore, fewer than six ravens in the tower means the kingdom will fall.
This might be too much money for a Tintin comic… A $3.1 million artwork by Belgian artist Herge broke a record for most expensive comic held by another one of the artist's works.
…and it's definitely way too much money for a toilet. Barred from Ivanka Trump's bathrooms, Secret Service members have been forced to use a $3,000-a-month alternative.
---
---
Our best wishes for a productive day. Please send any news, comments, clever stock tickers, and missing ravens to hi@qz.com. Get the most out of Quartz by downloading our iOS app and becoming a member. Today's Daily Brief was brought to you by Manavi Kapur, John Detrixhe, Katie Palmer, Liz Webber, and Jordan Lebeau.