Good morning, Quartz readers!
Here's what you need to know
Washington is a military encampment. There will be 25,000 members of the National Guard, vetted by the FBI to prevent insider attacks, in the US capital when Joe Biden is inaugurated as president this week.
An heir to the Samsung fortune was sent to jail. A South Korean court handed a 30-month sentence to Jay Lee, a vice chairman at the conglomerate, for financial crimes totaling $7.8 million.
China's GDP expanded by 2.3% last year. It's the only major economy to have reported growth in 2020. But many consumers still kept their wallets closed, with retail sales down 3.9% for the year.
The US cut Huawei's supply chain. In the last days of its term, the Trump administration continued its efforts to weaken the Chinese tech firm by revoking sales licenses.
Brazil began its Covid vaccination program. A nurse in São Paulo received the first jab after regulators issued emergency approvals for the AstraZeneca and Sinovac vaccines.
---
What to watch for
Martin Luther King Jr. would have been 92 years old for today's celebration of his accomplishments in the US. While his words and actions have provided both a blueprint for like-minded activists and a weapon to those who seek to slow the arc of the moral universe towards justice, King's famous dream has been left largely deferred.
Three years after his speech at the Capitol in 1963, King saw his dream stalling in real time. Nearly 55 years later, inequality has grown, racial animus continues, and the US military complex, which King warned would neuter our "social perspective," is by far the largest in the world.
"I think the biggest problem now is we got our gains over the last 12 years at bargain rates," King told NBC's Sander Vanocur in 1967. "Now, we're confronting issues that cannot be solved without costing the nation billions of dollars… this is where we're getting our greatest resistance."
Meanwhile, many businesses are undergoing change in response to last year's antiracism protests, and we've collected several of our top stories on race in the workplace as an MLK Day reading list. Email us at work@qz.com to tell us what resonates with you, and other topics in this area that you would like to see us cover.
---
Charting a transition
The New York Police Department receives the second largest amount of funding within the city's budget, even with a large cut following the protests in response to the killing of George Floyd last year.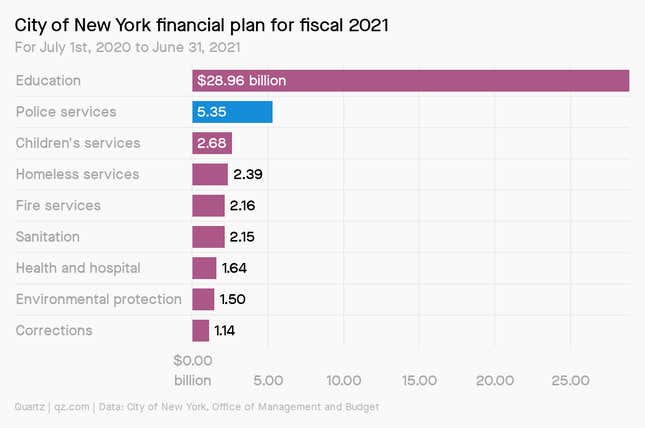 For years, the department also supervised street vending, including fines, tickets, and arrests. But as Karen Ho reports, that ended last Friday after the responsibility shifted to the City's Department of Consumer and Worker Protection, giving many of New York's most vulnerable business operators a break while they deal with the pandemic.
---
The business of mindfulness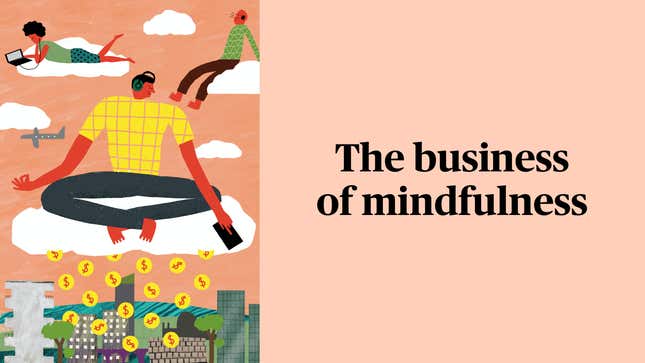 The pandemic and its economic fallout have introduced a new kind of turbulence to the lives of people around the world. So it's no wonder legions of people are flocking to meditation apps as a way to cope with anxiety and stress. Collectively, monthly active users for the top three meditation apps globally (Calm, Headspace, and Meditopia) were up 59% year-over-year this November.
There's a lot of money to be made in the mindfulness business these days. But is it able to make people—even the world—better? We explore the business of mindfulness and its proliferations, from workplaces to our cars, in our latest field guide.
✦ Once you've cleared your head, fill it with all sorts of interesting things. Try a Quartz membership free for seven days.
Surprising discoveries
Bumble users turned Capitol rioters over to the FBI. Then Bumble intervened.
The mysterious case of the Wayland potatoes. A Massachusetts library can't explain the "lovely baked russets" that keep popping up on the lawn. 
Divorce is an expensive Valentine's Day gift. One Tennessee attorney is offering a free trip to Splitsville on Feb. 14.
An Indian news anchor got phished out of a job. Nidhi Razdan says she was targeted in an elaborate scam which led her to quit her role for a position at Harvard that doesn't exist.
Pizza rolls are better, anyway. Nestle recalled more than 380 tons of Hot Pockets due to possible contamination "with extraneous materials, specifically pieces of glass and hard plastic."
---
---
Our best wishes for a productive day. Please send any news, comments, baked potatoes, and Hot Pockets without extraneous materials, please, to hi@qz.com. Get the most out of Quartz by downloading our iOS app and becoming a member. Today's Daily Brief was brought to you by Hasit Shah, Mary Hui, Tripti Lahiri, Susan Howson, Jackie Bischof, and Jordan Lebeau.