Good morning, Quartz readers!
Here's what you need to know
The US inaugurates a new president. Joe Biden's address, just two weeks after the Capitol siege, is expected to focus on bridging divides. He will be sworn in in front of a small, star-studded live audience, amid a heavy security presence.
Donald Trump bids farewell. He will not stick around to welcome his successor to the White House. On his way out, Trump issued dozens of pardons, including for former strategist Steve Bannon.
World leaders pitch Biden. Iranian president Hassan Rouhani urged the new US president to rejoin the nuclear deal, while the EU called for a renewal of transatlantic ties, and the UK for working together on China.
Nothing to see here. UK home secretary Priti Patel said it's not the time to debate how her government has handled the pandemic, as the country's death toll from Covid-19 nears 100,000.
United Airlines reports earnings. More losses are expected from the carrier as planes stay grounded and tourists stay home.
Jack Ma made his first appearance in months. The founder of the Alibaba tech empire has been out of sight since November, when Chinese regulators began reining in his fintech giant Ant.
The London Stock Exchange is beefing up to compete with Bloomberg. The bourse said it will complete its $27 billion acquisition of Refinitiv, a financial data provider, on Jan. 29.
---
What to watch for at Biden's inauguration
15,000: Number of National Guard troops stationed in DC.
200,000: Approximate number of US flags on the National Mall, representing the number of people who would have attended in a regular non-pandemic year.
2,000: Estimated number of people who will be there in person.
3: Number of US presidents scheduled to attend—this figure does not include at-time-of-writing US president Donald Trump, who will be the first president not to attend the inauguration of his successor since 1869.
?: Number of reservations canceled by Airbnb, who declined to specify a figure, for the DC area for the entire week.
35: Words in the presidential oath of office, although every president except Teddy Roosevelt has added "so help me God," bringing the word count to 39.
1 hour, 45 minutes: Length of the longest inauguration address, famously given by William Henry Harrison in 1841—he also had the shortest tenure, dying on his 32nd day in office. Historians now believe his death wasn't caused by his lengthy oration but more likely a White House sewage problem.
---
Charting Dr. Martens prices
Few things have increased in price quite like a new pair of 1460 Dr. Martens: the eight hole, yellow-stitch boots cost £2 ($2.71) when they made their debut for the British factory worker in 1960. These days the company's top-shelf "original silhouette" boot retails for £239—a whopping 120 times the original cost of the company's flagship model.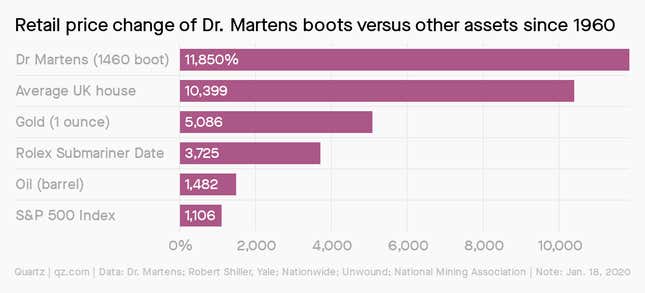 Permira bought the boot maker for £300 million in 2014 and is set to list the company for £3 billion or more on the London Stock Exchange in one of the first big IPOs of 2021. That's quite a trek for the 60-year-old brand, which used to symbolize rebellion and proletariat pride, and is now poised to make private-equity financiers a bunch of money in an IPO.
Do you remember the time, place, and price at which you bought your first pair of Docs?
---
Expectations, unmet
Covid-19 has stolen more than a year from US lives. And not just because Americans have spent nearly a year apart from many of the people and activities they love, but because the disease is expected to decrease average life expectancy. For white Americans, researchers project a 1.1 year downturn, but for Black and Latino Americans, life expectancies will fall from 75.3 years to 72.8 years and 81.8 to 77.8, respectively.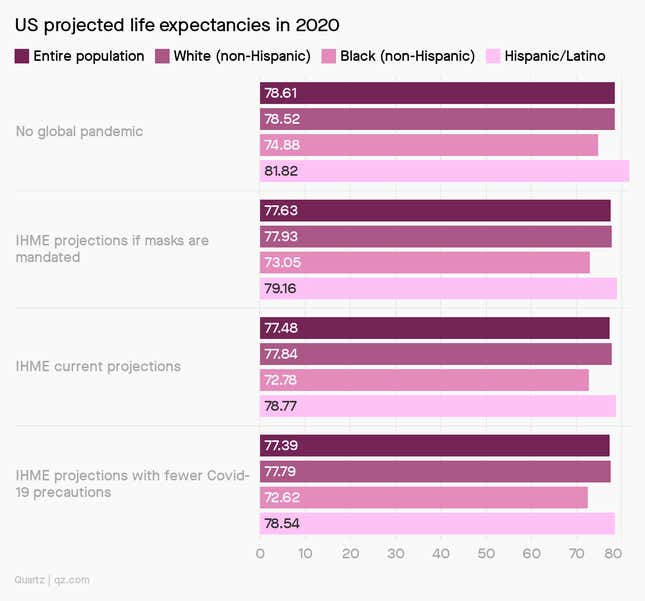 In these projections, the implications of policy changes for minority populations are stark, too. Mask policies would slightly increase life expectancy about a sixth of a year for all, but the benefits would multiply for Black and Hispanic populations.
The pandemic has taken a disproportionate toll on these communities, but policymakers still have a chance to reduce that burden.
✦ Multiply your benefits with a Quartz membership. Try it free for seven days.
Surprising discoveries
There's a handy guide to Trump's Twitter rampages. He may be banned from the platform but his insults will live on.
Can't a man have his Nando's? Officials stopped a British man from bringing the chain's spicy sauce into Spain because of post-Brexit rules.
Microgreens for Microsoft? Bill and Melinda Gates are the US's largest private farmland owners.
Japanese singles have a new favorite appliance. Behold the single-serving rice maker.
France has learned to appreciate plant-based meals. ONA is the first vegan restaurant in the country to earn a Michelin star.
---
---
Our best wishes for a productive day. Please send any news, comments, vintage Dr. Martens, and vegan food recommendations to hi@qz.com. Get the most out of Quartz by downloading our iOS app and becoming a member. Today's Daily Brief was brought to you by Annabelle Timsit, John Detrixhe, Jackie Bishof, Jane Li, Tripti Lahiri, Susan Howson, and Liz Webber.