Good morning, Quartz readers!
Here's what you need to know
Europe could tighten vaccine export rules. Frustrated by delays in AstraZeneca's delivery of coronavirus jabs, the bloc said it will demand advance notification of the export of all EU-produced vaccines. The proposal won immediate support from Germany.
The Italian prime minister resigns. Giuseppe Conte's resignation after losing a parliamentary majority earlier this month is a tactical move that could result in a new governing coalition or snap elections.
The UK adopts new quarantine rules for travelers. Britain will be more aligned with entry rules across Asia with the expected announcement of an enforced 10-day hotel stay at the cost of at least £1,500 ($2,050).
The US Senate confirmed Janet Yellen. She makes history as the country's first female treasury secretary, and will lead the push for the president Joe Biden pandemic relief plan.
At Davos, Xi Jinping called for collaboration—within limits. The Chinese leader's address kicked off the World Economic Forum by stressing global cooperation, though warned other countries not to "meddle" in China's affairs.
Donald Trump set up shop in Florida. He opened an "Office of the Former President" to manage his correspondence and political activities on the same day that lawmakers delivered the impeachment case against him to the Senate.
---
What to watch for
The International Monetary Fund will issue its latest appraisal of the state of the global economy today. The picture is likely to have dimmed since October, when the agency last released its World Economic Outlook. Then, governments were phasing out lockdowns, and stimulus funds were cascading through big economies.
The IMF also warned that improvements could easily be reversed by a surge in Covid-19 cases, or vaccine delays—both of which came to pass. As they struggle to solve those problems, governments should pay attention to another risk factor pinpointed by the IMF: unequal access to vaccines across countries. One assessment, by the International Chamber of Commerce, puts the cost of vaccine nationalism at $4.5 trillion for rich countries.
---
Charting solar's declining cost
Twenty years ago, a home solar system in the US cost homeowners upwards of $80,000. Today, a system costs around $20,000, and the technology is getting cheaper all the time. Still, as cheap as it has become in the last few decades, it's not nearly as cheap as it should be.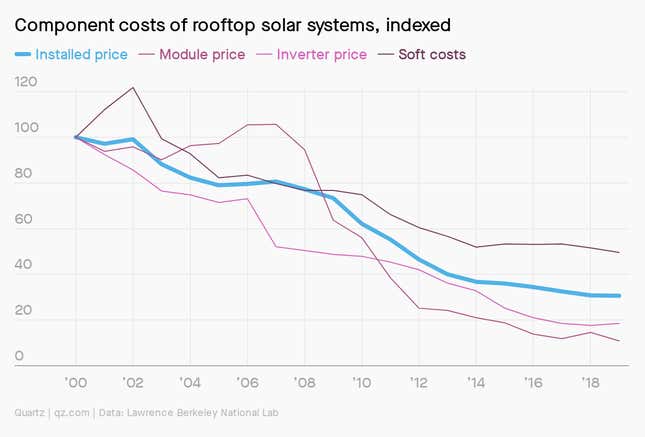 Most systems are leased by homeowners, which requires a hard sell by solar companies, which leads to outsized marketing costs. And solar retailers are required to keep mountains of paperwork on hand to deal with inconsistent regulations from state to state.
As panels get cheaper, solar companies will need to continue to slash their soft costs if they want to start turning a profit, writes Tim McDonnell.
---
Space's "last mile problem"
SpaceX's Transporter-1 mission was the first in a series of "rideshare" missions planned by the company, whose reusable rocket boosters and bundling of multiple spacecraft could enable more ambitious missions while driving economic growth back on earth.
Still, space travel thrives on efficiency, and many missions may require dropoff at different altitudes or different orbits. For operators, it means putting satellites in less than optimal positions, or investing in expensive propulsion systems to boost their spacecraft to the correct spot.
Space transportation has a last mile problem, and venture-backed firms are vying to solve it, writes Tim Fernholz.
✦ If you've been orbiting around the idea of a Quartz membership, why not try it free for seven days?
Surprising discoveries
Indian courts calculate the monetary value of women's unpaid labor… But will it ever translate into an actual salary?
…and Spanish artwork celebrating women is too political. The country's far-right party, Vox, says the Madrid mural has got to go.
B-52s will be around until they're 90. The US bomber plane, which has roamed around the world, is just that well made.
American Airlines is trying to deboard its wines. If passengers won't come to the flying bar, the flying bar will come to them.
Can you prove there's life after death? A Las Vegas tycoon will pay $500,000 for the most compelling essay about a real-life (or real-afterlife?) experience.
---
---
Our best wishes for a productive day. Please send any news, comments, persuasive prose, and feminist murals to hi@qz.com. Get the most out of Quartz by downloading our iOS app and becoming a member. Today's Daily Brief was brought to you by Mary Hui, Tripti Lahiri, Ana Campoy, Susan Howson, and Jordan Lebeau.