Good morning, Quartz readers!
Here's what you need to know
Jeff Bezos is stepping down. The Amazon CEO, who just announced the company's first $100 billion quarter, will hand the reins to cloud services head Andy Jassy.
Amazon and Google have to pay up. Amazon was ordered to repay more than $60 million in withheld driver tips, while Google will shell out $2.5 million to underpaid female employees and unfairly overlooked Asian applicants.
Russia's vaccine posted 91% efficacy in phase 3 trials. Sputnik V uses a modified adenovirus—similar to AstraZeneca's shot—to trigger a stronger immune response against the virus.
Aleksei Navalny was sentenced to more than two years in prison.  The Putin critic warned that "hundreds of thousands cannot be locked up."
ByteDance is suing Tencent. Its suit alleges that Douyin content was blocked on WeChat and QQ messaging apps, effectively monopolistic behavior.
The US labeled Myanmar's conflict a coup. The distinction will halt aid to the nation, though aid was already severely limited.
India trade unions called for nationwide protests. Plans include demonstrations in workplaces and burning copies of India's labor codes as Delhi continues to brace for conflict.
What to watch for
Uber's transitioning into a delivery service. The company formerly known as a "ride-hailing service" announced Tuesday that it will buy Drizly, an alcohol delivery startup, for approximately $1.1 billion in stock and cash. With Uber jettisoning its mobility-based projects—flying taxis and automated vehicles—it seems clear that the company is changing routes. And the market envisions a smooth road ahead, sending Uber's stock climbing at the news.
What else is Uber delivering?
🍕 Meals: Uber Eats holds 22% of the US delivery market
🥕 Groceries: Uber acquired Postmates in 2020
💊 Prescriptions: Uber partnered with NimbleRx in 2020
🚕 People: Well, not nearly as much since the pandemic began. Both Uber and Lyft will report earnings next week, giving investors a glimpse into how the ride-hailing industry is faring.
---
Charting ExxonMobil's earnings
ExxonMobil posted a fourth-quarter loss of $20.1 billion on Feb. 2—its fourth consecutive quarter in the red—after writing down $19 billion in "less strategic" oil-producing assets. In that, the company joins other US and European oil outfits, which wrote down a collective $145 billion in the first three quarters of 2020 due to the pandemic and concerns about climate change.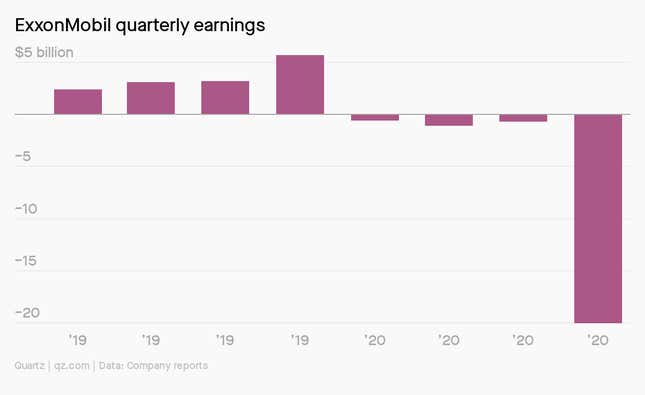 The oil giant also made a surprise promise to invest $3 billion in carbon capture technology by 2025, through a newly-minted subsidiary venture called ExxonMobil Low Carbon Solutions. Don't get too excited, though—Exxon is still no champion for climate action.
---
Hygiene theater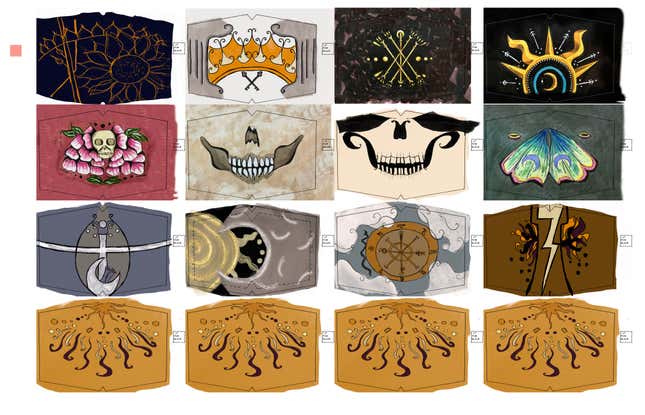 Live theater's pandemic survival is coming down to costume design. New York University's costume department has played a crucial role in the theater wing's avant-garde staging of Romeo and Juliet, tailoring Covid-compliant face masks that double as a storytelling device.
Under hot lights for extended hours, thespians offer an extreme use case for mask makers, and the quest to improve upon standard face masks serves as a vital lesson in design accessibility.  And anyway, theater has a long history of relying on masks—maybe it's just the industry to improve upon them.
✦ Parting is such sweet sorrow—stick around with a Quartz membership. Try it out free for seven days.
Surprising discoveries
Germany said a bar made out of chocolate isn't a chocolate bar. The official rules say it has to contain sugar.
Re: Popeye. MIT engineers have taught spinach—yes, spinach—to send emails when it senses explosive chemicals in the water supply
Fake mountaineering news will get you banned. Two climbers had Everest summit photos that didn't add up.
Naked mole rats imitate the queen's speech. Each colony ends up with its own dialect.
The Hollywood sign didn't say Hollywood for a bit. The culprits—who are not, surprisingly, 12 years old—said they were just trying to raise breast cancer awareness.
---
---
Our best wishes for a productive day. Please send any news, comments, label-defying chocolate bars, or just blank emails (but only if you're spinach) to hi@qz.com. Get the most out of Quartz by downloading our iOS app and becoming a member. Today's Daily Brief was brought to you by Jordan Lebeau, Michelle Cheng, Anne Quito, Tim McDonnell, and Susan Howson.