Good morning, Quartz readers!
Here's what you need to know
China approved a second vaccine…. Regulators granted provisional approval to Sinovac's CoronaVac, doses of which have already been ordered by Turkey, Ukraine, and Brazil.
…as more companies pay workers for shots. US grocery store chain Kroger will offer its associates $100 to get vaccinated, joining Aldi, Trader Joe's, Dollar General, and Instacart in paying for employee inoculation.
Thousands protested in Myanmar. The country saw its largest demonstrations since 2007 over the weekend, as a short-lived internet shutdown failed to quell discontent over last week's military coup.
Clubhouse is a corner for free speech in China. Chinese users are paying up to $50 for invitations to the audio-only social app, where discussions cover taboo topics such as Hong Kong and Xinjiang.
India restored mobile internet in Kashmir. The move ends an 18-month ban on high speed internet that began after India stripped the disputed region of its statehood.
Joe Biden made overtures to Africa. In a speech at the African Union summit, the US president said he wants to work with African nations on democracy, LGBTQ rights, and climate change.
Italy is a step closer to unity. Two major political parties signaled a willingness to work with former European Central Bank president Mario Draghi on forming a new government.
Elon Musk is tweeting again. The price of cryptocurrency Dogecoin jumped after Musk mentioned it in a Twitter poll to decide "the future currency of Earth."
---
What to watch for
In the face of new and more infectious coronavirus variants, the CDC is now researching whether wearing two masks may be more beneficial than one. Biden, top US infectious disease expert Anthony Fauci, and White House press secretary Jenn Psaki have already been seen doubling up.
We'll keep you posted on future CDC wisdom, but for now Katherine Foley looked at what we know so far. Depending on the kinds of masks you're layering, there is potential for added filtration, and more filtration means less likelihood of encountering a pathogen-containing particle. But too much filtration becomes unbreathable; make sure you're still breathing through the mask material and not through gaps between the mask(s) and your face.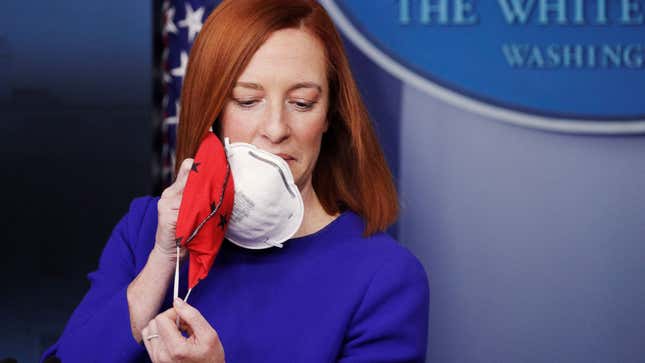 ---
Charting the rise of ETFs
These days, all eyes are on short-selling. But while troubled companies like GameStop and AMC Theaters may seem like obvious targets for shorting, Karen Ho reports that exchange-traded funds (ETFs) are proving even more enticing.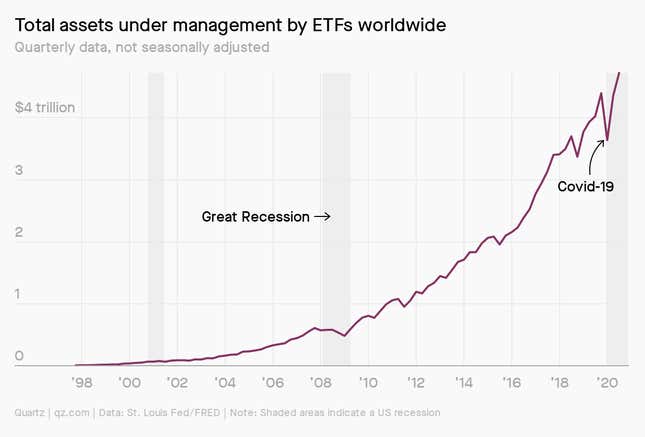 ETFs, which track a number of underlying investments in a particular industry or market segment, have grown into a $5 trillion industry during the pandemic, fueled by new investments, low interest rates, and investor optimism. Shorting index ETFs is one way for traders to diversify and reduce risk, but experts say the "extreme level of nimbleness and discipline" required makes it a tactic beginners would do well to avoid.
---
Case of the Mondays?
At work, there's a fine line between being a team player and a pain in your boss's neck; those who walk it gracefully are "productive skeptics." While plenty of us are born with one eyebrow raised, steering that energy productively is a skill you can learn, starting with these tips:
Don't be a martyr. Work can't be all courageous acts.
Choose your battles. And pick the right time to engage in them.
Follow through. That includes asking for what you need.
Smooth ruffled feathers. Don't start fights you can't fix.
✦ There's a fine line between a Quartz reader and a Quartz member, and it's this link to try membership free for seven days. Kick things off with more insights from our workshop on productive skepticism, and follow up with field guides to employee activism and leading through change.
Surprising discoveries
AWS's success story starts in South Africa. An independent team of engineers in Cape Town built the original elastic compute cloud.
Covid-19 vaccines are being delivered by drone. Medical startup Zipline, which delivered 1 million doses of other vaccines in Africa last year, signed a deal in Nigeria.
A Ugandan science show for kids will air in the US. N*Gen is produced by local teachers and looks at science through an African lens.
Jamaica is low on marijuana. The shortage is a result of heavy rains, drought, fewer farmers, and an increase in local consumption.
A record-breaking roller coaster. The Falcon's Flight, set to open at a Saudi Arabian Six Flags in 2023, will travel more than 155 miles per hour.
---
---
Our best wishes for a productive day. Please send any news, comments, short positions, superfast roller coasters, and spare marijuana to hi@qz.com. Get the most out of Quartz by downloading our iOS app and becoming a member. Today's Daily Brief was brought to you by Jordan Lebeau and Kira Bindrim.