Good morning, Quartz readers!
Here's what you need to know
US Democrats push for an independent probe of the Capitol riot. House speaker Nancy Pelosi announced plans for a panel modeled on the 9/11 commission, but it would require legislation to set up.
Australia will review its parliament's workplace culture. Prime minister Scott Morrison also apologized for his government's handling of a former staffer's allegation that she was raped by a male colleague in parliament.
The new WTO head warned against vaccine nationalism. Economist Ngozi Okonjo-Iweala, the World Trade Organization's first female and first African boss, said her top priority is ensuring the agency does more to address the pandemic.
South Africa wants to return a million vaccines to India. South Africa halted use of the AstraZeneca shot, manufactured by the Serum Institute of India, due to its low efficacy against the country's Covid-19 variant.
The Tokyo Olympic committee picks a new president. Today's meeting kicks off the process of selecting a replacement for former chief Yoshiro Mori, who resigned over sexist comments.
Slovenia's prime minister survived a no-confidence vote. The opposition had accused Janez Janša, a nationalist politician, of using the pandemic as a cover to undermine the rule of law and press freedom.
---
What to watch for
Investors will get a peek into the state of the oil, restaurant, and big-data industries when these companies report their financials today:
🖥️  Palantir will share its earnings for the second time since the AI specialist went public last year. The Silicon Valley firm's shares jumped this month on news of its partnership with IBM.
🛢️ Occidental will give us a snapshot into the rebound in energy prices. The company, which cut jobs and production last year as oil swooned, set a target for net-zero greenhouse gas emissions by 2040.
💊 CVS Health is under pressure from Amazon's pharmacy ambitions. But it could see a boost in foot traffic thanks to Covid-19 vaccinations.
🍳 Denny's will provide a window into the hard-hit hospitality sector. Shares in the 68-year-old restaurant chain—known for its Grand Slam pancake and egg breakfast—are down about 25% from a year ago.
---
Charting global emissions
China, the world's top greenhouse gas emitter, boasts one of the world's most ambitious long-term climate goals—net-zero emissions by 2060. While its carbon emissions dropped off during the height of lockdowns in early 2020 like most countries, by May, China was already back to pre-pandemic levels.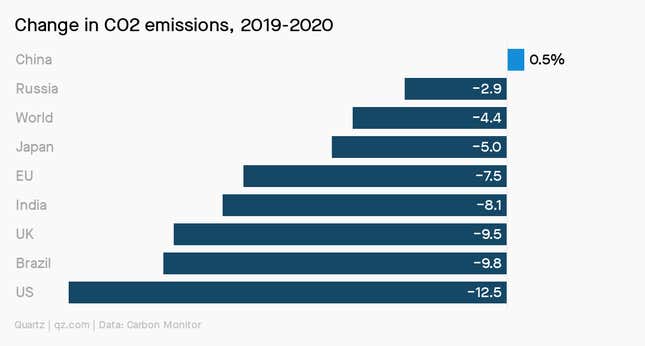 The country already consumes half the world's coal, and now has plans to add 250 GW of new coal power capacity, more than the entire installed coal capacity of the US. With an economy that heavily relies on coal power, writes Tim McDonnell, China is running out of time to alter course.
---
One and done
We should all be concerned about Indians not taking their second doses. On Jan. 16, India administered preliminary doses to nearly 200,000 healthcare workers. When their second-shot date rolled around, fewer than 4% returned.
This is a problem that goes beyond just India, writes Samanth Subramanian. If people skip their second doses, or even if they delay the doses beyond the recommended time frame, it gives the coronavirus more chances to mutate in a way that could lend it high resistance to the vaccines we have. If that mutant, resistant form spreads, a year's worth of vaccine research could be overwhelmed by a fierce new wave of disease. It's happened before—India has become a cradle for strains of antibiotic-resistant TB bacteria that have spread far beyond India's borders.
✦ Don't throw away your shot at a Quartz membership. Try it free for a week, and you'll be back for seconds.
Surprising discoveries
A Spanish town is producing dolls with Down's syndrome. The toymakers wanted to help children see different realities.
Rio de Janeiro's Sambadrome is now a vaccine center… For the first time in over a century, the Brazilian city's stadium will not be hosting Carnival.
…while New Orleans locals turned their houses into floats. It's socially distant "Yardi Gras," so do whatcha wanna.
Did Jupiter kill the dinosaurs? Researchers suspect the massive planet's gravity pulled in an asteroid or comet, setting up a collision with Earth.
Techno is terrible for relaxing. They needed a study to reach that finding?
---
---
Our best wishes for a productive day. Please send any news, comments, inclusive dolls, and Mardi Gras beads to hi@qz.com. Get the most out of Quartz by downloading our iOS app and becoming a member. Today's Daily Brief was brought to you by the krewe: Mary Hui, Tripti Lahiri, John Detrixhe, and Susan Howson.