Good morning, Quartz readers!
Here's what you need to know
China's Covid vaccine is finally available in Europe. Hungary is the first EU country to approve the Sinopharm shot.
India will add up to five times more vaccination sites. The country needs to speed up its progress if it hopes to reach 300 million inoculations by August.
North Korea tried to hack Pfizer. South Korea said its neighbor was after the drugmaker's coronavirus vaccine information.
Aung San Suu Kyi faces a new charge in Myanmar. Alleged illegal possession of a walkie-talkie got her placed under house arrest, and now she's accused of breaking Covid rules.
TikTok allegedly failed to protect kids from inappropriate content. European consumer groups complained to the EU about possible legal violations by the video app.
Bitcoin broke through the $50,000 barrier. The cryptocurrency just won't quit, and has risen more than 70% his year alone.
---
What to watch for
China wraps up its latest test of the digital yuan. This Lunar New Year, the government handed out 10 million yuan's worth ($1.5 million) (link in Chinese) of the digital currency to 50,000 Beijing residents to spend from Feb. 10-17 in designated shops or on e-commerce platforms. As with previous tests, the digital currency could be accessed through a digital yuan wallet app on a mobile phone, but this time users were also able to spend it by swiping a special bank-issued card (link in Chinese). Additionally, several ATMs in Beijing allowed customers (link in Chinese) to deposit or withdraw the digital currency.
One major motivation for an accelerated rollout of the digital yuan is the Beijing Winter Olympics in 2022. The government wants to impress participants partly by giving them access to the digital currency, which China hopes will boost the yuan's stature in the global financial system.
---
Charting S&P 500 emissions
US president Joe Biden hopes his $2 trillion infrastructure spending plan will make the American economy greener. If passed, it would also benefit some of the country's biggest companies, especially those involved in construction. Biden's challenge will be expanding construction without exacerbating the already high carbon emissions in the industrial sector.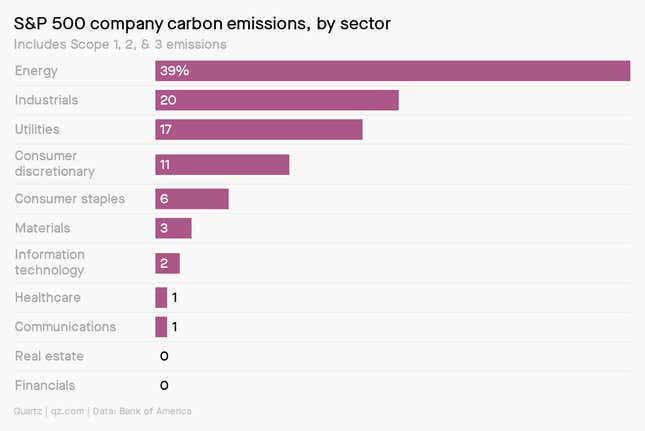 ---
Europe's new top trade partner
Recent data from the European Union's statistics office, Eurostat (pdf), show that China dethroned the US as Europe's top trade partner in 2020. EU exports to China grew by 2.2% to €202.5 billion ($245 billion) and imports from China increased 5.6% to €383.5 billion in 2020, while EU exports to the US fell by 8.2% and EU imports from the US dropped 13.2%.
That's probably because China is the only major rich country whose economy grew in 2020, in part thanks to public investment in infrastructure that fueled demand for European manufacturing goods. On the other end, the EU bought vast quantities of pharmaceuticals, medical equipment, personal protective equipment, and medical supplies from China, boosting imports.
Remaining the world's number one supplier of these kinds of goods is part of the Chinese Communist Party's post-Covid plan to see China "[ascend] to its rightful place at the top of the global system whose discourse and power structures have long discriminated against it," writes Isabella Steger. Read more in our field guide on China's changing influence.
✦ We'd love to be your top partner. Try a Quartz membership free for a week.
Surprising discoveries
An Oklahoma museum has a room made of chocolate. The walls are coated in 100 pounds of the stuff to recreate artist Ed Ruscha's 1970 installation "Chocolate Room."
Earth's smallest reptile was discovered in Madagascar. The nano-chameleon is just 13.5 millimeters (0.5 inches) long.
A 17,000-year-old shell still makes music. A modern musician was able to coax a C, C-sharp, and D out of the paleolithic instrument.
Venetian beads were found at an Alaskan archaeological site. They're evidence that European objects reached North America before Europeans.
Anthony Fauci won a $1 million prize for "defending science." The award from Israel also recognizes his contributions in fighting AIDS.
---
---
Our best wishes for a productive day. Please send any news, comments, paleolithic music recommendations, and chocolate construction schematics to hi@qz.com. Get the most out of Quartz by downloading our iOS app and becoming a member. Today's Daily Brief was brought to you by Jane Li, Hasit Shah, Annabelle Timsit, Oliver Staley, Nicolás Rivero, and Liz Webber.