Good morning, Quartz readers!
Here's what you need to know
Europe discusses bloc-wide vaccine passports. EU leaders working on the details of measures to restart travel among member states will to address serious concerns about discrimination and privacy.
Moderna's ready to test its variant vaccine on humans. The new shot will hopefully be more effective against the variant first identified in South Africa.
Facebook banned the Myanmar military's accounts… The platform cited a "history of exceptionally severe human rights abuses," though activists criticized the move as coming too late. Military-affiliated media entities are also affected.
…and will spend $1 billion on news over the next three years. The pledge came as Australia passed a law to ensure that news publishers are compensated by digital platforms—amended to give the government the discretion to exclude Facebook and Google from its purview.
The US releases an intelligence report on Jamal Khashoggi's murder. It is expected to find that Saudi Crown Prince Mohammed bin Salman approved and likely ordered the 2018 killing of the journalist, who was critical of the kingdom's policies.
The UK won't boycott the 2022 Beijing Olympics. Prime minister Boris Johnson recognized the need to hold China accountable for genocide in Xinjiang but rejected a lawmaker's call for a boycott.
---
What to watch for
Airbnb and DoorDash were some of the hottest IPOs to debut in 2020—and both are scheduled to report their first earnings as a public company today. How will the companies fare when the world finds its new norm?
🏠  Airbnb 🏠
In 2019, Airbnb generated $4.8 billion in revenue. When the pandemic hit, the rental sharing company's revenue dropped 32% year-over-year to $2.5 billion. Since going public in December, Airbnb's stock has surged over 200%, fueled by optimism on the rental-sharing company's prospects in a post-pandemic world. Many will look to Airbnb to see how the hotel industry is recovering, as the leisure sector continues to be one of the hardest hit industries.
🥡 DoorDash 🥡
Meanwhile, in 2019, DoorDash brought in $885 million, and its earnings skyrocketed 226% year-over-year to $1.92 billion in the first nine months of 2020.
Food delivery is thriving—a boon for DoorDash, which currently dominates US food delivery with 56% market share. But like other food delivery companies, it has been unprofitable every year since its founding, and the market is highly saturated. But there's still a lot of room for growth for food delivery globally.
---
Charting influencers' influence on bitcoin
A question that has long bedeviled bitcoin observers is how to value it. Lately its worth has been whatever influential people like Elon Musk and star stock picker Cathie Wood say it is.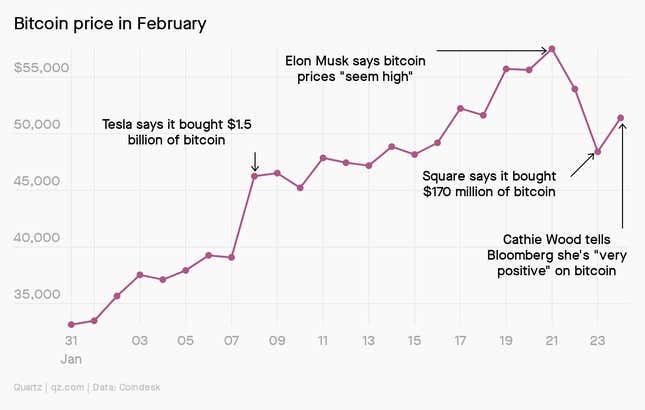 John Detrixhe writes that bitcoin's long-term prospects will likely hinge on whether other finance heavyweights agree with their assessments.
---
Changing attitudes towards government spending
US Republicans are still trying to thwart president Joe Biden's proposed $1.9 trillion Covid-19 relief package. But there are key groups who are throwing in their support.
Let's take it by the digits:
150+: Number of leaders of major US corporations who signed an open letter urging Congress to pass a relief bill "along the lines" of what the White House proposes
330+: Number of small business leaders who signed a similar open letter
$1,400: Size of checks eligible Americans would receive
$15: Hourly minimum wage the bill also intends to set
59%: Share of Americans who said they approve of the package, in a recent survey for the New York Times
43%: Share of surveyed Republicans who support the package. And this change of heart toward government spending among conservatives is not a US-only phenomenon…
49%: Share of Britons who want public spending to remain high post-pandemic, according to a survey for Sky
54%: Share of Europeans who want the EU to have a larger budget to deal with it all
✦ We're exploring the effects of relief efforts—and a lot more—on the global economy. Try a Quartz membership free for a week and feel the relief that you won't miss a thing.
---
Surprising discoveries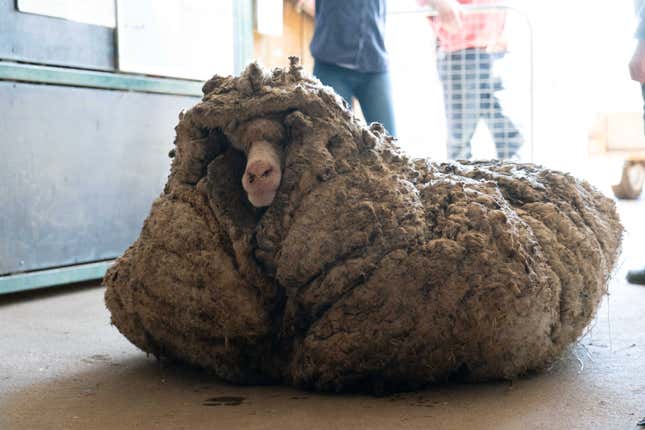 A single Australian sheep yielded 35 kg (77 lbs) of wool. Poor Baarack hadn't been shorn in several years.
A Chinese divorce court put a price on five years of housework. It's $7,700.
French researchers want to farm fish on the moon. They've already proven eggs can survive a rocket launch.
Slime mold remembers. It can store information even without a central nervous system.
Two high schoolers discovered four exoplanets. They orbit a sun-like star, making for good comparison studies with our own solar system.
---
---
Our best wishes for a productive day. Please send any news, comments, extra wool, and heavy-duty knitting needles to hi@qz.com. Get the most out of Quartz by downloading our iOS app and becoming a member. Today's Daily Brief was brought to you by Mary Hui, Tripti Lahiri, Michelle Cheng, Lila MacLellan, Samanth Subramanian, Susan Howson, and Liz Webber.