Good morning, Quartz readers!
Here's what you need to know
The US House votes on the $1.9 trillion stimulus bill. Even if it passes, Senate Republicans are still likely to block it at the next stage, and it's already lost a minimum wage provision.
Huawei's CFO is taking her extradition fight to yet another jurisdiction. Meng Wanzhou, wanted by the US, is now suing HSBC in Hong Kong for access to crucial documents.
2020's hot IPOs: Airbnb's was expensive…  The company's $2.8 billion stock compensation package brought its quarterly loss to $3.9 billion.
…While DoorDash's first earnings report as a public company was a mixed bag. Full-year losses narrowed, but the pandemic boost to its business is set to diminish later this year.
The US carried out an airstrike in Syria. In the Biden administration's first military action, the Pentagon said it targeted "Iranian-backed militant groups."
Twitter introduced the "Super Follow." Users will be able to request money from followers for premium content like newsletters and even more tweets.
India tightened the reins on social media and streaming. Companies must remove "unlawful" content faster, while Signal—where many people migrated from WhatsApp—could find its privacy policy voided.
---
What to watch for
The US Food and Drug Administration is on track to approve Johnson & Johnson's vaccine sometime today, or possibly over the weekend, after releasing research on Wednesday (Feb. 24) that concluded the shot was effective.
It all happened in a little over a year. Here's how it came together:
Jan. 2020: Johnson & Johnson receives the genetic sequence of SARS-CoV-2, the virus that causes Covid-19.
July 2020: The company develops its single-shot Covid-19 vaccine candidate and begins early stage clinical trials.
Sept. 2020: The Phase 3 trial begins, with the goal of including up to 60,000 participants.
Jan. 29, 2021: The company releases preliminary data from the clinical trial.
Feb. 4, 2021: Johnson & Johnson submits its vaccine to the US Food and Drug Administration (FDA) for emergency use authorization.
Feb. 24, 2021: The FDA releases a 62-page review of the vaccine, which finds it safe and effective.
---
You ask about vaccines
What if we answered in real time?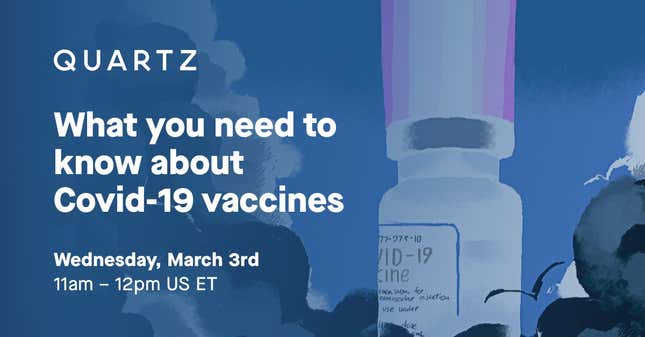 Join us on Wednesday, Mar. 3 at 11am US eastern time for a free virtual event featuring Quartz science and health reporter Katherine Foley and Johns Hopkins Bayview Medical Center pulmonologist Panagis Galiatsatos. Will you still need to wear a mask? What if you get two different vaccines? We'll cover all that and more.
Register in advance and send us any questions you'd like us to answer by clicking the button below. In the meantime, brush up on how immunity works. See you there!
---
Charting US Treasury yields
Investors in the $20 trillion US Treasury market tend to demand higher yields when they're worried about inflation. That's why it's notable that interest rates on 10- and 30-year Treasury securities are back to or higher than they were before the pandemic.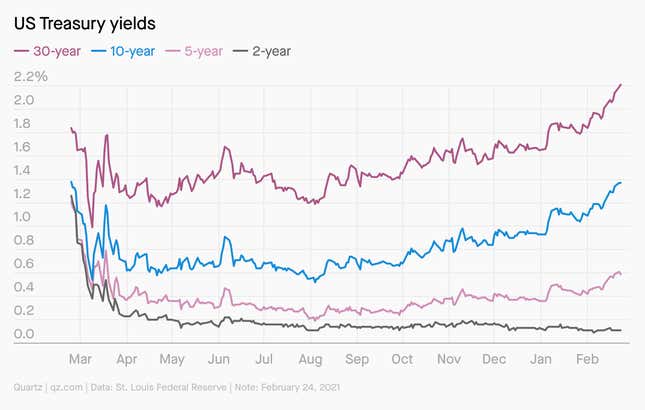 The question is whether the US economy, already rebounding naturally as vaccines go into arms and people start spending their pent-up savings, overheats from heavy government support—and whether the Federal Reserve can contain inflation if it does.
---
Behind Hong Kong's crowdsourced protest manual
"It's like running a business. You need to find good people, you need to keep good people, you need to make them better people. You often need to find the resources, maybe it's funding, cars, supplies. And they are fairly boring elements, I suppose. But they are precisely the thing that you need."
"The HK19 Manual," a crowdsourced archive of Hong Kong protesters' know-how created to help future demonstrators, has already been partially translated into Burmese and widely shared among protesters in Myanmar, who are demonstrating against the Feb. 1 military coup. Mary Hui spoke with a key contributor about putting together the protest manual and the broader lessons about social movements.
✦ Get access to more exclusive QZ&A's with the next generation of global leaders with a Quartz membership. Try it free for a week.
---
Surprising discoveries
Texans are getting a little help from afar. A New Jersey plumber heard about all the burst pipes, so he started driving.
Yellow penguins are real. A condition that prevents its feathers from making melanin gives this Antarctic bird its hue.
A "cruise missile type of thing." One pilot flying over Kentucky saw something nobody can identify. It was really fast.
Covid can't stop sumo in Japan. After most competitions were canceled, one veteran wrestler founded a tournament via video entry.
Plants give jailbirds a little peace. Their presence has been linked to lower levels of violence and self-harm.
---
---
Our best wishes for a productive day. Please send any news, comments, air sumo moves, and UFO sightings to hi@qz.com. Get the most out of Quartz by downloading our iOS app and becoming a member. Today's Daily Brief was brought to you by Hasit Shah, Tripti Lahiri, Mary Hui, Katherine Ellen Foley, John Detrixhe, Jordan Lebeau, Susan Howson, and Liz Webber.