Good morning, Quartz readers!
Here's what you need to know
Hong Kong cracked down on activists. Authorities charged 47 pro-democracy advocates with subversion under a harsh new national security law. They face life imprisonment if convicted.
Myanmar witnessed more bloodshed. At least 18 people were killed in protests over the weekend, as security forces opened fire on crowds.
Vaccine doses are on the move. A one-shot vaccine from Johnson & Johnson received approval in the US, and Australia received 300,000 doses from AstraZeneca.
Protesters clashed with police in Thailand. While calling on King Maha Vajiralongkorn to relinquish command of a nearby army unit, Bangkok residents were met with tear gas and water cannons.
Bitcoin is still falling. The world's most valuable cryptocurrency lost more than 6% of its previous close over the weekend.
Voting rights head to the US Supreme Court. Republican efforts to defang rules designed to fight racial discrimination are up for consideration.
Walmart added to its fintech team. Omer Ismail, the head of Goldman Sachs' consumer bank, will help lead the retailer's effort.
---
What to watch for
Zoom, the poster child of the pandemic economy, reports its earnings on Monday; investors will want to hear about its prospects once people around the world are vaccinated. The company has become a barometer of progress against Covid-19: Along with other stay-at-home stocks like Peloton and Netflix, its price has dipped on positive vaccine news.
Don't expect executives to mention the biggest recent headline about Zoom, though: Researchers at Stanford published a paper explaining the psychology "Zoom fatigue" and its four causes:
👀 Too much eye contact
🙈 Constantly looking at yourself
🚷 Staying in the same spot
👋 Harder to communicate nonverbally
Video calls may be exhausting, but the bullish case for Zoom is simple: Lots of large companies are anticipating a shift toward hybrid work once the pandemic ends, meaning they'll still need video conferencing services. And you'll still need a ring light.
---
Charting African entertainment startups
African entertainment startups raised $13.9 million in total funding last year, nearly 20 times more than in 2019, according to a report by Disrupt Africa. As investors look for breathing room beyond the crowded fintech, health, and e-commerce markets, entertainment firms succeeding where predecessors have failed are reaping the benefits.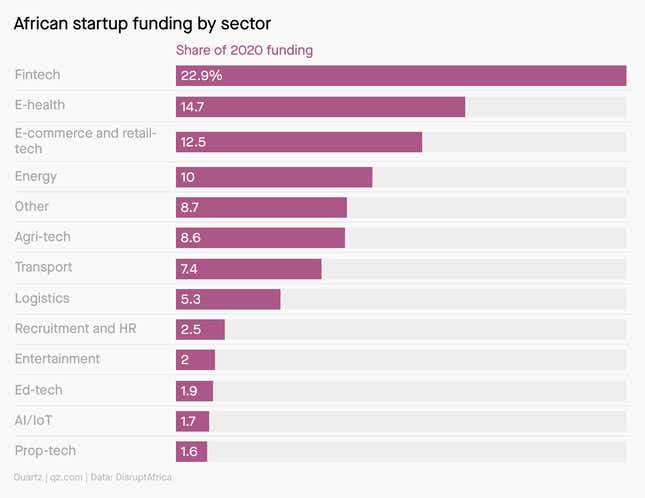 The boom in growth, though promising, is also concentrated: This year, all funding went to just 10 firms, according to the report.
---
A new era of big spending
The US government has spent lavishly to boost the economy during the pandemic, and if history is any guide it's likely to keep it up. The school of economic theory associated with British economist John Maynard Keynes recommends governments spend freely during recessions, then tighten their belts during booms. But historically that's not always what happens.
"People come to benefit from it and then to expect it," Price V. Fishback, a professor of economics at the University of Arizona who studies the Great Depression, told Quartz. "That makes it harder to go back to a time of low spending." Likewise, increased spending by governments around the world to combat Covid-19 might not be a blip—it could mark a turning point in the state's role in the global economy.
✦ For what else to watch for in the global economy, check out our field guide on the year ahead (including all the wildcards that could sabotage an economic recovery). You don't need to spend lavishly to become a Quartz member, but we guarantee it will be hard to go back. Try membership for one week free.
---
Don't overthink it
Your emotions can be a strength at work. Join us on March 4 from 11am-12pm US eastern time for a free virtual workshop on how to not let emotions get in your way at work. You'll learn to manage and embrace your emotions in a professional setting, with practical advice on how to stop overthinking and channel your emotions for success.
---
Surprising discoveries
Taiwan is urging people to eat more pineapples. The country's president says Taiwan has been "ambushed" by China's ban on the fruit.
Genes fall short in court. A murderer claimed he was genetically predisposed to violence, but a US state supreme court didn't buy it.
Verizon suggests turning off 5G. Don't panic, though: It's draining your battery, not your brainwaves.
Russia has a new eye in the sky. With the launch of a new satellite, the country is gearing up for round-the-clock monitoring of the Arctic.
Dasvidaniya. Because of Covid-19 restrictions, a group of Russian diplomats and their families escaped North Korea on a hand-pushed rail trolley.
---
---
Our best wishes for a productive day. Please send any news, comments, workplace emotions, and pineapple-based recipes to hi@qz.com. Get the most out of Quartz by downloading our iOS app and becoming a member. Today's Daily Brief was brought to you by Walter Frick and Jordan Lebeau.