Good morning, Quartz readers!
Here's what you need to know
Scenes in London captured global protests against gender-based violence. The Metropolitan Police faces severe criticism for its actions at a vigil for Sarah Everard—a serving officer has been charged with her kidnap and murder.
Joe Biden refused to call for Andrew Cuomo's resignation. The US president said he will wait for the outcome of an investigation into sexual assault allegations against the New York governor.
More European countries suspended rollouts of the AstraZeneca vaccine. Ireland and the Netherlands are the latest to take "precautions," but there is still no evidence it causes blood clots.
Myanmar had its deadliest day since the coup. At least 38 protesters, and a policeman, were killed on Sunday, as Chinese-funded factories were torched.
Walmart and Tencent bet on a Japanese e-commerce giant. Rakuten's shares surged 20% after announcing it would raise $2.2 billion by selling stakes to the US retailer and Chinese tech giant, as well as to Japan Post.
Beyoncé made history at the Grammys. She's won more than any other woman, and for the first time, all four of the top honors were taken by solo women performers.
---
What to watch for
Nominations for this year's Oscars drop today. Expect to see a lot of Nomadland and its director and screenwriter, Chloé Zhao. Expect to see a lot of Trial of the Chicago 7, Ma Rainey's Black Bottom, and Mank, which all streamed on Netflix. And expect to see, for once, some actual diversity in the top categories.
As a result of the Academy's long overdue but not insignificant effort to promote diversity within its ranks, combined with a strange year for the industry during which most eligible films had either limited or no theatrical runs, the Oscars might not be so blindingly white (or male) this time around. Zhao could be the first woman of color to receive a best director nomination. The late Chadwick Boseman will certainly get a nod for his role in Ma Rainey, and maybe another one for his turn in Spike Lee's Da 5 Bloods—another Netflix movie.
But Hollywood hasn't suddenly fixed its diversity problem. Quite the contrary: a McKinsey report released this week revealed the film industry is one of the least diverse sectors in the US. More than 90% of C-suite film executives are white. McKinsey also concluded that Hollywood leaves $10 billion on the table each year by not properly addressing this issue.
---
Charting sobriety's rise
Some drinkers were tired of waking up hungover, while others saw the negative toll alcohol had taken on their relationships. Whatever the reason, a new movement towards sobriety—for those who don't consider themselves alcoholics—is birthing online communities and dating apps while lending increasing credence to the idea that sober living can be fun.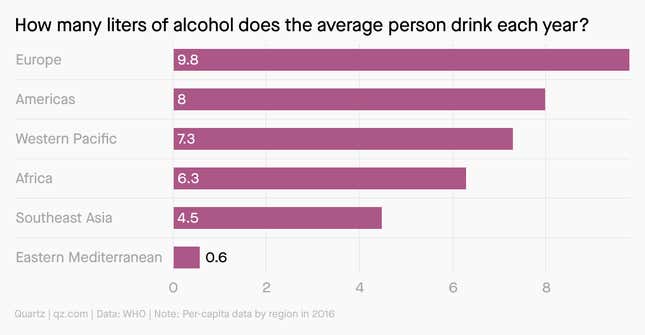 In the US and UK, where admitting sobriety meant admitting a previous issue, aspirational sobriety is reinventing the mocktail and writing a new guide to quitting alcohol, writes Sarah Todd.
---
Mo' Money, Mo' Manilow?
Why are Shakira, Neil Young, Bob Dylan, Barry Manilow, and other veteran musicians selling their catalogs to companies like Universal and Hipgnosis Songs Fund, which has spent more than $1.5 billion to snap up at least 61,000 songs?
Because almost every piece of content on your television, tablet, or phone, needs some sort of musical accompaniment. Royalties flow from having a song played in public, streamed by a Spotify or Apple Music user, or used in the opening credits of a TV show, and licensing fees for projects like big-budget blockbusters, for example, might run into six figures.
While Dylan's rumored $300-$400 million payday might be the high-water mark for catalogs now, Hipgnosis expects its portfolio to triple in value by the decade's end. Big money for music rights might be here to stay, Samanth Subramanian writes, though that raises plenty of concerns.
✦Samanth Subramanian covers the future of capitalism. Read his stories and everything else we've got to offer with a Quartz Membership.  Try it out for a week, free.
---
Handpicked Quartz
🏀 Nike has carefully positioned the Dunk to be 2021's hottest sneaker
🥃 9 ways companies can support sober employees
🇳🇦 What Namibia's breweries tell us about the nation's past
🤰🏽Racism causes high infertility in Black women
🏄‍♀️Three ways Biden can keep the US on track for a new normal by summer
Surprising discoveries
Avatar retakes the revenue crown. A re-release in China took James Cameron's 2009 blockbuster over $2.8 billion.
Alabama lifted its yoga ban. Public schools can now teach the practice, but instructors still can't use Sanskrit terminology.
Africans are rethinking massive marriage celebrations. Economic pressures and social distancing have even made one government push for "scientific weddings."
Dragons did well in the pandemic. Dungeons & Dragons, the table-top fantasy game, soared in popularity last year as quarantining gamers learned its ins and outs online.
NASA will map tiny microbial astronauts. A census of the trillions of bacteria, viruses, and other microorganisms will help identify the many microscopic inhabitants of the International Space Station.
---
---
Our best wishes for a productive day. Please send any news, comments, microscopic astronauts, and Avatar spoilers to hi@qz.com. Get the most out of Quartz by downloading our iOS app and becoming a member. Today's Daily Brief was brought to you by Hasit Shah, Mary Hui, Tripti Lahiri, Adam Epstein, Katherine Bell, Tim Fernholz, and Jordan Lebeau.