Good morning, Quartz readers!
Here's what you need to know
Uber agreed to treat its UK drivers as employees. Following a court ruling last month, the ride-hailing giant said its 70,000 drivers in the country will enjoy paid vacation, minimum wage, and a pension.
UK firms are complicit in forced Chinese labor. A British parliamentary committee report cited "compelling evidence" to show companies' alleged links to the forced labor of Uyghurs in Xinjiang, and urged changes to the law to better monitor supply chains.
Australia has asked the EU to release 1 million doses of the AstraZeneca jab. Canberra wants to give them to neighbor Papua New Guinea to control its serious outbreak. Europe earlier barred a shipment to Australia, but many in the bloc have since suspended its use due to blood clot concerns.
A Japanese court ruled the lack of recognition for same-sex marriage is unconstitutional. The Sapporo district court finding is Japan's first judicial ruling on marriage equality.
North Korea may be prepping to resume weapons tests. A missile test would be the first since March 2020. Kim Jong-un's sister warned the US against "causing a stink" on the Korean peninsula as the US secretaries of state and defense prepare to visit South Korea.
US intelligence said Russia meddled in the 2020 presidential election. But Moscow wasn't the only government to attempt to sway the vote.
More US states join an antitrust lawsuit against Google. There are now 15 states or territories in the Texas-led case, which accuses the firm of deceptive actions in its advertising business.
An Alibaba rival reports earnings. Chinese e-commerce company Pinduoduo is expected to deliver close to 90% growth in its fourth-quarter revenues.
What to watch for
When the US Federal Reserve updates its economic projections today, policy makers are expected to be more upbeat than they were in December. Since then, vaccine rollout has quickened, and Congress has passed president Joe Biden's $1.9 trillion stimulus plan. As the economy revs up, investors are on the outlook for inflation that could reach, or exceed, the Fed's 2% goal faster than expected.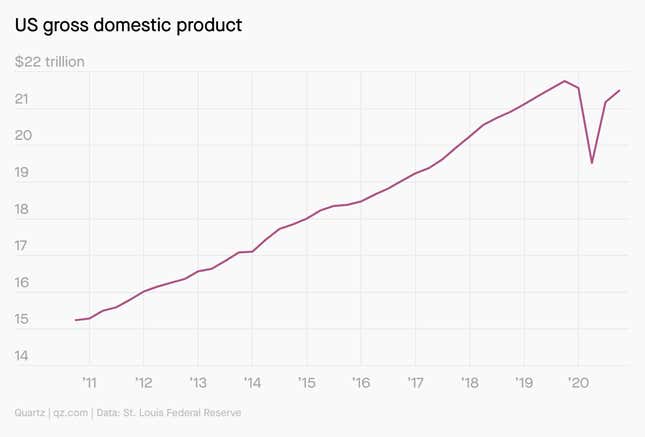 Even so, most experts think the Fed, seeking to enable a sustained recovery and keep interest rates low, will continue to step firmly on the gas pedal. Or, as Sebastien Galy, strategist at Nordea Asset Management, puts it: "The Federal Reserve is widely expected to stay on hold and to fight against the perception that it would tighten early monetary policy."
---
Mapping China's vaccine diplomacy in Africa
China is donating thousands of its vaccines to low- and middle-income countries, including in Africa, in what is viewed as a soft-power push to bolster its global influence.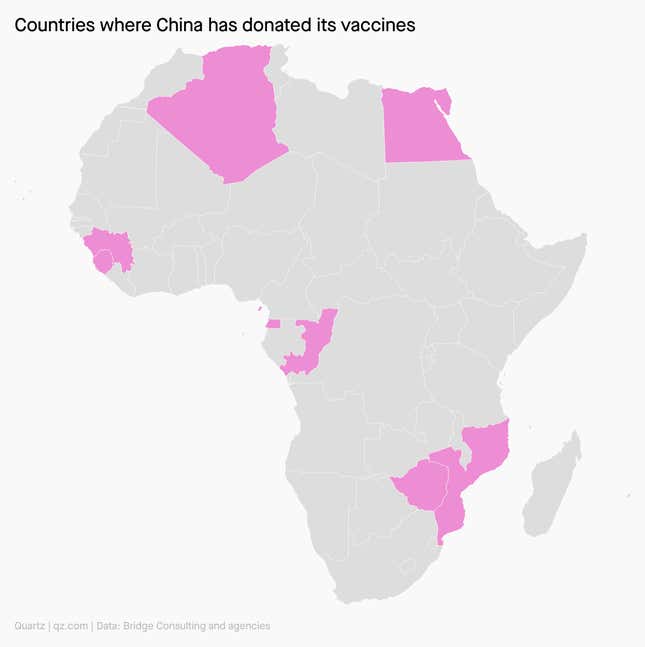 The number of vaccine doses that China has donated is relatively low—the most doses given freely to an African country are 300,000 to Egypt. Still, as Eric Olander, co-founder and managing editor of the China Africa Project, said to Quartz, China is owning the narrative of vaccine diplomacy by getting headlines "on the cheap." Photos of African leaders receiving China's vaccine make a powerful accompaniment to those headlines, too.
---
Checking in on fashion's diversity efforts
At the end of May last year, as protests exploded over police killings of Black Americans, numerous fashion and beauty companies went online to post their messages of support for the Black community and the Black Lives Matter movement, as well as to pledge their own commitments to change.
In an eye-opening interactive piece, Quartz's Amanda Shendruk and Marc Bain analyzed 27,000 images from the feeds of 34 fashion and beauty brands to see if they'd made any progress besides that initial Blackout Tuesday posting. Their findings, we're sorry to say, were disappointing.
✦ Read more about why so many diversity initiatives fail as part of our field guide on how to be an anti-racist company. You'll need a membership, but we've got you covered. Try one out for a week, free.
---
Handpicked Quartz
🦷  The most ridiculous self-reported side effects to the AstraZeneca vaccine
🎯  After cracking down on Alibaba, Beijing could target rival Tencent
😬  The UK's Integrated Review predicts at least one major successful terrorist attack by 2030
🔍  An abandoned car, a suspended cop, and a murder: The mystery of a bomb scare at the Ambani residence
📅  Simple tweaks to your calendar apps and email can help fight burnout
Surprising discoveries
Thousands of bitcoin ATMs have been installed in the US in recent months. They're popping up at gas stations, vape shops, and delis.
The artist behind the record-breaking NFT auction plans to donate funds from his next sale. Beeple's money will go towards blockchain and climate change research.
A Japanese soba shop has a new robot chef. It can make 150 servings in an hour.
Scientists discovered why hummingbirds hum. Pressure changes resulting from the birds' wing movements are the primary source of the distinctive sound.
Zoom Escaper fills your meetings with annoying noises. No one will want you on the call when they hear your echo and nonstop construction sounds—you're welcome.
---
---
Our best wishes for a productive day. Please send any news, comments, Zoom escape strategies, and Beeple art to hi@qz.com. Get the most out of Quartz by downloading our iOS app and becoming a member. Today's Daily Brief was brought to you by Jane Li, Tripti Lahiri, Amanda Shendruk, Marc Bain, and Susan Howson.