Good morning, Quartz readers!
Here's what you need to know
The world has a new most profitable company. Saudi Aramco's net income slid 44% in 2020, giving Apple claim to the crown. Aramco still earned $49 billion for the year and looks committed to paying its dividend, even if it has to take on debt to do it.
A rail big deal in North America. Canadian Pacific Railway is buying Kansas City Southern for $25 billion, creating a train route connecting Canada, the US, and Mexico.
Turkey's central bank chief has been sacked. Investors are bracing for tumult after Turkish president Recep Tayyip Erdogan's dismissal of Naci Agba, who had just hiked interest rates by 200 basis points to fight inflation and support the lira.
A factory fire in Japan could cause chip shortages for the auto industry. So warned the CEO of Renesas Electronics, the third-largest maker of automotive silicone. The semiconductor factory where a fire broke out Friday is expected to be offline for a month.
The mantra at Blackstone is changing from value to growth. The Wall Street Journal examines the change in thematic approach under president and COO Jonathan Gray, the private equity firm's heir apparent to CEO Stephen Schwarzman.
---
What to watch for
GameStop is reporting fourth-quarter and fiscal 2020 results after the close of US markets on March 23. It will be the video-game retailer's first earnings release since a short squeeze rattled the markets, and Barron's says nobody knows what to expect.
It's not just Wall Street analysts and redditors who will be watching the results closely. The GameStop saga ushered in a wave of retail brokerage account signups—not just in the US, where GameStop is based and where retail stock trading is practically a national pastime, but all around the world.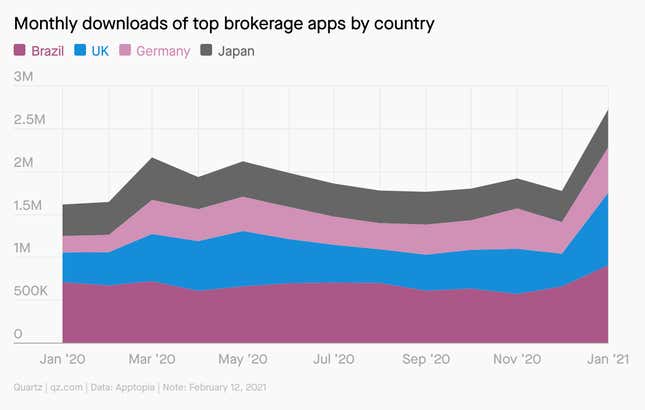 ---
Charting China's oil refinery surge
The US, home to more oil refineries than any other country, has lost its title to China as the world's largest refiner of raw crude oil.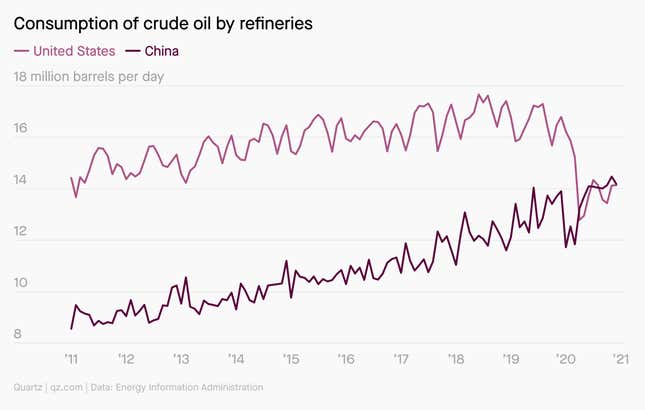 China began refining more crude oil into gasoline and other products for the first time in 2020 and has largely remained in the lead, according to new data from the US Energy Information Administration.
With fewer customers, low prices, and much less crude as US producers curbed drilling in the pandemic, American refiners have had little reason to operate. But Chinese oil refiners were primed to respond in the opposite way to oil price fluctuations: When oil prices fall, the government pays Chinese refiners to ramp up production
---
A billion-dollar question
What will happen when Tesla sets up shop in India?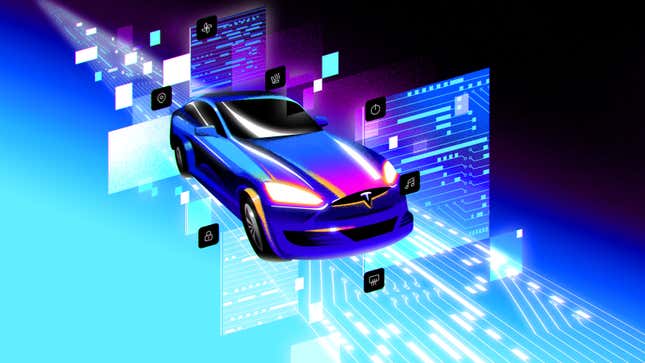 Electrics represent less than 1% of vehicle sales in India, but the industry's proponents are hoping that will change after Tesla arrives. It's not yet clear when that will be. But Tesla registered its first Indian subsidiary this January, and there are signs the company is preparing to set up factories in the country.
When Tesla does truly break into the Indian market, it will face numerous challenges to gain a foothold, from homegrown competition to affordable pricing. But if it can overcome them, Tesla can further extend its global industry dominance by opening itself up to millions of new customers—plus, experts suspect, kickstart the growth of electric vehicles in India itself.
✦ To gain access to all of Quartz's stories, plus our field guides, slide presentations, workshops, and more content available exclusively to Quartz members, try it out for free.
---
Handpicked Quartz
📰 China's crackdown on Jack Ma has come to Hong Kong's paper of record
🏀  LeBron James is the only thing stopping himself from owning an NBA franchise
🍲  Asians are more likely to have public-facing businesses in the US than any other racial group
🥰 9 of the 10 happiest countries in the world are in Europe
👖 NFTs for fashion are inevitable
Surprising discoveries
TikTok is influencing the book industry. Videos of users openly sobbing at the dramatic endings of their favorite reads on #BookTok are driving unheard-of sales.
Volkswagen is trouncing Tesla in the stock market this year. Legacy car makers are touting their readiness for electric vehicles, and investors appear to be buying it.
Miami called in SWAT teams to help break up raging spring breakers. University students have flocked to the vacation destination by the thousands, and haven't been respecting Covid-19 curfews and crowd limits.  
Fagradals Mountain, a volcano in Iceland, erupts after 6,000 years of dormancy. Fortunately, the only major disruption to nearby residents are noxious gases—but those can be avoided by staying indoors for a few days.
Climate change threatens to clip winters, springs, and autumns by 2100. The northern hemisphere would have six months of summer instead of a balanced four seasons.
---
Our best wishes for a productive day. Please send any news, comments, automotive silicone, and unruly vacationers to hi@qz.com. Get the most out of Quartz by downloading our iOS app and becoming a member. Today's Daily Brief was brought to you by Katherine Foley, Nicolás Rivero, John Detrixhe, Tim McDonnell, and Heather Landy.