Good morning, Quartz readers!
Here's what you need to know
The WHO's chief said China didn't give investigators the data they needed. Tedros Adhanom Ghebreyesus also said more research was needed to rule out a lab leak. The US, UK, EU, and other governments called for a new investigation "free from interference."
India reportedly blocked ByteDance's bank accounts for alleged tax evasion. TikTok is still banned in India, but the company retains about 1,300 employees in the country.
There's more fallout from the Archegos disaster. US senator Elizabeth Warren called for better banking oversight, while Credit Suisse shareholders are preparing for a multibillion-dollar hit.
Investors are questioning Western business dealings in Xinjiang. More than 40 companies, including H&M, Inditex, and Hugo Boss, are in their crosshairs. Meanwhile, a US human rights report singled out China's suppression of Uyghurs, even as Beijing has increased its presence on Facebook and Twitter in order to change the narrative.
Japan said people won't get to choose their vaccine after all. The country's vaccine chief called an official's earlier comments "misleading." Meanwhile, Germany restricted the use of AstraZeneca's vaccine in people under 60 due to new blood clot reports.
Pakistan's prime minister said he wants peace with India. Imran Khan was responding to a letter from his counterpart Narendra Modi expressing a similar desire.
---
What to watch for
H&M is releasing its latest quarterly results today, and while they won't reflect the recent blowback it has suffered in China over a past statement on forced Uyghur labor in Xinjiang, executives will get the chance to address the issue on a scheduled conference call.
Several international companies are contending with the Beijing-driven backlash, but H&M has received the worst of it.
Who exactly is lashing back?
📱  Social media users: It all began with a Communist Youth League division post on Weibo.
🏬  E-commerce sites: H&M's official store on Alibaba's Tmall was taken down, and its products no longer appeared in searches of large Chinese e-commerce sites such as JD.com and Pinduoduo.
📺  State media: Broadcaster CCTV accused the retailer of "eating China's rice while smashing its pot."
🤩  Celebrities: Huang Xuan and Victoria Song both announced they would not work with H&M.
🚪 Landlords: Property owners have shut down at least six H&M stores.
The head of the European Union Chamber of Commerce in China has advised H&M to lay low in the country until the furor dies down. In the meantime, analysts expect the company to see a temporary drop in its Chinese sales.
---
Mapping mobile money in Africa
Africa is the global leader in mobile money providers, especially since the pandemic, which prompted people to turn to digital services over cash. Since 2017, mobile transaction values have increased around the world by 22%, with Africa accounting for 64.5%.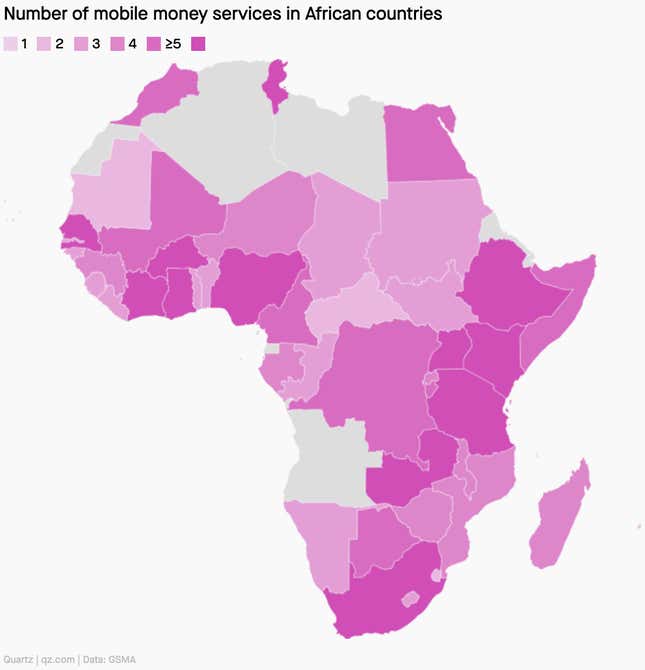 The global increase was in part a result of changes in consumer behavior, with more people open to digital transactions, but also more flexible processes by regulators. The fastest growth happened in countries where governments provided the most pandemic relief.
---
The philosophy of resistance
Journalist-turned-politician Gwyneth Ho shot to fame as both chronicler and victim of the Hong Kong protests' most infamous moment: a mob attack in July 2019 when armed thugs assaulted protesters and commuters indiscriminately. She was livestreaming the incident to thousands when she was attacked herself.
The 30-year-old is now in jail, charged alongside nearly 50 other activists with subversion. Ho had given up journalism for a chance to run for political office, which she believed would let her more directly influence Hong Kong's democracy movement. But the government says the activists' attempts to win a majority of seats threatened national security, and they now risk life imprisonment.
Denied bail and awaiting trial, Ho has continued to write. Like many political prisoners before her, she sees her time in detention as a political act, a way to embody resistance against authoritarianism. Her detention, she writes, has made her realize that she's molded by every person and even every moment that has ever touched her life—and she hopes her actions, too, ripple onwards to inspire and shape others, reinforcing ties and building civil society.
That, in itself, is a radical and unifying philosophy of resistance against a regime that seeks to atomize society as a form of repression. Mary Hui spoke to Brian Leung, an exiled activist and close friend of Ho's, about her philosophy and its impact.
✦ Mary Hui has covered the past, present, and future of Hong Kong protests. If paywalls are keeping you from following the whole journey, try a Quartz membership for free.
---
Handpicked Quartz
🚀 Every company is a space company now
📈 Cathie Wood mentor Arthur Laffer says the ARK CEO's horizon has always been "forever"
📖 George R.R. Martin's new contract is bad news for Game of Thrones readers
🩺 India is challenging China's dominance in Africa through healthcare diplomacy
🤑 Should retail traders be able to invest in IPOs like Deliveroo and Robinhood?
⚡️ What's getting in the way of India's big green energy dreams?
🍻 Everyone is anxious about vaccine passports, especially British pubs
---
Surprising discoveries
Humans have the genetic foundation to someday become venomous. At least, according to snake researchers.
The US Strategic Command tweeted ";l;;gmlxzssaw." The message was sent by the "very young child" of the Twitter manager for the agency that controls nukes.
An Italian mafioso on the lam was done in by a YouTube cooking video. The 'Ndrangheta member's face was hidden, but his distinctive tattoos were visible.
Nike is suing MSCHF over its "Satan Shoes." But it didn't have a problem with 2019's "Jesus Shoes."
No, Volkswagen isn't changing its name to Voltswagen. The carmaker now says that was just an early April Fool's Day joke.
---
---
Our best wishes for a productive day. Please send any news, comments, and rogue tweets—but no lame April Fool's Day stunts—to hi@qz.com. Get the most out of Quartz by downloading our iOS app and becoming a member. Today's Daily Brief was brought to you by Marc Bain, Mary Hui, Liz Webber, and Susan Howson.