Good morning, Quartz readers!
Here's what you need to know
Janet Yellen backed a global minimum corporate tax rate. The US Treasury secretary said she is working with G20 nations to "stop the race to the bottom" on taxes.
India topped 100,000 Covid-19 cases in 24 hours for the first time. The US is the only other country to have hit that milestone.
Google prevailed in its decade-long copyright dispute with Oracle. The US Supreme Court ruled that Google's copying of some of Oracle-owned Java's code for its Android operating system was fair use.
Japan's foreign minister said China should work on rights' abuses in Xinjiang and Hong Kong. The rare critique during a phone call with his Chinese counterpart was met with a warning against interference.
Swiggy scored another $800 million in funding. The latest investment raises the Indian food delivery app's valuation to nearly $5 billion.
LG is done making smartphones. The South Korean tech giant's handset division incurred big losses over the last five years.
---
What to watch for
Rare earths are at the center of Greenland's elections. In snap elections today, the makeup of the next government will determine the fate of the Kvanefjeld project, a proposed rare earth and uranium mine in southern Greenland. It's owned by the Australia-listed Greenland Minerals, in which the Chinese rare earth giant Shenghe Resources has a roughly 10% stake. Still, some in the US and Europe see the mine as a way to counter China's dominance over the critical minerals.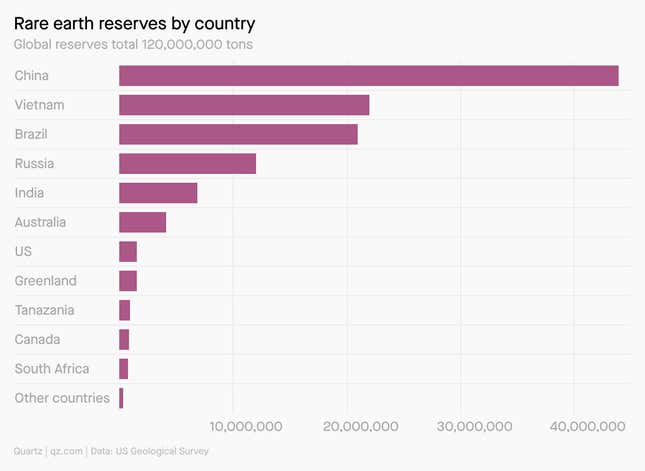 Supporters of the project in Greenland say it's key to the territory's financial independence from Denmark. Critics say the mine will threaten an already fragile ecosystem and a fledgling tourism industry.
Though Kvanefjeld is one of the world's largest rare earth deposits, the fact that China dominates rare earth refining as well as mining means that even if the project is approved, it won't immediately secure supplies for Europe and the US, said Per Kalvig, chief consultant at the Geological Survey of Denmark and Greenland.
---
Charting the SPAC bubble
Is the SPAC craze finally cooling off? The number of deals fell more than 50% between February and March, while the value of those deals fell by more than 30%, according to data from financial market data firm Refinitiv.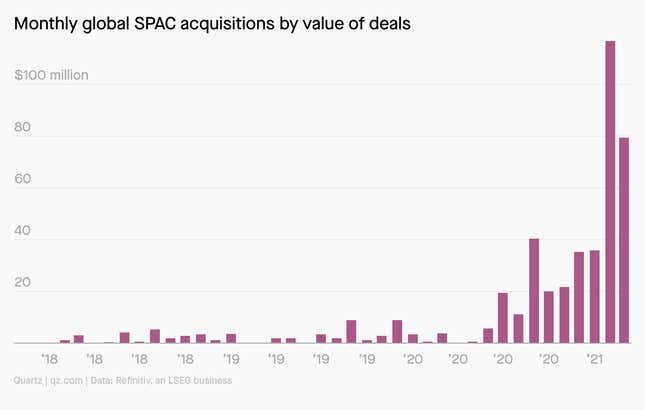 One additional troubling sign for SPACs was the dwindling pop in their share prices after going public. Following a historic run-up earlier this year, shares of new special-purpose acquisition companies hovered around their initial public offering price in March.
---
Naspers' strategic focus on South African startups pays off
Naspers, Africa's biggest company by market cap, has taken a wide-ranging approach to its international investments, from food delivery in Germany and Brazil, to edtech in India. In recent years, its growth in Africa has had a more singular focus: backing South African tech startups with global potential.
$314 million: Amount Naspers pledged to fund and grow South African tech businesses in 2018
$92 million: Portion of that pledge dedicated to a startup fund called Naspers Foundry
10-30%: Stake the Foundry takes in companies it invests in, as well as a board seat
R30 million ($2 million): Amount of the Foundry's first investment, in SweepSouth, a service that connects customers to domestic cleaners
R253 million ($17 million): Size of the Foundry-led series B funding round in January for agritech company Aerobotics, Naspers' latest startup investment
27%: Increase in investor funding for South African startups in 2020
✦ A Quartz membership will get you access to all of our in-depth Quartz Africa coverage, including field guides like Africa after Covid-19. Not yet a member? Try it for free.
---
Handpicked Quartz
💉  Scientists have spent nearly 100 years searching for a better way to give vaccines
🛍  Klarna's path to Europe's most valuable startup began with utter defeat
💼  7 ways to support the leadership potential of Gen Z
🌍  Why Mastercard just made a $100 million bet on Africa's mobile money market
💪  Vaccines are the hottest new way to establish global influence
🦎  How evolution's largest questions could be answered by Madagascar's smallest creatures
Surprising discoveries
The asteroid that killed off the dinosaurs was the beginning of rainforests. Scientists working in Colombia used fossilized plants to unravel the history of the country's forests.
An exploration team reached the deepest shipwreck ever recorded. The US World War 2 ship was found off the coast of the Philippines at 6,500 meters (roughly a league) below sea level.
A Soviet-era knockoff version of The Fellowship of the Ring appeared on YouTube. Three decades after it was created, Khraniteli bubbled to the surface.
An Australian brewery wants to buy customers' solar energy. Asahi Group's Carlton and United Breweries will happily compensate them for the power—but they can only pay in beer.
The US is facing a ketchup shortage. Restaurants' pandemic pivot to takeaway and delivery has made packets of the popular condiment especially scarce.
---
---
Our best wishes for a productive day. Please send any news, comments, Soviet-made epic films, and energy credits in beer form to hi@qz.com. Get the most out of Quartz by downloading our iOS app and becoming a member. Today's Daily Brief was brought to you by Mary Hui, Roya Wolverson, Onke Ngcuka, Katherine Ellen Foley, and Liz Webber.