Good morning, Quartz readers!
Here's what you need to know
The EU discusses the Israel-Gaza conflict. The meeting of foreign ministers comes as world leaders including the US president urged an end to the deadly violence that has killed at least 222 people.
The UK could delay easing lockdown rules in England. The goal of lifting remaining social restrictions by June 21 may have to be pushed back in light of a Covid-19 variant first found in India.
Paris canceled Sudan's $5 billion French debt. The move is part of a broader debt relief effort among International Monetary Fund countries to clear Khartoum's arrears.
Crypto is melting down. With bitcoin and dogecoin leading the market plunge, everything crypto touches, including platform Coinbase Global, has seen losses amounting to hundreds of trillions.
The US will share 20 million more Covid-19 vaccines with other countries. This will bring the country's total shipment of doses abroad to around 80 million.
Rights groups renewed calls for a 2022 Beijing Olympics boycott. The push comes as the US Congress holds a hearing today on the Games and China's human rights record.
---
What to watch for
Three major Chinese telecoms could be kicked off the New York Stock Exchange today. China Mobile, China Unicom, and China Telecom all fell prey to a November executive order from former US president Donald Trump banning Americans from investing in companies that aid China's military, intelligence, or security forces. They attempted to appeal the decision after current president Joe Biden took office, but failed.
The delistings won't have much of a practical impact, since all three firms are mainly listed on the Hong Kong stock exchange, where their shares are trading normally. (A small group of US investors, however, may wind up stuck with worthless stock.) But Republican politicians and trade groups representing US manufacturing and agricultural interests applauded the largely symbolic rebuke to Beijing.
---
Charting US childhood poverty
American parents are slated to receive more pandemic-related aid starting July 15th, when Joe Biden's administration will start distributing cash to families with joint income of less than $400,000 or individual income below $200,000.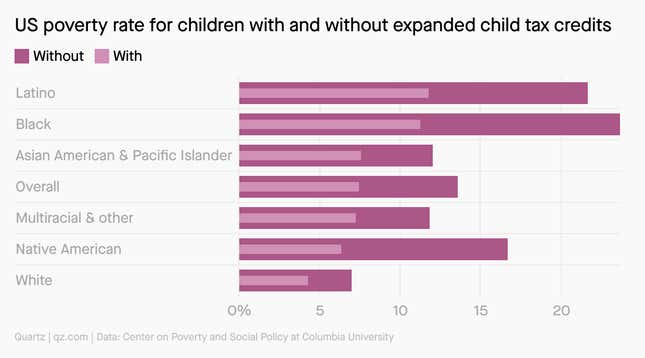 By sending out checks in advance, rather than a tax refund paid as a lump sum in 2022, the extra money should ease family finances in real time and potentially lift millions of children above the poverty line.
---
The twisting route that led WarnerMedia to Discovery
The proposal to spin off WarnerMedia from AT&T and merge it with Discovery may have come together quickly, but they will form a new company almost a century in the making. The intellectual property in the combined entity has roots in dozens of companies, from DC Comics to the Oprah Winfrey Network, and a long history of corporate deal-making.
Prepare for some scrolling. It's going to be a real journey.

✦ Speaking of industries that have seen a staggering amount of change, we've proclaimed this to be Retail Week. Start with our field guide on what stores are even for these days. Then shop online for a Quartz membership—it's 40% off all week, using code RETAILWEEK.
---
Handpicked Quartz
👕Can a streetwear designer save J.Crew?
🤝The NAFTA mistakes that Africa's largest trade agreement can avoid
🎓The Covid-19 catastrophe has jeopardized the plans of thousands of Indian students
💳A black market for oxygen concentrators is preying on affluent Indians hit by Covid-19
📲The global crypto community is donating virtual coins to fund India's fight against Covid-19
❤️Social media has no incentive to fix what ails it
Surprising discoveries
An ex-Navy lieutenant says UFOs are common. Ryan Graves told 60 Minutes that unexplained aerial phenomena happen every day along the Atlantic coast.
The US is investigating more cases of "Havana Syndrome." The intelligence community can't explain the two new cases of neurological symptoms, which popped up after the 2020 presidential election.
Overwork is killing people. According to research, long hours contributed to the 745,000 global deaths from stroke and heart disease in 2016.
Millionaires are protesting billionaires. The Patriotic Millionaires have plans to let Jeff Bezos and Mitch McConnell know they should pay for infrastructure plans.
A man in Singapore falsely claimed he had Covid-19. He was charged with transmitting false messages after he took a day off from his job studying the cognitive neuroscience of deception.
---
---
Our best wishes for a productive day. Please send any news, comments, UFO sightings, and incomes of over $1 million to hi@qz.com. Get the most out of Quartz by downloading our iOS app and becoming a member. Today's Daily Brief was brought to you by Jane Li, Mary Hui, Nicolás Rivero, Ana Campoy, Oliver Staley, David Yanofsky, Susan Howson, and Jordan Lebeau.