Good morning, Quartz readers!
Here's what you need to know
The EU will impose sanctions on Belarus. It will forbid the country's airlines from using the bloc's airports and airspace, and demanded the immediate release of journalist Roman Protasevich.
The UK advised people to avoid non-essential travel to Covid-19 hotspots. On the list are eight areas in England including Bolton and Blackburn, which are most affected by a coronavirus variant first identified in India.
Indian police visited Twitter's offices in Delhi and Gurgaon… It's part of an investigation into why the company labeled posts by a member of the country's ruling party as "manipulated media."
…while Russia gave Google 24 hours to delete banned content. It accused the firm of failing to remove links to prohibited material, and threatened to slow down services if it doesn't comply.
One more incentive for Americans to be vaccinated. Uber and Lyft are offering free or discounted rides to passengers traveling to get their Covid-19 vaccines.
The US expects strong G7 support for its global minimum corporate tax. The Treasury's optimistic outlook comes after France, Germany, and Japan made positive comments about the proposed 15%-plus tax on multinationals' earnings. The world's top advanced economies could seal a pact on such a tax as early as Friday.
The United Nations urged the release of Mali's top politicians. The West African country's president and prime minister were reportedly detained by soldiers, raising fears of a second coup within a year.

---
What to watch for
One of Dr. Martin Luther King Jr.'s most frequently repeated quotes is: "The arc of the moral universe is long, but it bends toward justice." Over time, we've learned the arc doesn't bend on its own; it bends under the collective weight of millions of humans who replace the inertia of our past with the vibrancy of our brighter future. —Robert F. Smith, CEO, Vista Equity Partners
Today marks the anniversary of the murder of George Floyd, whose death at the hands of a Minneapolis, Minnesota police officer set off a national movement for unity and justice. Instead of the sweeping police reform bill Joe Biden promised by the anniversary date, the US president will host Floyd's family at the White House.
Legislators aren't the only ones behind in their equality goals. Robert F. Smith, quoted above, says companies who are directing funds towards these initiatives are on the right track, but lasting impact will depend on how they also build infrastructure and donate brainpower to solving some of society's deepest problems.
We asked a number of business leaders what progress has been made in the past year, and what we need to do to keep striving towards equality. Quartz will be publishing a series of their responses over the coming week.
---
Charting the stock that created the world's richest person
Bernard Arnault, CEO and majority owner of French luxury group LVMH, has surpassed Amazon founder Jeff Bezos to become the world's richest person.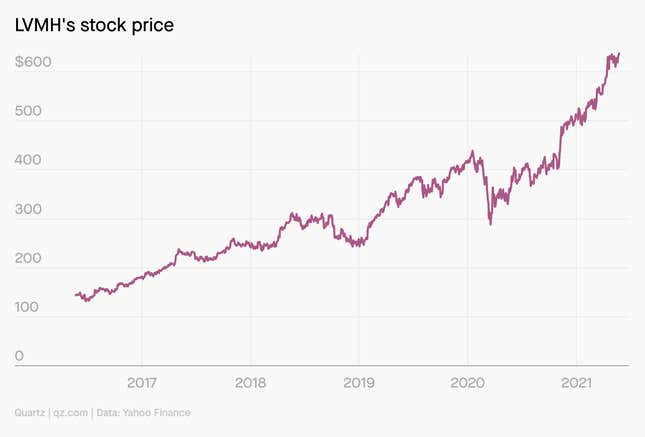 Whereas Bezos built his fortune as the proprietor of the internet's "everything store," Arnault made his name and money from a collection of companies specializing in finely made leather goods, couture fashion, and high-end spirits. Over the past several months, LVMH, the parent of brands like Louis Vuitton and Tiffany, has seen its sales come roaring back from the pandemic, particularly among Chinese and US shoppers.
---
India's "black fungus" problem
Mucormycosis, colloquially known as black fungus, is a serious fungal infection that was seen in small numbers in India before Covid-19. But it is now affecting post-Covid patients in large numbers.
Thus far, this surge has been attributed to the improper use of steroids to treat Covid-19 patients, coupled with poorly managed diabetes. But steroids are not the true villains—the problem lies in how they're prescribed. Manavi Kapur talks to pulmonologist Lancelot Pinto about what's causing the unprecedented numbers, and how such an infection can best be avoided.
✦ Gain access to all of Quartz's coverage of India's Covid crisis by trying out a Quartz membership for free.
---
Handpicked Quartz
🚨  The Belarus plane "hijacking" highlights the pitfalls of crisis communication
🥱  Streaming services are vying to create the least annoying ad experience
🚫 Japan's best-known tech investor thinks holding the Olympics is a terrible idea
🔨  Why Facebook, Google, and Amazon want to build online payments platforms for India
👍  ESG remains a relevant pathway to a good society
👟  South Africans are upset Adidas isn't selling this one shoe to them
🍆  Tinder is using AI to monitor DMs and tame the creeps
🏝  Airbnb's newest features are a response to the work-from-anywhere trend
---
Surprising discoveries
The Bill and Melinda Gates Foundation sold all its Apple and Twitter stock. The foundation trust invested in South Korean e-commerce giant Coupang instead.
A Japanese baby food maker spent ¥2.7 million ($25,000) on two melons. Hokkaido Products plans to give pieces of the auctioned fruit to 10 families with children.
Nine South Korean cities and towns have claimed Samsung's ex-chairman as a native son. They all want to host his art collection, which is valued at about $2.2 billion.
Thieves made off with £1 million ($1.4 million) of treasures from a UK castle. Among the stolen items are rosary beads belonging to Mary Queen of Scots.
Police identified a drug dealer from his picture of a block of cheese. The photo showed enough of his palm and fingerprints to make a match.
---
---
Correction: Yesterday's email erroneously included China as one of the eight nations bordering the Arctic. Those are Norway, Sweden, Finland, Russia, the US (via Alaska), Canada, Denmark (via Greenland), and Iceland. China does not border the Arctic but is investing in projects there. We regret the error.
---
Our best wishes for a productive day. Please send any news, comments, stock tips from the Gates Foundation, and why your town deserves Lee Kun-hee's art collection to hi@qz.com. Get the most out of Quartz by downloading our iOS app and becoming a member. Today's Daily Brief was brought to you by Jane Li, Mary Hui, Manavi Kapur, Marc Bain, Susan Howson, and Liz Webber.