Good morning, Quartz readers!
Was this newsletter forwarded to you? Sign up here. Show your friends that you value the labor of newsletter writers by sending them a copy.
---
Here's what you need to know
China's first space station crew lifted off. The three astronauts will spend three months on the Tianhe, or Heavenly Harmony. Separately, the country announced plans with Russia for a crewed moon landing within the next 10 years.
The EU is starting to dole out its Covid recovery fund. European Commission president Ursula von der Leyen gave the go ahead to plans from Portugal and Spain totalling €16.6 billion ($20 billion) and €69.5 billion ($84 billion), respectively.
Joe Biden and Vladimir Putin were able to work out certain differences. The leaders of the US and Russia agreed to return ambassadors to their posts and start talks on cybersecurity and nuclear weapons, but failed to see eye to eye on Russia's opposition or the origins of recent cyberattacks.
Beijing is opening up its metals stockpile. China is trying to head off price increases in industrial materials such as copper, aluminum, and zinc. Meanwhile, the country's latest retail sales and industrial production figures came in below expectations.
Twitter could lose legal protection in India. For its apparent failure to comply with new government rules, the platform may no longer be immune from prosecution over users' posts, reports suggest.
North Korea is suffering from a food shortage. Kim Jong Un reportedly blamed crop failures on flooding caused by last season's typhoons.
Waymo announced $2.5 billion in new funding. It's the second time Alphabet's self-driving subsidiary has raised outside funding, and comes amid increased competition and the loss of multiple executives.
---
What to watch for
Shareholders of Delta Airlines will vote today on a proposal introduced by the French bank BNP Paribas that would compel the company to disclose information about its lobbying activity related to climate change and whether it aligns with the Paris Agreement.
If it passes, the resolution would put new pressure on a company that, according to the watchdog group Influence Map, has lobbied in favor of state, federal, and international policies that "support a long-term role for fossil fuels in global aviation." It could force new levels of transparency in the aviation industry, which has pushed to water down airplane fuel efficiency standards in favor of carbon offset credits that in many cases are highly suspect. And it would cap a recent run on the successful passage of similar resolutions at other carbon-intensive US companies.
It's too soon to gauge how much such disclosure requirements impact policy outcomes. But Kirsten Spalding, a senior director at the sustainable investment advocacy group Ceres, says it's a vital first step. "If we don't start seeing the policy move in the right direction, investors can't move their own investments in the right direction," she says. "So lobbying is linked to real economic change, and it's a critical piece of the climate challenge."
---
Charting Covid-19 complaints from essential workers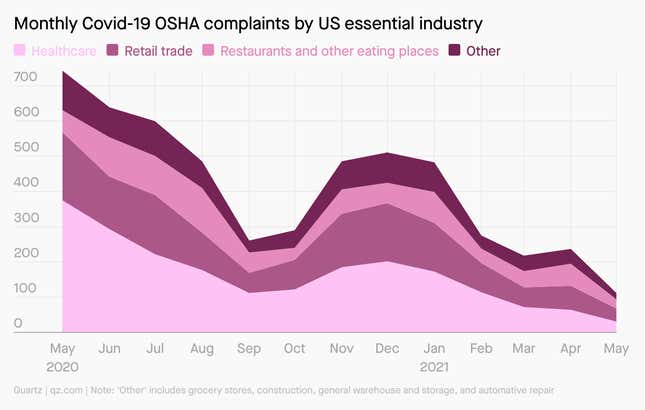 When the pandemic first hit the US, many of those working in what the Occupational Safety and Health Administration (OSHA) has defined as "essential industries" such as healthcare, retail trade, grocery stores, construction, general warehousing and storage, restaurants, and automotive repair were unable to stay home and were therefore at greater risk.
Common Covid-19-related complaints to OSHA include employers not following federal guidelines, employers not developing or implementing infectious disease plans, and suspected exposure at work. Hoping to address this problem, the Biden administration in January called for the US Department of Labor to clarify guidelines, so that workers who refuse to go into unsafe workplaces were more likely to be granted unemployment benefits. But fear of getting the virus is likely still keeping people out of the workforce.
---
Quotable
So, one thing that I realize when you own a sports team is it's larger than a sports team. It's a social institution, you're doing it for the fans, you're doing it for the broader population.
That was Alibaba co-founder and vice chairman Joe Tsai, also the owner of the Brooklyn Nets basketball team, on CNBC's Squawk Box program on June 15. He was speaking on the role of business owners in addressing social justice issues. But when it comes to China, many of those same business owners do a convenient pivot.
When the conversation, led by Andrew Ross Sorkin, turned to the situation in Hong Kong, Tsai defended the national security law.
It's against sedition, it's against people that advocate splitting up Hong Kong as a separate country. These are things that are not allowed. You know why? Because Hong Kong used to be a colony, you know, a few hundred years ago, China lost Hong Kong to the Brits because of the Opium War.
Companies and their leaders usually say what they think their audiences want to hear—they only became so vocal on US racial equality once it became important to consumers and employees. And when it comes to Hong Kong, executives like Tsai have only one audience that they must make sure not to displease: the Communist Party of China. Read more about how corporate wokeness keeps falling short when it comes to China.
✦ We're tracking the way companies handle—or just appear to handle—rapidly changing social landscapes. Access all of our work with a membership—try it out, free. for a week.
---
Handpicked Quartz
(Psst. 👇 We took the first story out from behind our paywall because we think everyone should read it.)
💉 What we know about the efficacy of China's Covid-19 vaccines
🎲 The Federal Reserve's inflation gamble is a sea change in monetary policy
📦 These are the categories with the biggest deals on Amazon Prime Day
🦴 Rover's global growth will depend on where pets are considered family
💪 Cameo shows even celebrity women value their labor less than men
🧳 How an Indian online travel portal nearly doubled its profits during a pandemic
---
Surprising discoveries
Rare orchids are growing on the roof of a London bank. The small flowered tongue orchid was thought to be extinct in the UK.
To survive a flood, Australian spiders threw up a giant sheet of silk. The webs covered more than a kilometer of roadside vegetation in one area.
The web's original source code is being auctioned as an NFT. (The internet, that is, not the defensive work of art made by Australian spiders.) Tim Berners-Lee plans to donate the winning bid.
A wooden satellite is headed for space. At least there are no termites to worry about.
Betelgeuse is not going supernova. Scientists now think the star's sudden dimming was probably caused by a dust cloud blocking our view.
---
---
Our best wishes for a productive day. Please send any news, comments, obscured views, and high-tech wooden objects to hi@qz.com. Get the most out of Quartz by downloading our iOS app and becoming a member. Today's Daily Brief was brought to you by Tripti Lahiri, Michelle Cheng, Tim McDonnell, Susan Howson, and Liz Webber.