Good morning, Quartz readers!
Was this newsletter forwarded to you? Sign up here. We'd appreciate if regular readers would forward this to a friend, even if it results in 0 new subscribers.
---
Here's what you need to know
Warren Buffett resigned as trustee from the Gates Foundation. The 90-year-old also announced he is donating $4.1 billion in Berkshire Hathaway stock. Even though Buffett is halfway to his goal to give away 99% of his net worth, a new report names Tata founder Jamsetji Tata the biggest philanthropist of the last century.
Hong Kong's Apple Daily newspaper published its last edition. The pro-democracy outlet is shutting down over concerns for staff safety. Hong Kongers queued for hours to grab the final issue.
Anti-virus software pioneer John McAfee was found dead in a Spanish prison cell. He had been imprisoned on tax evasion charges and most likely took his own life.
Tong Ying-kit pleaded not guilty. Prosecutors said the context of his actions—driving a motorcycle into police officers the day after China's national security law went into effect—proves he was attempting to incite secessionism in Hong Kong.
A UK warship is having trouble with Russia near Crimea. Moscow says a patrol ship fired warning shots, but London denies this, saying the aircraft and ships following the British vessel is routine procedure.
A second member of Uganda's Olympic delegation tested positive for Covid-19. The news has some worrying about the strength of the protocols surrounding foreign athletes arriving in Tokyo.
Olympics news is picking up speed. Let our Need to Know: Tokyo Olympics newsletter keep you up to date during the Games.
---
What to watch for
Today, India's largest private firm, Reliance Industries, virtually hosts its 44th annual general meeting. The event is usually an opportunity for Mukesh Ambani, the company's chairman and India's richest man, to make big-bang announcements. This year, experts expect updates around Reliance's first 5G phone and next-generation wireless plans, JioMart's grocery venture with Facebook's WhatsApp, and JioBook, a low-cost affordable laptop. The company may also announce the induction of Saudi Aramco chairman Yasir Al-Rumayyan to its board.
Why does Reliance's annual meeting matter? Let's break it down:
300,000: Number of viewers who watched last year's virtual meeting across 42 countries and 468 cities
34.4%: Increase in Reliance's share price in the last 12 months, despite the pandemic-triggered slump
$7.2 billion: Reliance's net profit in the financial year that ended on March 31, 2021
75,000: Jobs created during the financial year 2020-2021
$180 billion: Market capitalization of Reliance Industries
---
Charting pandemic-era GoFundMe campaigns
Between January and August 2020, more than 175,000 Covid-19-related crowdfunding campaigns were posted from the US on GoFundMe, the world's largest crowdfunding platform for social causes. Among those campaigns, 43% raised no money at all—a big change from pre-pandemic times, when only about 3.5% of campaigns produced no donations.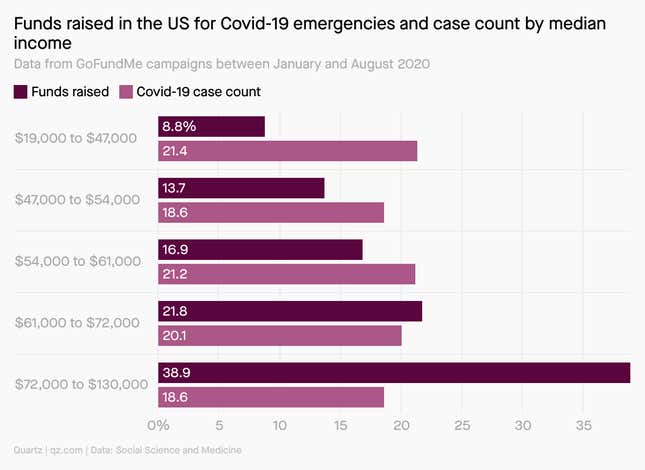 Researchers found more successful campaigns originated in areas with higher income and were launched by people with higher education levels. Annalisa Merelli explains why that might be—and how it's part of a worrisome trend in the US.
---
Phone addiction is real
Classic addictions exhibit two traits:
Consuming something today increases demand for it tomorrow
People will choose to use less of something if they can decide in advance
Does that sound like your relationship with your phone? If so, you're not alone. But as with other addictive behaviors, there are ways to wean yourself off the constant social media scrolling. Economists were able to induce study participants to reduce their screen time through a mix of difficult to override self-control options and financial incentives—$2.50 for every hour that blocked Facebook, Instagram, Snapchat, Twitter, and YouTube.
"We're more likely to effectively control our consumption of digital products if we put barriers and limits in place prior to use, and if those limits are irreversible," says Anna Lembke, a Stanford psychiatry and behavioral science professor who did not contribute to the study. "If we wait until we're exposed to the digital drug to decide whether or not to indulge, most of us will indulge."
✦ We hope a Quartz membership will be part of your healthy digital consumption patterns, by providing all the news and analysis globally minded business professionals need in one convenient place. Try it free for a week.
---
Handpicked Quartz
(Psst. 👇 We took the first story out from behind our paywall because it's that important.)
✈️ Indians can travel abroad to these countries—some even without quarantine
🍟 The US worker shortage shouldn't surprise low-paying employers
⚽️ Politics are taking over Euro 2020
🦠 When will India's third wave begin?
📱 Not even Covid-19 improved Africa's mobile phone gender gap
💼 Kickstarter is moving to a 4-day work week. Should you?
---
Surprising discoveries
The Fed's inflation target comes from a casual remark on New Zealand TV. It's all because the country's finance minister was put on the spot in a 1988 interview.
Rooibos tea now has the same protections as Champagne. It's the first food in Africa to be included in the EU's geographical indication register.
Tide made a laundry solution for NASA. Currently, astronauts wear all their clothes for up to a week before the garments are returned to Earth or incinerated to save space.
Hong Kong's most coveted vaccine incentive is a $1.4 million apartment. But lawmaker Regina Ip's diamond-studded Rolex watch is also up for grabs.
An arthritic penguin got a pair of custom comfy shoes. Zookeepers say Enrique, who is more than 30 years old, has a new spring in his step.
---
---
Our best wishes for a productive day. Please send any news, comments, comfortable shoes, and tips for keeping your clothes fresh to hi@qz.com. Get the most out of Quartz by downloading our iOS app and becoming a member. Today's Daily Brief was brought to you by Annalisa Merelli, Niharika Sharma, Scott Nover, Michael J. Coren, Susan Howson, and Liz Webber.