Good morning, Quartz readers! Was this newsletter forwarded to you? Sign up here. Send it to a friend, then buy a house.
---
Here's what you need to know
Rescuers continue their search in Miami. Nine people are confirmed to have died in the building collapse last week, and more than 150 are still missing.
The US launched air strikes on the Iraq-Syria border. Responding to drone attacks on US forces, the Pentagon said, the strikes hit Iran-backed "operational and weapons storage facilities."
Serena Williams won't play at the Olympic Games. The US tennis superstar confirmed her withdrawal, without explaining her reasons.
Johnson & Johnson settled an opioids lawsuit for $230 million. The US pharmaceuticals giant, which did not admit liability or wrongdoing, was facing claims it fueled an addiction crisis in New York state.
Sydney went into lockdown. There are multiple outbreaks across Australia, and the "zero-Covid" strategy faces a stern test with vaccination levels low.
Unknown attackers shot at the Colombian president's helicopter. The government is offering an $800,000 reward for information on the assault on Iván Duque.
China released new images of its Mars mission. The Zhurong rover landed on the red planet in May.
---
What to watch for
Crowds at big sporting events are already back, but how crowded it actually is depends on where you are. On the same evening at the European soccer championships last week, a packed stadium in Budapest starkly contrasted with a more scattered audience in Munich. As with travel and everything else, there's no common standard yet.
There's a lot going on this week, and if you're in the right place at the right time, you might even get to see some of it live:
🚴🏽‍♂️ The Tour de France began on Saturday, in Brittany, northwest France. Riders will toil for around 2,100 miles (3,400 km) around the country. There's already been one huge crash.
🎾 Wimbledon starts today, without leading players Naomi Osaka, Rafael Nadal, Simona Halep, and Dominic Thiem.
⚽️ Euro 2020 continues, with Croatia vs Spain, and France vs Switzerland today.
Meanwhile, the Olympic Games are still going ahead without Serena. For all the latest sports highlights, human stories, and related news, sign up for our Need to Know: Tokyo Olympics newsletter.
---
Charting record US retirement rates
Nearly 3 million Americans retired during the first six months of the coronavirus pandemic in the US, and that could make returning to full employment in the US more challenging.
If more workers are demonstrating their leverage by quitting, others are showing their independence from the labor market by retiring, Tim Fernholz writes. During the pandemic, the share of Americans in retirement jumped from about 18.5% to 19.5%.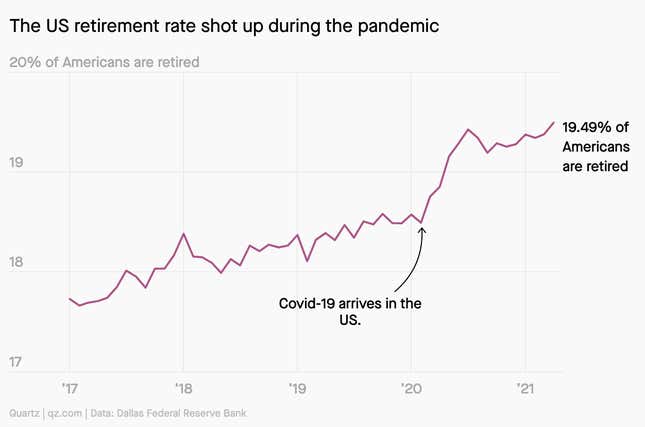 The surge of retirees may screw up calculations about managing the US macroeconomy. If some of those 3 million retirees aren't coming back to the office, policymakers may be overshooting with employment incentives—and that could lead to rising wages and prices.
---
Why can't I sleep?
There's never just one reason. Possible causes are stress, anxiety, caffeine, the news, alcohol, social media, working too much, not having work to do, and blue light—all of which are, arguably, artifacts of our productivity-obsessed culture. For most people, cutting them out entirely is near impossible because they're so baked into the way we live.
Sleeplessness was already at what the World Health Organization called "epidemic" levels even before Covid-19. The pandemic has made those feelings more widespread and intense, which can lead to a condition some health experts have termed "coronasomnia."
Therapy and medication are the gold standard of treatment for sleeplessness. But in recent years, there's also been an explosion of gadgets and apps promising better sleep through technology.
✦ Find tips for sleeping well in our latest field guide. One bonus piece of advice: become a Quartz member. Try it free for a week.
Handpicked Quartz
(Psst. 👇 We took the first story out from behind our paywall because it's that important.)
⚡️ How much energy does bitcoin use?
🇨🇳 In just one year, Beijing enveloped Hong Kong in a massive national security complex
📱 Can Reliance do for renewable energy in India what Jio did for telecoms?
🏙 Global cities are experiencing a boom in housing prices
🇰🇪 A white founder's $1 million Nairobi food startup aims to fix a problem Kenyans say doesn't exist
🧭 Inside Compass Lexecon, one of the top antitrust consulting firms
---
Surprising discoveries
South Africa could legalize polyandry. But conservatives in the country don't like the idea of women having more than one husband.
John Locke was an ass, allegedly. The great 17th-century philosopher was vain, lazy, and pompous—unusually for a Brit, we know—a newly discovered memoir reports.
Classified UK military documents were left at a bus stop. They contained sensitive information about a near-clash with Russian warplanes last week.
There might have been a Black sailor on the Mary Rose. King Henry VIII's flagship sank in 1545, but archaeologists have been studying bones recovered in 1982.
North Koreans are worrying about their shrinking Supreme Leader. Recent video footage of Kim Jong Un shows apparent weight loss.
---
---
Our best wishes for a productive day. Please send any news, comments, military secrets, and several husbands to hi@qz.com. Get the most out of Quartz by downloading our iOS app and becoming a member. Today's Daily Brief was brought to you by Tim Fernholz, Alex Ossola, and Hasit Shah.