Good morning, Quartz readers!
Was this newsletter forwarded to you? Sign up here. If you forward it to a friend, be sure to use inclusive and welcoming language.
---
Here's what you need to know
A hit squad assassinated Haiti president Jovenel Moïse, police say. Among the dead, detained, and missing are two Haitian Americans, and numerous Colombians; 11 suspects broke into Taiwan's embassy in Port-au-Prince, according to the Taiwanese foreign ministry.
The US is reportedly set to blacklist more Chinese companies over Xinjiang. According to Reuters, the Biden administration is censuring 10 more firms that have links to alleged human rights abuses.
Pfizer is applying for US authorization for its booster Covid-19 vaccine. The company says a third shot can help against new variants and naturally declining immunity.
Netflix signed a new deal with Shonda Rhimes. The Bridgerton producer, originally enticed from ABC, agreed a multiyear package between her company, Shondaland, and the streaming service.
There will be no spectators at the Tokyo Olympics. Aside from its impact on the Games, Japan's latest state of emergency could cost1 trillion yen ($9.1 billion). Follow the latest news with our Need to Know: Tokyo Olympics newsletter.
It's a huge weekend for tennis and soccer. In London, Wimbledon crowns its latest champions, and England faces Italy in the Euro 2020 final; meanwhile in Rio, it's Brazil vs Argentina in the Copa América.
---
What to watch for
The G20 is debating how to implement a global minimum tax at a Venice summit that starts today. The more exclusive G7 already announced an agreement to set a 15% floor on corporate taxes in June, as did a group of 130 countries convened by the OECD last week. But US treasury secretary Janet Yellen hopes to use the G20 gathering to push for a minimum rate even higher than 15%.
While the proposal enjoys broad international support, there are still some holdouts. Tax havens like Ireland—which has a seat at the G20 table—worry the measure will kill corporations' incentives for investing in their countries. Ireland opposes the 15% minimum, but has said it supports other proposals to redistribute taxes paid by multinational companies among the nations where they operate.
---
Charting Indian food delivery apps
A much-talked-about IPO by an Indian tech unicorn is finally out for delivery. Restaurant discovery and food delivery firm Zomato said Thursday it will launch its public listing on July 14. In the year that ended on March 31, 2020, Zomato's revenue increased nearly 50%. The company says it did well during the pandemic, after an initial drop, as Indians remained indoors and many restaurants remained closed for long periods.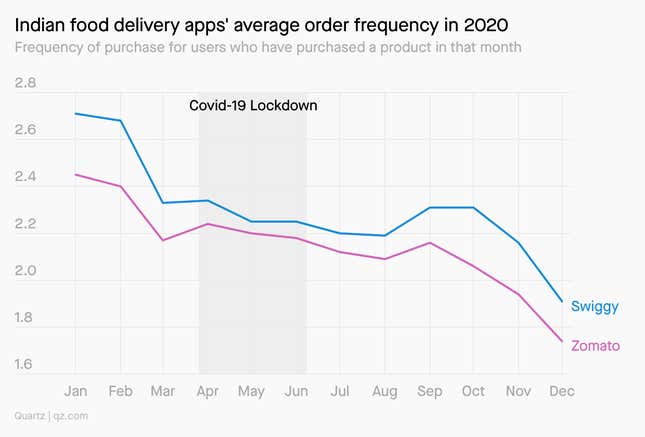 Zomato currently has one close rival: Bengaluru-based Swiggy. However, the food delivery segment in India has caught the interest of many new players, including American e-commerce giant Amazon, which entered the sector last year.
---
Cities are adapting to a new world
As the climate changes, technology innovates, and populations grow, some cities are making bold choices about how best to serve not just their current residents but future generations. Let's stamp some passports:
🚙 Brussels: The regional government will roll out an ambitious ban on fossil fuel-powered cars over the next 14 years, with new sales of diesel cars ending in 2030, and new gasoline car sales in 2035.
🏠 Madrid: Spain's capital city faces rising rents, congested streets, and insufficient access to green space. It's coming out of the pandemic with a focus on making housing more affordable, comfortable, and available.
🤖 MediaCity: The reasons smart cities have failed in Africa range from the use of foreign blueprints that don't work on the continent to conflict between promoters and government authorities. Mauritius intends to construct a global media and creative hub that builds on others' missteps.
✦ We're obsessed with rethinking cities. Come with Quartz on a journey through time and space as we imagine the metropolises of the future—try a membership free for a week.
Handpicked Quartz
(👇 We found the first one so fascinating, we decided to drop its paywall.)
👑 Meme traders have full control over AMC
🤔 Are you even trying to stop racism if you don't collect data on race?
🥵 The heatwave in the US and Canada is what climate change really looks like
🗣 Six types of language that are hurting your company culture
⏩ The Lambda Covid-19 variant is now spreading beyond Latin America
💪 How has the rupee managed to survive Covid's onslaught on the Indian economy?
---
Surprising discoveries
One of the traveling elephants in China was sent home. The bull had wandered away from the herd last month.
Winning the European Championship boosts the country's stock market. Investors think: GOOOOAAAAALLLLL.
A giant cat has conquered Tokyo. Technically, it's a digital billboard, and the only thing it's conquered is people's hearts.
Some dogs excel at learning words. Some dogs don't learn any words—but they are still good boys and girls.
Giant snakes seem to be on the loose everywhere. Escaped boas and pythons were last seen in homes, toilets, and shopping malls.
---
---
Our best wishes for a productive day. Please send any news, comments, digital cats, and genius dogs to hi@qz.com. Get the most out of Quartz by downloading our iOS app and becoming a member. Today's Daily Brief was brought to you by Hasit Shah, Camille Squires, Amindeh Blaise Atabong, Nicolás Rivero, Niharika Sharma, Liz Webber, and Susan Howson.