Good morning, Quartz readers!
Was this newsletter forwarded to you? Sign up here. Forward to your friend who has the best taste in movies.
---
Here's what you need to know
Spain's Covid-19 lockdown was ruled unconstitutional. The country's highest court effectively allowed people who broke lockdown rules to sue for repayment. Meanwhile, the UK demoted Majorca, Ibiza, and Menorca to a lower level on its approved travel list, as cases rise.
The Amazon is no longer a carbon sink. The rainforest is now emitting more carbon dioxide than it gobbles up, thanks to climate change and fires used to clear land.
Tokyo's new Covid-19 cases hit a six-month high. Yesterday's tally of 1,149 cases comes as a hotel hosting Olympics athletes recorded a coronavirus cluster.
Europe laid out a bold blueprint for a low-carbon future. The plan includes ending the sales of new gas-powered cars within 14 years and instituting a border tax on imports coming into Europe from countries or industries with less rigorous carbon policies.
Netflix is preparing to offer video games. The company has hired a former Electronic Arts executive to lead game development, with a view to offering games within the next year.
The US and China still aren't talking. An economic dialogue freeze begun in the Donald Trump era is unlikely to thaw anytime soon, Bloomberg reports.
Delta Air Lines made a profit. It's the first time since 2019—Delta attributes the boost to rising business and leisure travel, but a US government bailout also did some heavy lifting.
---
What to watch for
China's V-shaped recovery is definitely slowing down. Its economy grew 7.9% from April to June, lower than a Reuters forecast of 8.1%, its statistics office said today (July 15).
In the first quarter, China clocked a remarkable growth rate of 18.3%. In part that's because the first quarter of 2020 was the country's worst during the pandemic last year, so the first quarter this year was always going to look great by comparison.
China's statistics office has called the recovery steady but "unbalanced." It's been riding on consumption in other parts of the world—its exports—and not being buoyed as much as it would like by spending at home. In June though, retail spending grew at a better than expected 12.1%, after missing expectations in both April and May.
Overall, China is on track to meet or well exceed the growth rate of 6% or more the country's leadership has set for 2021.
---
Charting the rising cost of carbon
In April, a metric ton of carbon in Europe traded above $50 for the first time—and then kept rising, smashing through the ceiling set over the last decade. Global carbon prices have followed suit, breaking national records from the US to China.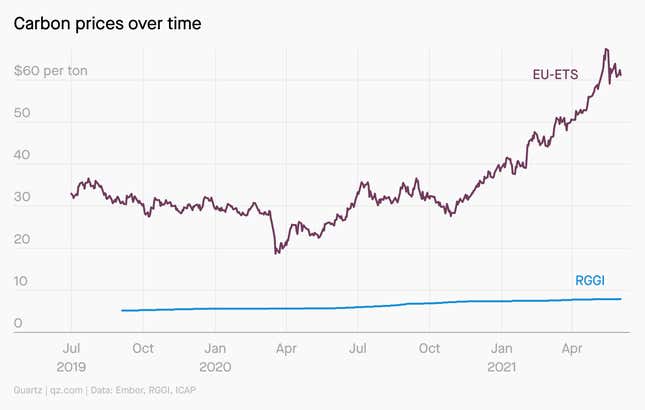 Forecasters suggest carbon prices will climb through 2030, even as countries chart their own emissions path. Researchers estimate putting the world on the path to net-zero emissions by 2050 means prices will need to exceed $100 per ton in major economies within a decade.
---
Central Vista: A symbol of apathy or a "new India"?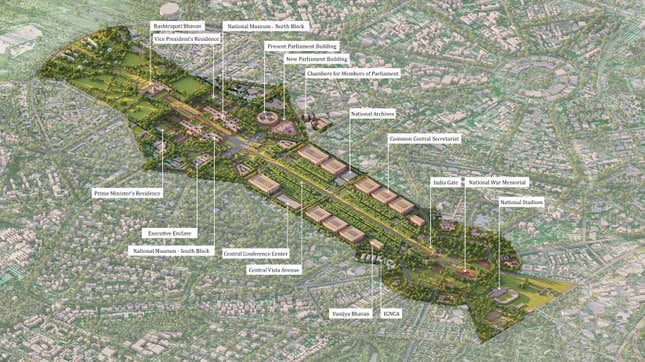 India's project to redevelop the central administrative area in New Delhi is seen by many as an example of misplaced priorities in the middle of the pandemic. Niharika Sharma spoke to Bimal Patel, chief architect of the Central Vista project, to address the controversy.
How do you deal with the criticism around the project? Do you think it's justified?
We believe that a lack of adequate information about the project in the public domain has fueled most of the criticism. This project is not unique. The tradition of effectively communicating information about public projects and policies is yet to develop in India.
There are allegations that the project is destroying Delhi's age-old culture. How true is that?
This is absolutely false. We are very mindful of the heritage character of Central Vista and the very important role that it plays in defining India.
✦ Follow Quartz India for the latest on how Covid-19 is impacting the business and politics of the world's largest democracy. Quartz members can read it all without ever hitting a paywall—try it free for a week.
Handpicked Quartz
(👇 The first one is so good, we decided to drop its paywall.)
🇨🇳 Europe's new tax on high-carbon imports is bad news for China
💡 How Cloudflare is reengineering its offices for a post-Covid world
✈️ Traveling to an African country? Here's what you need to know
✊ Hong Kong's first national security trial is debating Malcolm X's legacy
🚽 Analyzing sewage poop in Nairobi averted a polio crisis and is now providing answers for antibiotic resistance
🎥 Who could buy the film studio behind Moonlight and Lady Bird?
---
Surprising discoveries
Twitter is sunsetting its "Fleets." We forgot they existed, and apparently so did everyone else.
Jair Bolsonaro was hospitalized for hiccups. Brazil's president's chronic condition may be a lot more serious than that sounds.
Tokyo Bay has a bacteria problem… Too much E. coli bacteria means the Olympic triathlon venue sports an unsubtle odor of toilet.
…but New Jersey has a magical cleaning sprite. A now-viral cleaner went to the wrong house, and the owners came home to the best break-in ever.
A Moon rock plucked in 1972 finally gave up some answers. The "Sea of Serenity" was an unserene scene of bombardment for a lot longer than previously thought.
---
---
Our best wishes for a productive day. Please send any news, comments, Moon answers, and unloved Fleets to hi@qz.com. Get the most out of Quartz by downloading our iOS app and becoming a member. Today's Daily Brief was brought to you by Tripti Lahiri, Michael Coren, Clarisa Diaz, Niharika Sharma, Liz Webber, Susan Howson, and Samanth Subramanian.