Good morning, Quartz readers!
A flurry of US restaurants are aiming to go public in what is on track to be the biggest year for IPOs since at least 2014.
Krispy Kreme went public (again) this month, PF Chang's is rumored to be looking into an IPO, and California Pizza Kitchen is looking to go public or find a buyer. Salad chain Sweetgreen, fast-casual chain Portillo's, and coffee chain Dutch Bros have all confidentially filed to go public. Panera Bread, owned by JAB Holding, is considering doing the same (also for the second time).
Restaurant stocks aren't typically hot tickets, and there hasn't been much demand for IPOs. The biggest public restaurant companies, McDonald's and Starbucks, together account for about 57% of all restaurant market cap; they went public in 1987 and 1992, respectively. In the past five years, only two restaurants have IPOed on the New York Stock Exchange or Nasdaq.
That's changing now. As the economy opens up, Americans are going out again, so there's been a shift in spending from goods to services. Restaurant chains are expanding accordingly, and restaurant sales have already reached pre-pandemic levels. While lockdowns decimated  eateries in urban centers dependent on office lunch hours, many fast food chains had an easier time adapting. McDonald's and Taco Bell are more profitable now than before the pandemic.
With interest rates low, investors are also gobbling up equities. Private equity firms, which tend to buy up restaurants in bundles, are looking to cash out by taking the companies public. But even though demand is as hot as tableside fajitas, analysts warn that it's cyclical. Many restaurant IPOs (including Krispy Kreme's first one) ultimately wilt. That could explain the current stampede: Backers are wary of investors losing interest.
"It's almost like rushing for the gates," says Sean Dunlop, an equity analyst at Morningstar. "Because all it takes is one that goes particularly sideways and then it could close right back up." —Michelle Cheng
---
---
Five things from Quartz we especially liked
The future of Robinhood is Gen Z. The brokerage went public this week in one of this year's highly anticipated tech IPOs. John Detrixhe writes that Robinhood's future sustainability depends on its ability to hang onto its young customers as they grow older, accumulate wealth, and become savvier investors. —Annabelle Timsit, reporter
What if McKinsey got it wrong? The consulting firm's research connecting diverse leadership teams to superior financial performance has long been used to justify corporate diversity efforts. But a new study, not yet peer-reviewed, couldn't replicate the findings and questions McKinsey's methodology. Sarah Todd lays out the issue—and smartly questions how much the statistics should matter either way. —Heather Landy, executive editor
Earth is damp, air is humid. The traditional Japanese calendar measures time by small changes in the natural world—the period in May when frogs start singing, or the time in late November when rainbows hide. This essay by Annalisa Merelli, and beautifully visualized digital calendar by Amanda Shendruk and Alex Citrin, explains how conceiving of our days this way can move us beyond concerns about productivity, toward a more expansive view of life. —Sarah Todd, senior reporter
QVC, but make it social media. US social media companies are finally starting to invest in a revenue generator that has already proven popular (and profitable) in China: hawking products via live streamed sell-a-thons, in the style of TV channels like QVC. Scott Nover explains how the pandemic pushed brands, influencers, and tech companies to take live shopping seriously—and how the success of early experiments has inspired companies from TikTok to Petco to double down on the trend. —Nico Rivero, reporter
There's a word for that. Is it virtuous or delusional to hang on to novels and bestsellers you have not, and may never, read? Jackie Bischof's delightful Obsession email about tsundoku, the Japanese word for collecting books that go unread, sees your struggle. Bischof explores the arguments for and against stacking your nightstand with the titles that speak to some ideal self. I can't promise you an easy answer, but you will feel less alone. —Lila MacLellan, senior reporter
---
We're obsessed with Simone Biles… and Suni Lee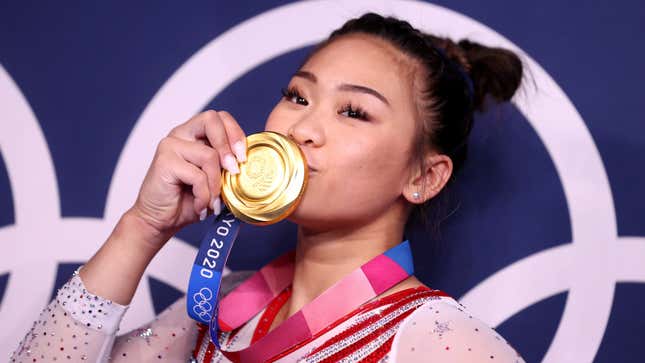 A different way to win. Simone Biles is the most decorated female gymnast in history, with moves so dangerous, judges worried others attempting them would lead to injury. But Biles kept going, in her words, "Because I can." We're so obsessed with her that we wrote a whole extra Weekly Obsession dedicated to the GOAT.
The next day, she stunned everybody by pulling out of the competition. Biles said her mental health had suffered under the pressure, manifesting in jitters that could cost her a medal at best and her life at worst. The US gymnastics team still nabbed a silver in the all-around, and a jubilant Suni Lee took home the gold for individual all-around, with her teammate Simone cheering her on all the way.
Subscribe to the Quartz Weekly Obsession to make sure you catch our final Olympics-related topic. To go for 🥇, grab a Quartz membership at 40% off and gain access to even more emails, plus a paywall-free experience. 
---
Five things from elsewhere that made us smarter
Excuse me sister, could you spare some time? Waiting on hold for hours, navigating phone trees and out-of-date websites, and filling out endless forms can feel like a punishment when all you want is a new passport, or your unemployment benefits. Annie Lowrey argues in The Atlantic that in the US it's that way by design—the work of a functional bureaucracy has been outsourced to the people, with most of the burden falling on those who are already struggling. —Katherine Bell, editor in chief
Climate change comes for Google and Facebook. Tech campuses may be on the cutting edge of chic corporate design, but many are also on the literal edge of San Francisco Bay—and increasingly vulnerable to rising sea levels. Dirt levees built to protect them aren't up to federal safety standards. As Lauren Sommer reports for NPR, the surrounding community is divided about whether taxpayers should foot the bill for the infrastructure needed to protect some of the world's most profitable and powerful businesses. —Tim McDonnell, climate reporter
The wrong Thomas James. On Jan. 17, 1990, an eyewitness claimed to have seen Thomas "Tommy" James at the scene of a murder in Coconut Grove, Florida. The next month, Thomas Raynard James—a different Thomas James—was charged with the murder based on his name. He is still serving out a life sentence. For GQ, Tristram Korten tells James's devastating story and his ongoing fight to clear his name. —Sudie Simmons, user insights manager
A load of garbage. The oil industry, which depends on plastic as one of its biggest customers, is pushing "advanced recycling" as the solution to the world's plastic waste crisis. The technology sounds great, turning discarded plastic into fuel or the raw material for new plastic. Except the reality doesn't nearly match the promise. For Reuters, Joe Brock, Valerie Volcovici, and John Geddie examined dozens of advanced recycling projects around the world and found most to be fighting a losing battle against logistical obstacles. —Marc Bain, senior reporter
The power of policy. Many major US cities cut highways through their historically Black neighborhoods, destroying communities in the process. Reporters at Bloomberg look at this legacy of racist federal transportation policies in a piece that's as powerful as it is beautiful. Using demographic maps, aerial photography, and historical documents, it details how such decisions devastated neighborhoods, and explores ways to avoid policies that repeat these mistakes. —Amanda Shendruk, Things reporter
---
Our best wishes for a relaxing but thought-filled weekend. Please send any news, comments, livestream shopping hauls, and unread books to hi@qz.com. Get the most out of Quartz by downloading our app and becoming a member. Today's Weekend Brief was brought to you by Liz Webber and Susan Howson.