Good morning, Quartz readers!
Was this newsletter forwarded to you? Sign up here. Forward to your friend with the best shoes.
---
Here's what you need to know
Huawei executive Meng Wanzhou was freed from Canada. After hammering a deal for her release, China freed Canadians Michael Kovrig and Michael Spavor.
The German election is too close to call. The Social Democrats seem to have a narrow lead, which would put 63-year-old Olaf Scholz in charge.
Switzerland legalized same-sex marriage. A two-thirds majority of Swiss voters approved a referendum that makes the country one of the last in Europe to legalize gay marriage.
The US infrastructure bill is expected to pass this week. House speaker Nancy Pelosi said the $550 billion package will pass imminently, but did not give a timeline for the $3.5 trillion social spending bill.
China adds oversight to Evergrande projects. With the real estate company experiencing a debt crisis, local governments in China are trying to protect funds for housing projects from being diverted.
The UK could deploy the army to gas stations. After a run on petroleum, Boris Johnson is considering using hundreds of soldiers to deliver fuel to stations.
---
What to watch for
Google will defend itself in a five-day antitrust hearing in a EU court starting Monday (Sept. 27). Hanging on the balance is a $5.15 billion fine imposed by EU competition chief Margrethe Vestager in 2018, the largest antitrust penalty in EU history.
European regulators found that Google used its leading market position with its Android operating system to secure contracts with smartphone makers and telecom companies. That helped cement Google's dominance in mobile search, undermining competitor search engines, Vestager found.
How this hearing goes could foreshadow how successful the US Justice Department will be in its own antitrust suit against Google on similar grounds. The tech giant is also facing an EU probe into its digital advertising practices, which it has offered to settle, and has previously been fined for antitrust violations related to its shopping services. 
---
What's new about China's latest crypto crackdown?
China has taken steps to curb the rise of cryptocurrencies since at least 2013, but with crypto markets booming in 2021, the government is getting more serious.
On Friday, the People's Bank of China said cryptocurrencies, including bitcoin and ether, are not "legally reparable" and should not be used. Now, not only are financial institutions cut off from providing support to crypto-related businesses, but so are marketing and IT providers, the order said. In other words, any crypto holders or miners are now cut off from legal business dealings in China.
"Whilst this is not a surprise as China has 'banned' crypto many times in the past, this time there is no ambiguity," tweeted Henri Arslanian, PricewaterhouseCoopers crypto leader. "Crypto transactions and crypto services of all kind are banned in China. No room for discussion. No grey areas."
---
Wasted fuel
A proposed rule from the US Federal Aviation Administration has led airlines to run extra, unneeded flights just to cement their takeoff and landing spots at airports. If this sounds like an environmental problem, that's because it is. To comply with the new rules, airlines could emit 20,000 tons of extra carbon dioxide each day.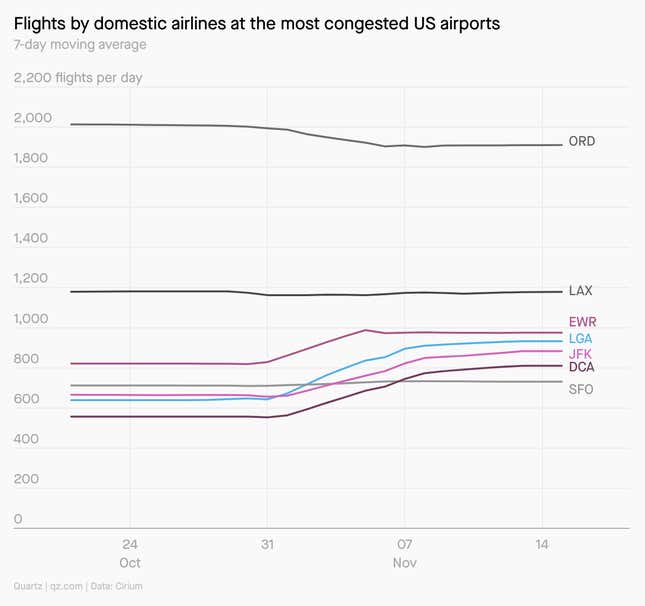 Nicolás Rivero, Clarisa Diaz, and David Yanofsky break down the data for Quartz members.
🎂 Quartz has been committed to breaking down complicated concepts and explaining why they matter for…wow, has it been nine years already? Celebrate our birthday with 50% off an annual membership using code QZBIRTHDAY. 🥳
---
What we're reading
🤥 What if Facebook is lying to its own Oversight Board? New reporting reveals the board wasn't fully aware of how Facebook handles posts from celebrities and politicians.
💸 Why cash will be obsolete within a decade. Digital payments will make financial services cheaper and available to more people.
🌜 NASA's moon mission is waiting on a fight over meetings. It pits Jeff Bezos' Blue Origin against Elon Musk's SpaceX.
👟 How hard is it to buy Nikes right now? The company's sneakers ​​are likely to sell out faster and cost more due to supply chain disruptions.
🇬🇷 Only one country in western Europe has a low opinion of Angela Merkel. The outgoing German chancellor is popular in every country surveyed apart from Greece. 
---
Surprising discoveries
Scientists are fed up with lobsters concealing how old they are. Anatomical markers weren't sufficient to tell their age, so researchers are now checking changes in the crustaceans' DNA.
Captain Kirk is going to space. Star Trek actor William Shatner will ride aboard Jeff Bezos' Blue Origin rocket ship.
A turtle delayed a turtle-decorated plane in Japan. The shelled reptile was spotted on the tarmac, holding up a total of five flights.
White toilet paper has an ecological toll. The whiter and softer the paper, the more water and chemicals are used to produce it.
Abraham Lincoln's hair was fashioned into an eagle sculpture. The artifact is made entirely of hair, including that of Lincoln, his wife, his vice president, and his cabinet.
---
Our best wishes for a productive day. Send any news, comments, crypto tips, and green TP to hi@qz.com. Get the most out of Quartz by downloading our iOS app and becoming a member. Today's Daily Brief was brought to you by Scott Nover and Ana Campoy.