Good morning, Quartz readers!
Was this newsletter forwarded to you? Sign up here. Forward to the friend who you think is grrr-eat!
---
Here's what you need to know
The WHO backed a malaria vaccine for kids in Africa. The continent sees 94% of the world's malaria cases and deaths, with the majority of deaths among kids aged five and younger.
Amazon's Twitch was hacked. The video game streaming platform's breach leaked massive amounts of data, including source code and creator pay information, to the website 4chan.
Benjamin List and David WC MacMillan won the Nobel prize for chemistry. They developed asymmetric organocatalysis, which revolutionized drug production.
The granddaughter of Benito Mussolini won support in Rome. Rachele Mussolini of the far-right Brothers of Italy party got the most votes in Rome's city council election.
Facebook paused more products. Whistleblower and US lawmaker pushback, which CEO Mark Zuckerberg rejects, has also slowed work on existing projects for "reputational reviews," according to The Wall Street Journal.
Bitcoin surged on a George Soros endorsement. The cryptocurrency climbed 10% yesterday to about $55,000.
---
What to watch for
The US economy added 235,000 jobs in August, far fewer than the 700,000 or so jobs that economists expected. Experts will be watching the September employment report on Friday for clues as to whether that surprise was a blip or a sign of a deeper fracture in the job market.
Economists still predict perky job growth. But another miss or two could force policymakers to do a major rethink and cause them to wait longer to raise borrowing costs. If the economy is adding fewer than 300,000 jobs per month, that's not the kind of steady growth that will quickly restore all the employment that was lost at the outset of the Covid-19 pandemic.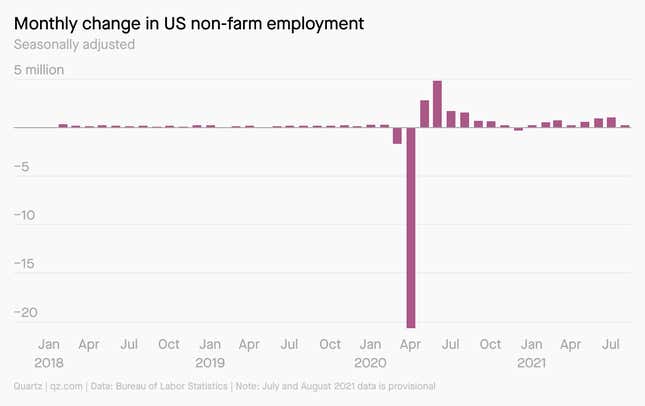 John Detrixhe has more on what to look for in the report and what it means for the US labor market.
---
Spain will help adults move out of their parents' homes
Spain's prime minister Pedro Sánchez announced yesterday that his government plans to offer adults aged 18 to 35 €250 ($290) a month to spend on rent for up to two years. Adults in Spain tend to move out of their families' homes around age 30, nearly four years later than the EU average, according to Eurostat. In recent years, low housing supply coupled with high demand has caused rents to rise, making it harder for young people to save up enough to move out.
22.3%: Percentage of Spanish adults aged 20-34 who were not employed or enrolled in an education program in 2020
38%: Youth unemployment rate in the country currently
100,000: Number of new houses in Spain in 2018
850,000: Number of new houses in the country in 2006
€1 billion: Portion of Spain's EU coronavirus recovery funds the government will invest in social housing
---
China's changing role in shrinking global inequality
"Because 4.4 billion of the world's 7.8 billion population now live in countries poorer than China, rapid growth in China will eventually be disequalizing." —Nobel-winning economist Angus Deaton
Global income inequality, as measured by the Gini coefficient, has been steadily declining over the years, mainly driven by rising incomes in India and China. But that may no longer hold so true as the world's most populous country, China, has seen its income rise significantly. While officials' recent push for "common prosperity" could reduce inequality within China, thereby continuing to decrease inequality globally, it could also result in downward mobility.
Of course, as with pretty much all economic trends and predictions, the pandemic made things a bit more complicated.
✦ You know what's not complicated? Getting 40% off a Quartz membership with code QZEMAIL40.
---
Handpicked Quartz
🔮 Facebook is shutting down one of its most interesting experiments
👩‍⚕️ Student nurses who refuse vaccination struggle to complete degrees
⚡️ India is also staring at an energy crisis
⛔️ A city at the heart of the UK auto sector has a new plan to edge out cars
💰 Google announced a $50 million venture capital fund for growth-stage African startups
🦘 The Tony the Tiger protest sign at a Kellogg's plant could have featured a kangaroo, an elephant, or a gnu
---
Surprising discoveries
What's cooler than being cool? Thirty-eight trillionths of a degree away from absolute zero! 
Good luck getting a pool before 2023. Fewer lockdown restrictions didn't ease the boom in in-ground pool construction, and builders are naming their prices.
The movie Cats prompted Andrew Lloyd Webber to buy a dog. The legendary composer of the original show said his puppy was the only good thing to come out of the adaptation.
The Earth is getting dimmer. Scientists can tell from measuring changes in how brightly our planet's light reflects off the moon.
The US has more monuments to mermaids than congresswomen. Guess women politicians still aren't part of that world.
---
---
Our best wishes for a productive day. Send any news, comments, les poissons, and consolation puppies to hi@qz.com. Get the most out of Quartz by downloading our iOS app and becoming a member. Today's Daily Brief was brought to you by John Detrixhe, Courtney Vinopal, Mary Hui, Morgan Haefner, Susan Howson, and Liz Webber.