Good morning, Quartz readers!
Was this newsletter forwarded to you? Sign up here. Forward to the friend who is most excited about the Rugby World Cup.
---
Here's what you need to know
Two more Chinese real estate developers are in trouble. Sinic Holdings said it likely won't repay $250 million worth of bonds and China Properties Group said it defaulted on $226 million worth of notes, all while questions around Evergrande's future swirl.
Apple dropped new products. At the company's Unleashed event, humankind learned of the MacBook Pro 14-inch and the third generation of AirPods.
Facebook is seeking "metaverse" talent. The company said it will create 10,000 jobs in the EU and invest $50 million to ensure its virtual world is built "responsibly."
WHO asked for more data about Covaxin. A lack of approval could complicate travel for tens of millions of Indians who have already received the homegrown vaccine.
Foxconn unveiled three "Foxtron" EV prototypes. Plans for an electric sedan, SUV, and a bus are part of the Taiwanese iPhone assembler's push into the auto industry, though Foxconn doesn't plan on making the vehicles itself.
Russia will pull its diplomats out of NATO. The move is a retaliation against the alliance, which expelled eight Russian diplomats it said were acting as intelligence officers.
Former US secretary of state Colin Powell died. Powell was the first Black person to hold the office, but his biggest legacy is arguably his role in pushing the US toward war with Iraq.
What to watch for
WeWork is expected to make its public debut this week, pending approval of a SPAC (special purpose acquisition company) merger with BowX Acquisition Corp., whose shareholders will vote today on the $9 billion deal.
It's been a rocky road to the New York Stock Exchange for WeWork, which infamously bombed its 2019 attempt at an IPO under the helm of disgraced founder Adam Neumann. Now under new leadership, WeWork is trying to show investors that it's become a responsible company.
But because SPAC deals are less transparent than traditional IPOs, it may be harder for investors to parse the coworking company's true state of affairs. Acquisition targets are not required to face the same levels of scrutiny and due-diligence obligations as companies that undergo an IPO. And unlike traditional IPOs, the SPAC process permits companies to make potentially inflated projections about their future earnings.
Sarah Todd has more on the potential dangers of SPACs.
---
Another financial debut: A bitcoin ETF
The first US exchange-traded fund (ETF) for bitcoin is set to start trading as early as today. The launch of the bitcoin ETF, run by ProShares under the ticker "BITO," comes as bitcoin prices have risen to about $61,829, the highest price on a closing basis since April.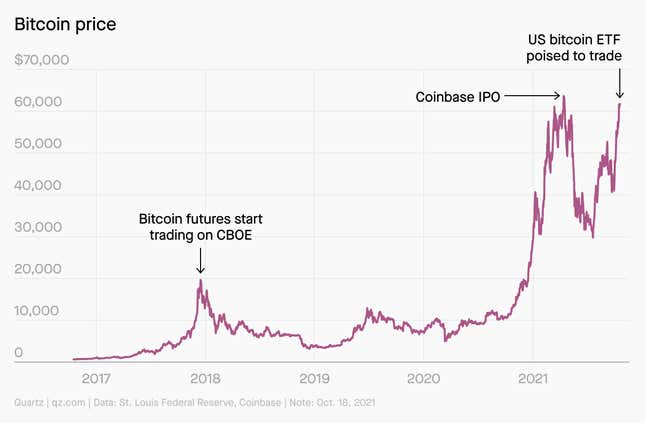 There's speculation that the US Securities and Exchange Commission's green light for the ETF could mark another peak for crypto. Two earlier watershed moments for digital assets—bitcoin futures' debut on trading exchange Cboe Global Markets and Coinbase's IPO—led to losses.
With several other bitcoin ETFs slated to hit the US market in coming weeks, history could be set to repeat itself.
---
What's a DAO?
Imagine a company owned and run by its shareholders, without a CEO. Imagine its rules, its governing structure, even its basic functions are locked in and automated by immutable code—specifically by blockchain technology.
That's the central idea behind decentralized autonomous organizations (DAOs), which have become increasingly popular amid a maturing tech ecosystem, particularly in finance. But the idea goes beyond corporate structure: Proponents say that the rise of DAOs will transform how people run communities in general, overhauling not just companies, but the broader internet—and eventually, society at large.
Before the DAO market can expand and go even more mainstream, proponents and other stakeholders have some questions to answer.
SPAC, ETF, DAO—a Quartz membership will keep you up to date with all the latest business acronyms, as well as what they mean for the global economy. Sign up today and get 40% off with code QZEMAIL40.
---
One last acronym…
🎧 This week on the Quartz Obsession podcast, we're talking about CAPTCHAs: Completely Automated Public Turing tests to tell Computers and Humans Apart. They stop robots from gumming up the internet, but what happens as it gets harder to prove our humanity online?
Click here to listen, or subscribe on Spotify, Apple, Google, or wherever you get your podcasts. 
Sponsored by American Express
Handpicked Quartz
🦢 China's GDP data shows the damage to its economy from "black swan" events
🌱 How does global climate finance get spent?
🤨 The COP26 climate summit has corporate sponsors—and they're already demanding changes
💰 2021 has already shattered yearly records for startup funding
😔 Ghana's new anti-gay bill proposes prison terms for LGBTQ+ Ghanaians and their allies
⛓ The Indian government is testing blockchain technology to streamline its logistics industry
---
Surprising discoveries
A crusader sword was found beneath the Mediterranean Sea. A diver spotted the 900-year-old shell-encrusted weapon in a cove that was a popular sheltering spot for marine vessels.
An award-winning Spanish female author is actually three men. Carmen Mola's works have been cited on lists of must-read books by and about women.
Vienna museums opened an OnlyFans account. It was getting too difficult to promote works of nude art on any other social platform.
A UK bakery used illegal sprinkles. They contained red E127 food coloring that's only allowed in candied cherries, as everyone knows.
Otters don't damage aquatic ecosystems by digging for clams after all. They actually improve eelgrass's genetic diversity, which in turn makes the whole habitat healthier.
---
---
Our best wishes for a productive day. Send any news, comments, pen names, and illicit bakery toppings to hi@qz.com. Get the most out of Quartz by downloading our iOS app and becoming a member. Today's Daily Brief was brought to you by Sarah Todd, John Detrixhe, Jasmine Teng, Morgan Haefner, Susan Howson, and Liz Webber.