Good morning delegates!
All good forums must come to an end. Thanks for allowing us—Heather, Isabella, Jason, and Jenny—to be a part of your inbox this week.
There's a half day of programming today, so there's still time to discuss a more "cohesive and sustainable world." Also, purely for informational purposes, every ski lift on both sides of the valley is open, with the forecast calling for sunny skies and a high of 6°C (43°F).
Our parting thoughts—including the naming of the overall winner of Davos 2020—will hit your inboxes tomorrow, as part of the regular version of the Quartz Daily Brief.
What to watch for today
Central bankers don't ski. Instead, they speak on Friday panels. The central bank chiefs of France and Netherlands appear at 10:30 am, while an hour later the people pulling the monetary levers in Japan and at the ECB are joined by the head of the IMF and finance ministers from Germany and the US.
Going green. Unlike many leaders paying lip service to climate change this week, Austrian chancellor Sebastian Kurz can credibly tell the audience that his government is committed to the environment. That's because a few weeks ago, the rightwing leader of the People's Party entered into an unlikely coalition with the Greens. Kurz speaks at 11:30 am.
Skolstrejk för klimatet. Finished with talking about it at the Congress Center, Greta Thunberg takes to the streets of Davos for a climate-change strike at 11:00 am.
Behind the scenes. At noon at the Swiss Alpine High School, catch a screening of The Forum, a German documentary about the inner workings of the WEF, accompanied by a Q&A with director Marcus Vetter. For another perspective on what it's like to work for the WEF, check out its reviews and rating (3.4 out of 5) on Glassdoor.
Who won day three?
At the grimly titled panel "How to Survive the 21st Century," philosopher-historian-author Yuval Harari articulated a sophisticated vision of why we all should fear the future. It boils down to a trio of existential crises: nuclear war, ecological collapse, and technology. On the latter, he argued that artificial intelligence combined with biometrics means algorithms will know our biology, which is way scarier than the machines knowing whose post we liked or what shoes we bought. "We are no longer mysterious souls," he said. "We are now hackable animals." Somewhere out there, Jeff Bezos is nodding.
For attracting crowds to Congress Center sessions for a third straight day, and serving up steady helpings of philosophical hard truths, the winner of Davos on day three was Yuval Harari.
More highlights from yesterday
Juan Guaidó's call for help. Defying a travel ban, Venezuela's opposition leader—also a member of the WEF's Young Global Leaders—delivered an address exactly one year after the day that he declared himself interim president. The 36-year-old called on the international community to assist the beleaguered country, giving a special shoutout to Colombian president and ally Ivan Duque, who is also at Davos. Guaidó said that more people have left Venezuela than Syria, even though the country is "not at war." The consensus, however, seemed to be that Guaidó lacked a real plan, with no end in sight to the country's tragic humanitarian crisis.
George Soros let rip. At his annual dinner, the 89-year-old billionaire called Donald Trump's narcissism a "malignant disease." He warned that the US president and Chinese leader Xi Jinping are the biggest threats to open societies, called out India for its marginalization of Muslims, and said that following the Hungarian government's booting of his Central European University from Budapest, he would invest $1 billion in a new network of universities to promote liberal education.
Greta vs. Trump's money man. At a press conference, US Treasury secretary Steven Mnuchin said the famous teen activist needs to get an economics degree before dispensing advice on how to fight climate change. Thunberg responded with a subtweet, saying her gap year ends in August and that "it doesn't take a college degree in economics to realise that our remaining 1.5° carbon budget and ongoing fossil fuel subsidies and investments don't add up."
What Satya Nadella has been reading. In a Congress Center sit-down with Klaus Schwab, the Microsoft chief noted that "last year, perhaps there were more books written on capitalism and how capitalism needs to be redefined than ever before." (Don't we know it.) "In one such book," Nadella said, "written by an Oxford economist called Colin Mayer, there's a very good definition of the social purpose of a firm." The book is Prosperity (technically published in 2018), and the definition, as Nadella described it, is that "a corporation finds profitable solutions to the challenges of people and the planet." Other recent books name-checked in the half-hour session: The Narrow Corridor by MIT economist Daron Acemoglu and University of Chicago political scientist James A. Robinson; Nadella's own 2017 book Hit Refresh (with a foreword by Bill Gates), and Schwab's 2018 book Shaping the Fourth Industrial Revolution (with a foreword by Nadella).
Don't believe the hype
Each day, we're asking a different delegate whether the following people, things, and ideas are overhyped, underhyped, or properly hyped. Today's contestant: Jonathan Ha, CEO of Red Pulse, a Shanghai-based data and intelligence platform focused on Chinese markets.
Blockchain. Overhyped. "I'm someone who's been involved in blockchain for the past two and a half years, and have seen the huge discrepancy between what's been promised and what's been delivered."
A four-day work week: Overhyped. "For every organization that is advocating for a four-day work week, there are 100 that are pushing their employees to work longer hours for the sake of profit and market share growth."
Greta Thunberg: Overhyped. "Pairing her with a pragmatic economist would be interesting."
ESG investing. Properly hyped. "In order to be successful, there is a need for a standard set of metrics to gauge companies' progress on ESG, which will subsequently make it easier for asset managers to tilt towards or away from companies accordingly."
Crampons. Underhyped.
Chart interlude
After a week of living off free food, drinks, and other assorted swag, many attendees will be taking out their wallets again as they make their way home. It's not a pleasant experience for non-locals these days, with The Economist's Big Mac index—which measures the relative strength of currencies based on prices of the ubiquitous McDonald's burger—suggesting the Swiss Franc is the most overvalued major currency in the world.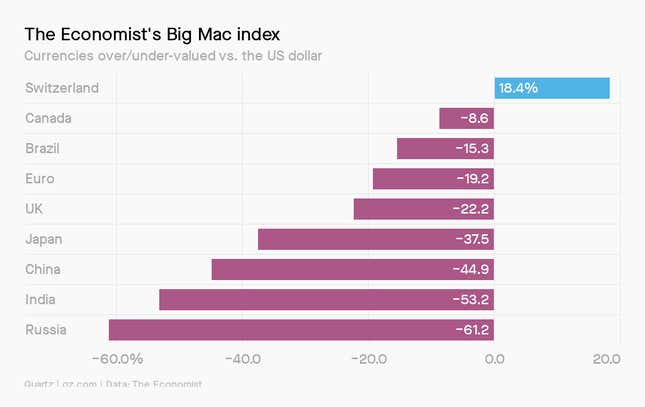 Seen and heard
"I mean, with my five-year-old, explaining that it was made from petroleum products, that it got shipped from China… she's like, 'just give me the toy.'"—Delegate, and dad, explaining why the consumption economy is hard to rein in.
Susan Wojcicki, CEO of YouTube, on a tricky negotiation to get into an exclusive dinner the other night: "There were lots of guys with big guns saying we couldn't go in. Besides that, it was great."
The best multicolored mohawk hairdo we saw this week was sported by the singer of the excellent cover band at the McKinsey nightcap. If you saw a better one around the Congress Center, let us know.
"When you say the north star, I think the southern cross."—A panelist from Costa Rica reminding guests at a dinner that the Global South has a different rhetorical guidepost.
"Of course I'd vote for Mike Bloomberg."—Anthony Scaramucci
Mike Horn, polar explorer, on the difficulties of returning to civilization after an Antarctic trek: "You are better in your tent at -40° with polar bears wanting to eat you."
One expensive blue suit to another: "One more day, man. One more day."
Further reading

We came, we saw, we published the secret list that WEF uses to categorize every delegate. Check out all of Quartz's coverage from Davos here, including an op-ed by David Miliband filed from the forum about the risks facing humanitarian workers around the world.
Elsewhere, we also enjoyed the New York Times on Davos' credibility problem, Bloomberg's number-crunching on what going to Davos does to a company's share price, and Ryan Heath of Politico's harrowing story about sleeping outside in the freezing cold with anti-homelessness activists.
News from around the world
Democrats presented their case that Donald Trump abused his power. They argued that the US president put his personal interests ahead of the country's in pressuring Ukraine to investigate former vice president Joe Biden and withholding US military aid as leverage. They'll focus on the president's obstruction of the House investigation in the final day of arguments today.
North Korea appointed a new foreign affairs minister. Ri Son Gwon, a former defense commander, is now the country's top diplomat. Analysts were surprised by the appointment of someone with such limited diplomatic experience, especially in dealing with nuclear issues and US officials.
Twenty US states sued the Trump administration over 3D printed guns. The coalition, which includes the District of Columbia, is challenging federal rules allowing blueprints for making guns on 3D printers to be posted online. The suit warns this would lead to a proliferation of "ghost guns" that are hard to trace and detect.
Quartz membership
Your quest begins here. If you want to keep up with the gaming industry and how it's influencing other aspects of our lives, we've got you covered. Our syllabus for understanding gaming's next level tells you the people, books, and podcasts you need to know.
Matters of debate
China's censorship is a public health problem. Its toxic relationship with information is shackling some of its coronavirus outbreak management efforts.
There's no reason to be using Facebook anymore. And unless you quit the blue-walled garden, you're part of the problem.
Companies should stop blocking websites at work. People will just waste time figuring out how to scale the firewall.
Surprising discoveries
The ancient Mount Vesuvius eruption turned its victims' brains into glass. The 79 AD blast burned with a heat so intense that it vitrified a man's brain, newly discovered fragments suggest.
Google's suggested searches have a patriarchy problem. Type a woman's name into Google and there's a good chance that "husband" or "wedding" will come up as an automatic suggestion. For men, not so much.
Nigerian terms have been added to the Oxford English Dictionary. Find out what colloquialisms like "next tomorrow" and "send-forth" mean.
Our best wishes for an inspiring final day at the forum and a safe trip home. This is the Davos Daily Brief crew signing off. See you next year!