Greetings, Davos delegates and WEF watchers,
Here we are, at the end of yet another annual meeting of the World Economic Forum. We'll skip the fondue and skiing today to put together our parting thoughts about the purpose of Davos. You'll receive that analysis, and future editions of the Quartz Weekend Brief, if you become a Quartz member today. Feel free to stay in touch and look for us again on the Promenade or the shuttle to Klosters in January 2024. ❄️❄️❄️
---
🙋 IF YOU HAVE TO ASK...

Is the world in a debt spiral? Is rapid growth still possible? After two separate panels with those exact titles, we still don't know. So it goes sometimes in Davos.
But all was not lost. Each session yielded compelling suggestions tied to the topic at hand. In the debt-spiral talk at Kurpark, Colombian finance minister José Antonio Ocampo made two particularly interesting arguments:
Create or assign an institution to manage debt renegotiations with countries in danger of default. "All the solutions have been ad hoc—the Brady plan, debt relief for poor countries," he noted. "We do need an institution, a permanent way of managing decisions."
Debt-laden countries that are vulnerable to floods or other effects of climate change need "an instrument with a kind of insurance mechanism…to be able to fund the cost of managing those specific crises."
Over at the Congress Centre, former US Treasury secretary Lawrence Summers, Singapore senior minister Tharman Shanmugaratnam, Dutch finance minister Sigrid Kaag, and Mary Callahan Erdoes, CEO of JPMorgan Chase's asset and wealth management business, together came up with a short list of strategies for keeping economies on a growth track:
Go green. "If you look at the energy transition and also the greening of entire economies, it's often viewed as a burden and a cost: You pay the cost now and you avoid a much larger cost down the road," Shanmugaratnam said. But "it's also a huge opportunity for growth," creating new types of jobs and "different distribution of rewards."
Encourage institutional innovations. Summers ticked off examples, including the common law corporation, generally accepted accounting principles, and the double-blind controlled trial. Having "better institutions that incentivize mobilization of resources more efficiently is better and more profoundly important than allocating resources to any particular priority," he said.
We might take these suggestions to mean that growth *is* possible. We just don't know how likely it is, or how rapid it might be.
---
👀 WHAT TO WATCH FOR TODAY

The Russian question. Last May at Davos, the Russia-Ukraine war was all anyone could talk about; this year, it's been second fiddle to the state of the (allegedly) slowing global economy. But economists and policy experts gather at 9am (Aspen 1, Congress Centre) to forecast the future of Russia—and, by implication, of the Ukraine war.
We couldn't help but wonder. As central banks in developed economies ratchet up interest rates, endangering jobs and growth, do these institutions and their goals need to be radically reimagined? Two central bankers weigh in at 9am (Sanada, Congress Centre). At 10:15am (Aspen 2, Congress Centre), entrepreneurs and venture capitalists examine the impact of inflation and tight capital on the startup ecosystem.
Step it up. In countries strapped for cash, institutions like the World Bank have been pivotal investors in social and economic projects. Now there's climate change to grapple with, too. Sherry Rehman, Pakistan's climate minister, joins Lord Nicholas Stern and other panelists at 10:15am (Aspen 1, Congress Centre) to call for a turbocharged approach to development finance.
---
🌳 ROOT CAUSES

If the blue-chip late-night party at every WEF is thrown by Salesforce (speaking of, we hear those Snoop Dogg rumors turned out to be wrong and the Pretenders were the featured musical act), the annual golden-ticket luncheon is also a Salesforce affair. This year, on a day where the temperature hit -13°C (9°F), the company rented out the Dome, a huge geodesic behind the Panorama Hotel. It was so frigid in there that you could see your breath in front of you; incongruously, a band from Hawai'i played before lunch was served.
The theme of the afternoon: trees. John Kerry, the US climate envoy, spoke first, praising the progress on climate that he saw at Davos but decrying deforestation. Al Gore, the former US vice president, mentioned Salesforce CEO Marc Benioff's effort, launched in Davos in 2020, to plant 1 trillion trees. Nobody mentioned the scientific opinion that growing trees willy-nilly is at best ineffective and at worst "a dangerous diversion."

Then Benioff assembled some of his nearest and dearest on stage—the musicians will.i.am and Yo Yo Ma, the chef-activist Jose Andres—and gave them three minutes apiece to speak. (A large digital clock at the back of the room counted down the time.) Some more noble, slightly dull messaging on arboriculture ensued. Laura Alber, CEO of Williams Sonoma, said: "I've flown over Indonesia and cried at the clear cutting in Borneo." Her company, she added, is halfway toward planting 6 million trees.

Only Andres sounded a skeptical note. The wealthy love to talk about planting trees, he said, because it offers such a clear, countable target. "I've seen a lot of claims like this in Davos, with a lot of clapping, but they never get followed up," he said. Preventing the cutting of trees outright isn't always an easy moral solution, he noted. In Haiti, where Andres has worked since the 2011 earthquake, "we have 3 million people who cook with charcoal," he said. "You know why there are no trees in Haiti? Because people need wood to cook their food. We've failed even to bring clean cooking to people so that they can cook and eat every day."
---
❓THE DAVOS JARGON QUIZ

No WEF feels complete without its own vocabulary du jour: words and phrases that would elicit puzzled eyebrows in the world beyond Davos, but that are tossed casually and (far too) frequently into panel discussions. (Last May, these included "economic iron curtains" and "shift-left.")
Take our quiz to see how well you speak Davos 2023.
1. A "China + 1" approach to doing business would involve:
a) Being wary of a brewing war over Taiwan
b) Diversifying investments and supply chains to include countries other than China
c) Offering buy-one-get-one-free retail discounts to the large Chinese market
2. If a medical scientist spoke to you about your "exposome," he'd be referring to:
a) All the environmental factors you've been exposed to, and how they interact with your genes to influence your health
b) Your extremities, like your nose, which are exposed to harsh conditions such as the Davos winter
c) Your health qualifications for a trip to Mars
3. When FBI director Christopher Wray worried about "attack surfaces," he meant:
a) The area over which a fighter plane could conduct a bombing run
b) The totality of various points of entry where a cyberattacker might target a software environment
c) The highly engineered materials that go into body armor
4. When techies sigh over the challenges of "interoperability," they are really hoping for:
a) Characters from one opera, like Tosca, to show up in cameos in another opera, like Don Giovanni
b) Cryptocurrencies that can be used as both securities and daily-use currencies
c) Digital ecosystems that can exchange information with each other
5. Economists who bemoan "fragmentation" are talking about:
a) Countries breaking up supply chains so they can relocate the sources of key materials like semiconductors onto their own soil or to other friendly nations (cf. "friendshoring," Davos 2022)
b) Central banks raising interest rates in slabs, month after month, rather than at one go
c) Millennials living in house-shares, rather than buying their own homes
Answers: 1) b, 2) a, 3) b, 4) c, 5) a
---
🧮 HOW'S YOUR MATH?
At a conversation hosted by the Wall Street Journal, Lars Erik Nicolaisen, the deputy CEO of Rystad Energy, explained why he thinks the world will converge on 1.6°C of warming by 2050, and not the Paris Agreement's 1.5°. "The devil is in the decimals," he said. "If you look at the solar photovoltaic panel supply chain, we are currently deploying 280 Gigawatts annually." To meet a 1.5° target, he said, that number would have to rise to 2,000. "Whereas for 1.6°, that only takes 1,400 Gigawatts, which is much more of the kind of steady capacity we will need during the 2030s and 2040s. It's a much more rational number."

"We, as the government, launched a program to help citizens exchange old lamps for LED lamps. It might sound ridiculous, but it might save the work of one nuclear [power] station, if we can make the change to 15 million LED lamps."—Yuliia Svyrydenko, Ukraine's first deputy prime minister, talking about her country's electricity deficit
"If deforestation was a country, it would be the third largest emitter of carbon emissions in the world."—John Kerry, the US climate envoy, making a pitch to save the Amazon
---
👿 HEAT WAVES

Perhaps because it was the last full day of WEF 2023, or because even the speakers had had enough of polite demurrals, two panels erupted in open hostility on Thursday. The title of the first was "Renaissance of South Asia?"—and the dubious question mark was entirely fitting.

Hina Rabbani Khar, Pakistan's minister of state for foreign affairs, fended off both Rahul Kanwal, a journalist who served as moderator, and Sri Sri Ravishankar, a self-styled spiritual guru—both well-known shills for Indian prime minister Narendra Modi. The Indians accused Pakistan of backing terrorists; Khar described how, under Modi, India has subjugated its minorities and been provocatively bellicose against Pakistan.
"I think I will seriously have to excuse myself," Khan said in exasperation, "from a discussion which is going to be..."—at which point words failed her, and she gestured with her hands at the back-and-forth of accusations already underway.

The fourth panelist, a Sri Lankan industrialist, sat silently for the most part, overwhelmed by the bad blood between the others—which, in the final analysis, was a pretty accurate metaphor for South Asia.

Another panel, "Widening Europe's Horizons," effectively revealed the gulf between Western and Eastern Europe. Albania's prime minister, Edi Rama, complained about the EU's treatment of the Balkans. Aleksandar Vučić, the Serbian president, spoke despondently about his country's dwindling chances of joining the EU. Was it because of his stance on Vladimir Putin and Russia, asked moderator Jamil Anderlini, the editor in chief of Politico Europe.

"What stance?" Vučić shot back. He'd been reading, he said, descriptions of himself in the press as "little Putin, Putin's puppet... But so far we haven't attacked anyone." Vučić reiterated Serbia's support of Ukraine. Then, when Anderlini asked if he considered Putin a war criminal, Vučić replied: "I didn't know you'd become a prosecutor and judge."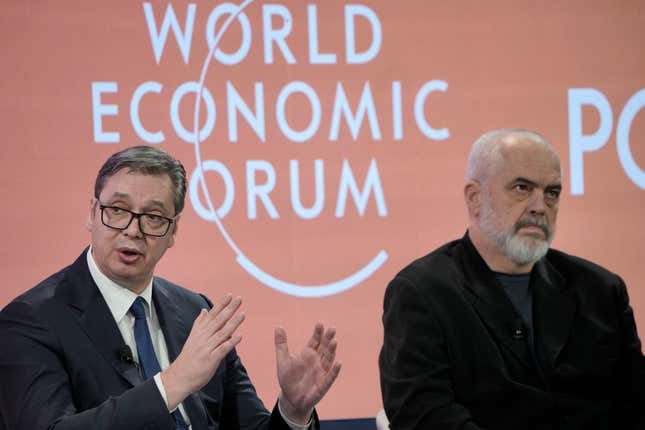 When Anderlini turned to the other two participants—European parliament president Roberta Metsola and Leo Varadkar, the Irish Taoiseach—Vučić and Rama (pictured above) whispered to each other and rolled their eyes, a minor bloc unto themselves.

---
🌍 NEWS FROM ELSEWHERE

King Charles asked for the Crown Estate's wind farm profits to be given to the public. The expected windfall, from six new offshore projects, is worth around £1 billion ($1.24 billion).
The EU fined WhatsApp nearly $6 million (€5.5 million). Authorities found the Meta platform violated the bloc's privacy laws just weeks after Facebook and Instagram were handed similar penalties.
...and the US fined Virgin Atlantic $1.05 million (£870,000). The British airline said it accidentally broke a US ban on flying over Iraqi airspace in 2020 and 2021 due to covid disruptions.

One million people in France striked against raising the retirement age. Demonstrators across the nation protested president Emmanuel Macron's pension reform plans.

JPMorgan and Standard Chartered gained permission to expand in China. Since lifting its zero-covid policy, Beijing has ramped up efforts to welcome in foreign companies.
---
🤓 THANKS FOR READING QUARTZ!
Want more carefully curated news items like this in your inbox? Every weekday, the Quartz Daily Brief delivers the most important and interesting news from the global economy, straight to your email. Sign up here.
Our best wishes for a productive day. Today's Need to Know: Davos was brought to you by Samanth Subramanian and Heather Landy.