Sign up here to receive this free email every week. If you love Quartz and want to support our journalism, become a member here. 
---
Hello readers!
I recently got a tip from Mark Palmer, an analyst at BTIG, that hedge funds are hovering around a company called GreenSky, betting that its stock will fall via short positions. The company makes technology for point-of-sale loans, mainly for home improvement projects and, more recently, elective surgery.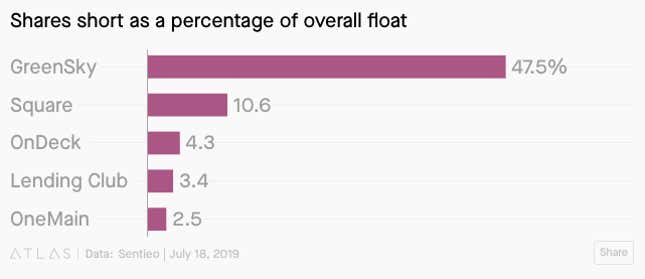 Installment loans and fintech-driven personal loans have been red hot in the US, but there are questions about how these businesses will hold up during an economic slowdown. With GreenSky, the way it works is that a home improvement contractor, or doctor's office secretary, can offer loans to customers through the company's app. GreenSky makes money through transaction and servicing fees.
The company isn't a bank, and so it relies on a syndicate of about 10 banks that have committed some $11.5 billion of capital for the loans. Unlike many financial startups, the Atlanta-based company is profitable, with $7.4 million of net income (pdf) during the first three months of this year.
So far, so good. But in May, Regions Financial, one of the banks in its syndicate, decided not to renew its commitment. This was clearly spelled out as a "material adverse" risk in GreenSky's S-1 filing a year ago.
GreenSky's stock dropped some 16% on the news, signaling investors were worried that more lenders would have second thoughts, putting a drag on its business model. GreenSky's CEO later said that Regions Financial's decision was "hardly noteworthy," and stressed that his firm still has plenty of unused bank commitments to propel new transactions.
Hedge funds have their doubts. The percentage of shares shorted compared with the float, or short interest, has risen to more than 40%, signaling a substantial amount of betting that GreenSky's stock will fall in price. Despite the volatility, GreenSky shares have risen about 29% this year.
"The real downside case would involve disenchanted banks fleeing the platform," BTIG's Palmer told me. This could become even more of a problem when the economy slows. Banks will closely scrutinize lending agreements as defaults rise and profitability comes under pressure. Other types of fintech upstarts will also feel the squeeze, as their credit-scoring algorithms get tested against their first recession.
GreenSky's chief administration officer, Gerald Benjamin, acknowledged at a conference last month that there have been an "inordinate amount of questions" about what Regions' decision could indicate. He said there were signs that the bank was looking to rely less on third-party originators like GreenSky.
Regions Financial's CEO recently told analysts at a conference that the bank got involved with GreenSky to learn more about point-of-sale lending. He said the platform hadn't helped it build new relationships with customers, and that returns had flagged as interest rates increased. The exec said the company was reallocating its capital to things like commercial banking.
What does this tell us?  For one, it suggests that banks are wary of being disintermediated by digital platforms. It also shows that investors are thinking about the prospects of a slowing economy, and are mindful that some of the newer lenders could get shaky.
---
This week's top stories
1️⃣ Facebook and friends' Libra cryptocurrency is bringing world leaders together: Numerous news reports show that pretty much all of them are skeptical of it. With so much opposition, it's reasonable to question whether it will get off the ground as planned next year.
2️⃣ N26 raised an additional $170 million from existing investors, boosting the Berlin-based neobank's valuation by 30% in just six months, to $3.5 billion. An executive told the Financial Times (paywall) that "profitability is not one of our core metrics."
3️⃣ India's Paytm has racked up 8 million customers in Japan. Consumers there are loyal to cash, but the joint venture with SoftBank and Yahoo Japan, called PayPay, is making progress.
4️⃣ Goldman Sachs has so far spent $1.3 billion on its consumer arm Marcus, the Apple Card, and other new initiatives. The investment bank has scaled back loan growth at Marcus to focus on Apple card.
5️⃣ In the future, people will create their own jobs, according to TransferWise co-founder Taavet Hinrikus. After all, it worked out for Hinrikus and fellow co-founder Kristo Käärmann, the richest men in Estonia.
---
Heard on headphones
"I know how that works, and it's an invasion of my privacy"—startup founder on The Economist's Babbage podcast, about a pay-with-your-face vending machine in Beijing.
---
The future of finance at Quartz
Goldman Sachs invested €25 million ($28 million) in a German fintech. Raisin helps consumers move their savings around to get the best interest rate, which gets increasingly difficult as interest rates fall.
Libra's chief architect deflected a lot of questions during his congressional testimony. New York representative Alexandria Ocasio-Cortez said financial access is a bipartisan issue.
Alan Turing is the face for the UK's new £50 note. The famous code-breaking British mathematician was convicted in 1953 of gross indecency for his relationship with a man, and was posthumously pardoned by the Queen in 2013.
Indian fintech Paytm is tapping into the country's burgeoning education sector. Its jump into new verticals is reminiscent of China's WeChat and Alipay, the latter of which is run by Ant Financial, a Paytm investor.
---
Always be closing
---
I hope your weekend is invigorating and profitable (pick your own metric). Please send any blockchain opinions, tips, and suggestions to jd@qz.com.