Sign up here to receive this free email every week. If you love Quartz and want to support our journalism, become a member here. 
---
Hello readers!
One of the biggest news stories this week was Facebook's $5 billion settlement with the Federal Trade Commission. But it's worth taking a look at a Facebook settlement a few months ago that was about 1,000 times smaller. This one followed a lawsuit by fair housing groups alleging that Facebook's ad system could be used for housing discrimination.
The approximately $5 million (paywall) settlement points to a deep vulnerability in the online advertising ecosystem. Fair housing groups sued Facebook after a 2016 ProPublica investigation showed how seemingly quickly and easily its systems could be used to restrict housing ads by race, gender, or disabilities. ProPublica reported that this type of discrimination had been illegal in the US since The Fair Housing Act of 1968 came into force.
ProPublica's article is definitely worth a read, as is its follow-up story in 2017 showing that Facebook's tools could still, apparently, be easily used to redline certain neighborhood or restrict ads to white users, despite assurances that it had changed those systems. Facebook responded that its policies told its advertisers that these practices were off limits. COO Sheryl Sandberg wrote in March that it was restricting advertisers' choices for housing, employment, and credit ads, and the company has since published civil rights audits (pdf).
This issue is way bigger than the US, bigger than housing ads, and even bigger than Facebook. What about ads for credit cards, mortgages, bank accounts, and insurance? We've reported on the tidal wave of bank branch closures and cash deserts in the UK, which demonstrates that our financial lives are going digital at an accelerating rate. Discrimination in lending and other financial services is pervasive in the analog world, and it seems likely that these problems will be replicated in the online arena.
There are signs that regulators are beginning to realize they have to change the way they monitor for abuses. The Department of Housing and Development has also charged Facebook (pdf) with housing discrimination and is examining Twitter and Google for the same thing, according to the Washington Post. New York's governor has asked the state's Department of Financial Services to do a similar investigation.
There are some reasons for optimism. For example, digital fingerprints and big data analysis could make it easier to find instances of discrimination, according to Bhavin Turakhia, the founder of Zeta, which sells financial technology to banks.
Even so, it seems like this is only the beginning, as we find out whether laws and surveillance from the last century are able to keep up with online evolution.
---
This week's top stories
1️⃣ Senator Elizabeth Warren is siding with big tech for a change. The presidential hopeful wants the Federal Reserve to build a real-time payment system, rather than leaving it up to big banks. This happens to be something that Amazon, Google, and just about everyone else wants, too.
2️⃣ PayPal shares tumbled after it slashed revenue guidance and missed second-quarter revenue expectations. Venmo had less growth than expected. Visa shares beat estimates, and there was a lot of talk on the conference call about acquisitions.
3️⃣ Speaking of which, Quartz reported that Visa is in talks to acquire a key part of Nordic payment processor Nets. Visa's CEO told analysts that the company has "been very, very focused on fintechs" over the last five quarters.
4️⃣ Brokerage app Robinhood failed to encrypt some users' passwords. CNBC also reported that at least one regulator contacted robo advisor Betterment for further details about its new savings product.
5️⃣ During the epic bitcoin bubble in 2017, a company changed its name from Long Island Iced Tea to Long Blockchain. The FBI thinks there was a massive pump-and-dump and insider trading scam going on behind the scenes, according to a search warrant.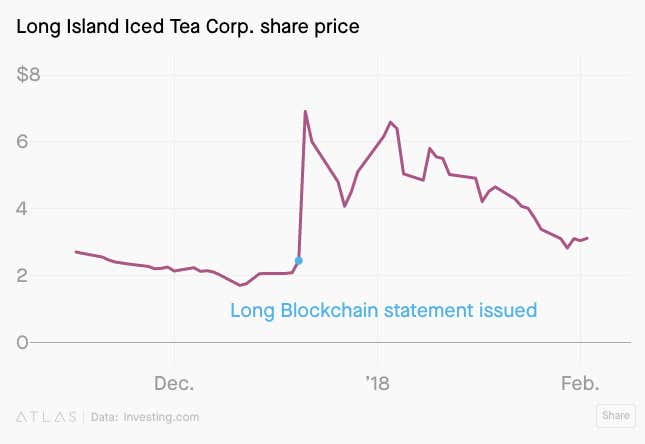 ---
Heard on headphones
"I wrote a story about a friend of a friend who was running an online brothel, where her value-add was screening clients. This is an illegal operation. So when you work illegally, you have to screen your clients. And especially, this was for submissives, specifically, so they get tied up. So they're particularly vulnerable. So screening has an especially important premium."—Quartz's Allison Schrager said on Bloomberg's Masters in Business podcast with Barry Ritholtz.
---
The future of finance at Quartz
RBS experienced a massive backlash after closing more than a thousand bank branches. Now it's rolling out automated algorithmic lending.
Will Facebook's Libra launch on time? Quartz spoke with policy experts who think the likelihood of its starting next year are quite low, but the company says it isn't adjusting its timeline.
Fintechs like Betterment have figured out that savings accounts with high interest rates are a good way to rake in new customers. If this continues, it could inject more competition into the staid savings deposit market, and sap some of the fuel for banks' main profit engine.
---
Always be closing
---
I hope your weekend is invigorating and profitable (pick your own metric). Please send any Facebook ads, tips, or suggestions to jd@qz.com.