To modern workers everywhere,
At Quartz at Work, we often think about the workplace as just another arena in which life happens. It's a setting for relationship building, creative quests, minding mental health, finding purpose—but also the constant, often unconscious reinforcement of life's inequalities, including those built into the world's racial and socioeconomic power structures.
The workplace isn't static, though. Perhaps in the past its evolution has been a lagging indicator of broader changes; as society became far less formal, the office dress code eventually caught up. But there's no reason it can't work the other way around. Indeed, there are many who would credit skilled employees for applying their increased power to the fight for systemic changes that actually now appear to be taking hold.
On Monday, observed in the US as Martin Luther King Jr. Day, we published a Quartz at Work reading list of thoughtful ideas and informative, provocative stories about race in the workplace. These articles are reflective of the changes we're observing in workplaces around the world, and reflective, too, of our belief that work can provide an opportunity to make a conscious effort to lean into diversity and the innovation it brings, and to create a more equitable economy by rethinking the way companies and the people who run them go about their business.
Today, the US inaugurates a new president whose incoming administration embodies the diversity of the modern workplace. It will be a high-profile experiment in inclusion, but hardly the only one. Let's see what lessons we can draw from it—and what lessons it can draw from organizations across the private sector that finally seem ready to commit to the kinds of changes that will be needed to make King's vision of racial and economic justice a reality.—Lila MacLellan and Heather Landy
---
Five things we learned this week
The urgent need for inclusivity is reshaping three major workplace trends. Diversity, reskilling, and employee inquiry will look different in 2021.
CEOs do not decide to make systemic change because of facts and data. Their decisions usually come down to something more personal.
Netflix admits it needs to do more to recruit Hispanic employees. It also says it has "a lot more to learn" about inclusion and representation issues in markets outside the US.
BlackRock is forcing finance to take climate risk seriously. Witness the power of corporate purpose.
Dollar General is paying its hourly employees to get vaccinated. The US retailer says its strategy is about removing barriers.
---
This week's workshop
The Quartz at Work (from home) workshop series is back! Join us this Thursday, Jan. 21, at 11am US eastern time for a free, one-hour event on how to support workplace morale and motivation, with expert tips on improving at both the individual and company-wide levels.
---
30-second case study
In 2010, a pregnant Jaime Schmidt was inspired to start developing an all-natural deodorant with transparent ingredient labeling. Her kitchen-built formula quickly became a global product line carried in more than 30 countries, at chains including Whole Foods, Walmart, CVS, and Costco. In 2017, Schmidt sold the business to Unilever; it was a hugely successful exit for a founder who had bootstrapped her way to the life of an entrepreneur.
What's unusual in the world of startups—and in the world of Unilever, which has a portfolio of socially conscious brands like Ben & Jerry's ice cream and Seventh Generation household cleaners—is that Schmidt didn't have a social mission in mind when she started her business. Her purpose, instead, was personal: She wanted a safe deodorant product she could trust to do the job.
"It was my mission and something that was kind of selfish," Schmidt says. "But when I started seeing the impact I was having on other people's lives, getting heartfelt emails from customers … then I quickly understood that there was opportunity to really change an industry and make healthy, natural products that were accessible to the masses. So I claimed that as my mission. But I wouldn't have been able to articulate that, probably, my first year or two."
The takeaway: Today, Schmidt and her husband, Chris Cantino, run Color, a venture capital fund that focuses on early-stage consumer product companies and prioritizes founders who are women and/or people of color. They often encounter businesses with built-in purpose—like A Kids Book About, which they invested in. "[It] writes books on issues that are difficult for parents to talk to kids about," Schmidt says. "It just really took off, mostly with the BLM push we saw this year—their first book was a book about racism." But in reality, she says, "not every business needs to or can be positioned that way."
She recently tweeted about how it's OK for business owners to be in it for the money, and philanthropy can come later, that "not every business can save the world." It's advice she wants to share with everyone, but especially founders who are stressed out about attaching social purpose to a smart business idea.
"I see a lot of founders showcasing how their business is saving the planet or doing good for the world"—and not all of it is authentic, she says. "I do think there's more pressure now to be able to articulate a kind of greater purpose and impact. But I think what's most important is to really know what you stand for and to have your values."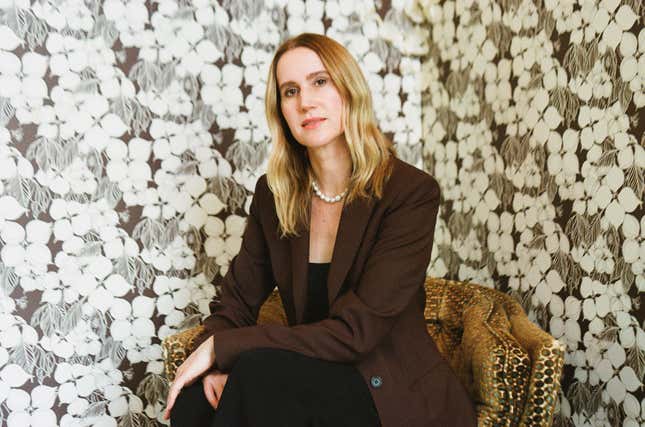 + Read our full QZ&A (the Quartz take on a Q&A) with Jaime.
---
Quartz field guide interlude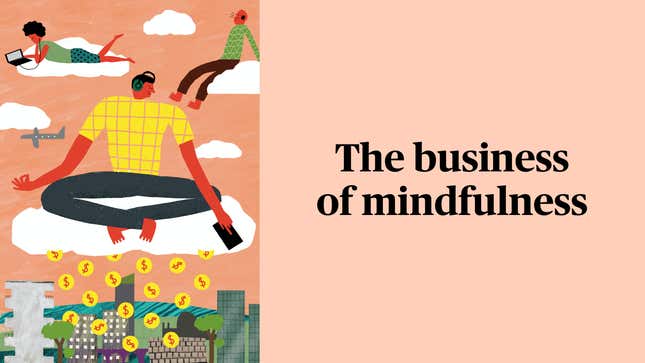 "The thing I would say to the most hardened employer out there is we're all suffering from the downstream consequences of not taking care of mental health early. It becomes a healthcare problem, with terrible and costly outcomes."—Ron Crawford, vice president of global benefits for Starbucks.
Failing to invest in mental-health resources has a big impact on a company's bottom line, encompassing everything from absenteeism and lower productivity to medical costs. The total economic cost of major depressive disorder in the US, for example, is estimated at $210.5 billion a year, with 62% of those costs tied not to depression itself but related issues like anxiety disorders and sleep problems.
Offering a mindfulness program in combination with other mental-health benefits and options, Crawford says, is "a really straightforward way to catch things early on before they become workplace issues."
In 2018, 52% of US employers in the US offered some form of mindfulness training to workers, up from 36% in 2017, according to a survey of more than 150 firms by the Fidelity Investments, and the National Business Group on Health. Expect that number to be higher now thanks to the stress-inducing effects of the pandemic—and check out our new field guide to the business of mindfulness. It includes articles about what employers risk getting wrong about mindfulness and mental health; why even car companies are leaning into the mindfulness movement; and how to decide which mindfulness app is right for you.
---
Words of wisdom
"We had dug ourselves down into a heavily crowded workflow automation space and were too burnt out to find a path out of it. [Winding down] was a very tough decision, one that I deliberated on for months. My advice is this: Don't romanticize entrepreneurship. Failure goes with the territory."—Sachin Bhat, whose startup, Scribe, hit a wall in 2020
The postscript: Bhat soon got hired as an engineering lead at Rippling, an HR and IT software firm that has recruited more than 30 former founders to its staff. Rippling VP Jeremy Henrickson recently shared advice rounded up from several of them, including Bhat, in a recent piece for Quartz at Work on how founders cope with failure.
ICYMI
It was inevitable that the Senate confirmation hearing of US Treasury secretary pick Janet Yellen would cover topics like the corporate tax rate, very long-dated debt, and stimulus spending. But did anyone think to ask her how she would actually run the Treasury? Perhaps they're already familiar with the former Federal Reserve chair's management approach, and how it broke with the conventions of her predecessors at the central bank. Quartz at Work's Sarah Todd summed up Yellen's management style in this piece from November 2020. No doubt there's a long line of Treasury staffers eager for her to bring the knack for listening that she showed at the Fed.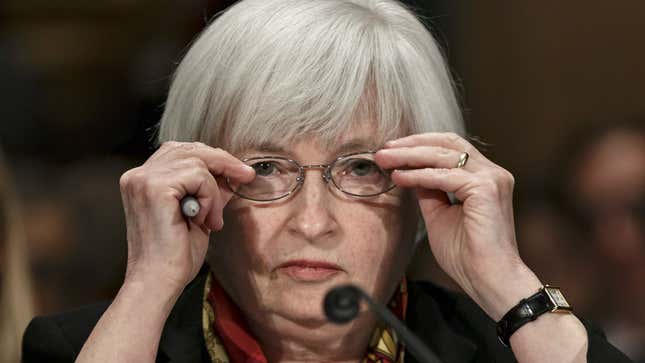 ---
You got The Memo!
Our best wishes for a productive and creative day and a happy and healthy new year. Please send any workplace news, persuaded CEOs, and authentic social missions to work@qz.com. And don't forget to register your company for consideration in Quartz at Work's inaugural global ranking of the best companies for remote workers. Get the most out of Quartz by downloading our app and becoming a member. This week's edition of The Memo was produced by Heather Landy and Sarah Todd.