Dear Quartz members—
A number of you joined member video conference calls this week about the global spread of opioid painkillers, where Hong Kong's protests are leading, and China's Africa project.
You can watch recordings of the calls at the links above. (And to add our complete schedule of upcoming conference calls to your Google calendar, click here.)
Our China in Africa field guide this week was really popular with members. I asked Quartz Africa editor Yinka Adegoke and Nairobi-based reporter Abdi Latif Dahir to write out short answers to some questions that members raised during the call. Here they are:
Victoria: What are your views on Chinese VCs in African tech?
Abdi & Yinka: Chinese venture capitalists and angel investors are indeed starting to take notice of Africa. Last year Alibaba founder Jack Ma launched a $10 million Netpreneur Prize to support digital early stage African entrepreneurs. Chinese fund Shaka has specifically backed African tech startups, including Ugandan logistics company Pinktie and Nigerian mobile payments solutions Gona. Both early and late stage firms like Gobi Partners and Crystal Stream Capital have expressed interest in the region, and have dispatched teams to look into investment opportunities.
Andy: I would like to hear Abdi's personal view about whether China in Africa is definitely a net negative.

Abdi: I don't think so. China has built much-needed infrastructure projects— including roads, bridges, airports, and railways—all across Africa that have eased bottlenecks, created jobs, and boosted economic growth. Beijing has also provided a platform for African states to engage with it on an equal platform without patronizingly preaching about governance like Western nations do. Many African countries also hope that they could replicate China's own developmental model that has seen over 800 million people lifted from poverty since instituting reforms in 1978. Yes, there are challenges and shortcomings with Sino-Africa relations, but it's for sure not a net negative one.

Michel: Besides China-driven growth in employment and infrastructure, are any of the economic benefits reflected in better/new schools and hospitals?

Abdi & Yinka: Cooperation in science and education are among the key issues that China has supported as part of its so-called "win-win" partnership with Africa. For instance, Ethiopia is building a China-backed $30 million hospital while a Chinese firm is building what is dubbed Africa's largest medical equipment manufacturing facility in Tanzania. Even with their proliferation, president Xi Jinping has also supported the building of more Confucius Institutes teaching Chinese culture and language. Tanzania last November opened its biggest library yet, which was backed by China to the tune of over $40 million.
Please share any topics you'd like to see us cover in future field guides, or any other feedback—by emailing us at members@qz.com.
Power points presentation
We just published a new PowerPoint presentation about how to manage your airline points like a pro. Quartz journalist Allison Schrager, who has an economics PhD and harbors an obsession with points and credit card perks, walks you through economics-informed strategies for maximizing points' value.
I'm a points hoarder myself, so this was one important takeaway for me:
Points become less valuable over time for two reasons. One, if your program converts points to a fixed amount of money, your points lose value as flight prices climb. Two, airlines change their conversion rates all the time—and it's usually not to the benefit of travelers. So save up for your goals, but don't hoard.
Here's one sample slide from the airline points presentation: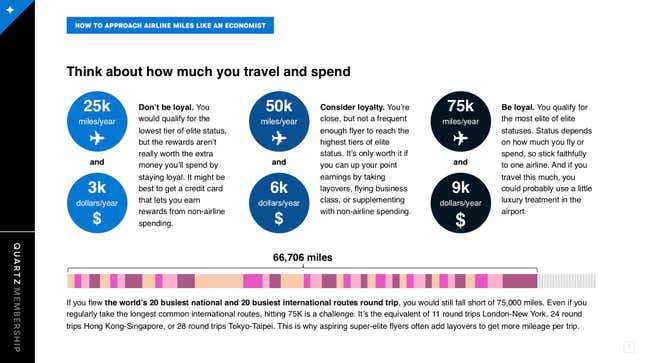 We mean for these PowerPoints to be an efficient way for you to get up to speed on a topic, and also welcome your grabbing slides to include in your own presentations. Our last two presentations were about the jobs of the future and Facebook's Libra cryptocurrency.
WeWork's IPO
A lot of people are shaking their heads about WeWork's filing for an initial public offering. Dave and Helen Edwards scratched their heads, and then focused on five key questions for anyone considering investing in WeWork. Their new piece is exclusive to Quartz members—and Dave and Helen bring the perspective of decades of equity and business analysis. Among the things they hone in on is the likely impact of changes to interest rates on WeWork's business health.
They write:
We don't expect rates to increase in the near term, but it's important for investors to recognize WeWork's reliance on debt and the impact that rate changes can have on the company—positive and negative. The company may want investors to think of it as a tech company, but its financial model is that of a real estate company.
Coming up
Calls for the coming week:
Tues., Sept. 3: Quartz deputy finance editor Oliver Staley and finance editor Jason Karaian discuss Oliver's reporting on the rise and fall of Six Sigma, the management fad that first gained prominence with Jack Welch at GE.
Weds, Sept. 4: Reporter John Detrixhe and Jason Karaian discuss the future of banking.
Fri., Sept. 6: Reporter Adam Epstein and managing editor Kira Bindrim on making sense of all of the big new video streaming services.
All calls are at 11am ET / 4pm BST at our usual location. If you'd like to call in, you can reach us at the following numbers:
UK 0800 014 8469
USA 1 866 226 4650
For all numbers, the access code is 722 994 440.
If you're a TV watcher and can't get enough Quartz, I'm scheduled to appear as a guest on CNBC around 11:10am ET today, and on CBS This Morning tomorrow (Saturday), around 7:40am ET. TV guest bookings often change at the last minute, so we can't be 100% sure this will happen—but I'd be honored if you joined my parents in tuning in.
Our field guide next week is about the future of banking, written by our future of finance reporter John Detrixhe. We'll publish it on Tuesday, given the Labor Day holiday in the US on Monday.
Wherever you're based, best wishes for an enjoyable and productive weekend!
Best,
Kevin J. Delaney
Editor in chief and cofounder, Quartz
kevind@qz.com