Dear Quartz members—
There are few issues as critical for business as the state of global trade. Quartz senior reporter Gwynn Guilford and deputy finance editor Oliver Staley will dissect the ramifications of the trade war, Brexit and other developments on a conference call at 11am ET today.
Also coming up: On Monday at the same time, digital strategist Don Tapscott will discuss on a call his contention that Big Tech has turned us into digital serfs by aggregating, appropriating, and monetizing the most intimate details of our lives. It should come as no surprise that the executive chairman of the Blockchain Research Institute sees a remedy for this in blockchain. Don is a leading authority on the impact of technology in business and society and he offers thoughtful analysis in support of his prescription.
You can join both calls at our usual location, or dial the numbers below. The access code is 722 994 440.
UK 0800 014 8469
USA 866 226 4650
We welcome your questions during the call, or you can send them beforehand to members@qz.com. And you can add our complete schedule of upcoming conference calls to your Google calendar by clicking here.
Apple keynote
Quartz technology editor (and resident Apple expert) Mike Murphy led our coverage this week of the company's annual product event, which included the release of upgrades to its iPhone, Watch and iPad lines. Now that the dust has settled, I asked Mike to share what most struck him about Apple's roll out. This is what he had to say:
The company's decisions on pricing of its new products were as interesting as the new products themselves. Though prices shifted only slightly (Apple lowered prices on its mid-tier iPhones and Apple Watch accessories), it appears that it may have found the ceiling on what most people are willing to pay.
The pricing of Apple TV+ and Arcade is clearly meant to try to persuade large groups of people to try them out. They're far cheaper than any comparable offerings. Although none of the content looks particularly compelling, by bundling a free year of Apple TV+ into new iPhone/iPad purchases, Apple could conceivably have more subscribers than Netflix in a year.
The iPad, with its high-resolution touchscreen, keyboard support and soon-to-be-released iPad-specific operating system, means it can easily replace the laptop for many people.
If you missed it, you can watch Mike share more takeaways on this call with members.
Productivity PowerPoint
Our latest PowerPoint presentation, on how to add purpose to your productivity routine, introduces you to some of the tried-and-true systems productivity pros use to organize their tasks and information. These include Getting Things Done, Kanban, the Feynman technique, and bullet journaling. You'll also get our read on some of the best to-do list, note-taking, and no-code apps and platforms out there.
Here's a sample slide from the presentation: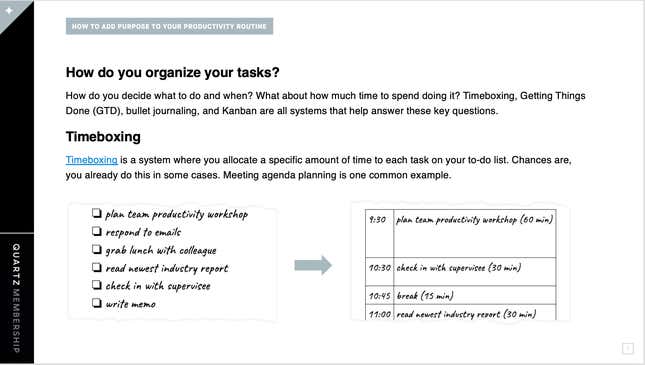 Quartz entrepreneur-in-residence and presentation co-author Khe Hy will join editor in chief Kevin Delaney on a conference call next Friday, Sept. 20th to walk members through parts of the deck.

And if you enjoy this presentation, you can read our slides on the future of the cannabis industry and approaching airline points like an economist, as well. Our full library of presentations is available here. 
With best wishes for an enjoyable and productive weekend!
Cheers,
Xana Antunes
Executive editor