Dear Quartz members—
Is finance poised for disruption? Or is the stampede into fintech driven by a fear of missing out? This week's field guide tries to answer that question by surveying the top 10 most valuable fintechs (outside of crypto). These companies have absolutely exploded in value—see the chart below—and for the most part are focused on consumer finance.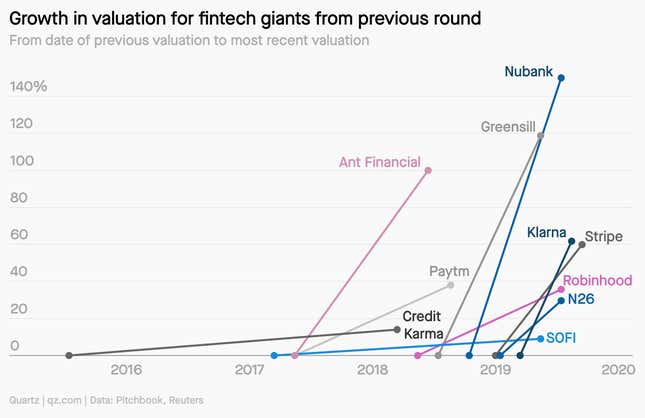 But what makes them so valuable? "Three out of the five highest-valued fintech startups are based in emerging markets, (four out of five if you also include Tencent-backed WeBank in China), where financial services for consumers are less developed," writes Quartz's John Detrixhe in his state of play.
We profile three of these fintech unicorns in the field guide. First, Quartz's Jane Li explores whether China's Ant Financial lives up to its $150 billion valuation, and explains that the company's biggest threat is regulation. Second, John profiles Brazil's Nubank, including what it learned from Ant, how it achieved product-market fit, and why its CEO thinks banking brands will never be truly global. And, third, Quartz's Ananya Bhattacharya covers India's Paytm, including its competition with both Walmart and the Indian government.
Finally, in a wide-ranging interview, John asks Stripe's Matt Henderson about everything from European startups and digital wallets to the dotcom bubble and the idea of a "splinternet," where the internet takes on different forms around the world.
TO DISCUSS WITH FRIENDS OVER DINNER…
The value of Nubank, the digital bank based in Brazil, increased from $4 billion to $10 billion from October 2018 to July 2019, an extreme example of how the fintech unicorns' market caps have grown.
One of the most lucrative areas of fintech is payments, but it's not only newcomers that are thriving. As recently as 2010, Mastercard and Visa were valued similarly to banks, in terms of price-to-earnings ratio. Today, these legacy US payment companies have PE ratios more than three times that of the big US banks.
A handful of the same big investors have backed many of the major fintech unicorns. They include legacy financial firms like T. Rowe Price, VC firms like Sequoia, SoftBank's Vision Fund, and tech giants like Tencent.
Most of the fintech unicorns have business models that are surprisingly… ordinary. "They process payments, take deposits, make loans, and, in one case, provide brokerage for stock and options trading," John writes. For all their focus on tech, the way they make money isn't new.
If you like this field guide and want to go deeper, sign up for Quartz's Future of Finance email here.
CONFERENCE CALL SCHEDULE
Wed., Dec 11, 11am ET: Quartz senior reporter Tim Fernholz will discuss the state of global trade. While the world waits to see what will happen with US-China trade relations, Trump has announced that he will impose new tariffs on metals coming from Brazil and Argentina. Meanwhile, the US Congress is considering whether to approve the US-Mexico-Canada Agreement (USMCA), aka the "new NAFTA."
Thu., Dec. 12, 11am ET: Quartz at Work editor Heather Landy and her team will discuss their new series on the "Perfect Company." They'll examine why more and more companies are committing to go beyond the needs of shareholders to take responsibility for their employees and communities—and address whether they'll actually follow through on that commitment.
Fri., Dec. 13, 11am ET: Quartz's Future of Finance reporter John Detrixhe and global finance and economics editor Jason Karaian will discuss this week's field guide on the hype and substance behind the fintech unicorns.
We'll be taking questions and comments live on the video conference calls, accessible at the usual location. You can also send questions in advance to members@qz.com.
If you'd like to dial in, use the following numbers:
UK: 0800-014 8469
USA: 866-226 4650
For all of the numbers, the access code is 722 994 440. And you can find recordings of our past video calls here.
With best wishes for a productive week,
Walter Frick
Membership editor, Quartz