[qz-guide-hero id="434624386″ title="💡 The Big Idea" description="A year after George Floyd's murder, leaders reckon with how the business community can push for equality."]
---
Hi, Quartz members. This week, our field guide is a little different. To commemorate the one-year anniversary of George Floyd's death, we've published five op-eds from leaders weighing in on business' progress (or lack thereof) towards racial equality. 
Accordingly, this email is a little different, too. We've put together a quick-read version of the op-eds, but it's worth digging into all five. Together they offer a look at the kinds of work the business community will have to do—and be held accountable for—moving forward. 
As always let us know what you think at members@qz.com.
---
One year ago, millions of people took to the streets, incited to action by the murder of George Floyd at the hands of a police officer. What followed was renewed—and justified—scrutiny of institutions like law enforcement and government, for how they perpetuate inequality and white supremacy.
The private sector, typically inclined to ignore such reckonings, was this time pressured to take a stand. Companies instituted external-facing initiatives and philanthropy to reflect their values and allyship. They turned inward, too, examining biased corporate cultures and accounting for systemic inequities. The national progression towards consciousness wasn't linear—its backdrop has been a climate of violence against Black and Asian people—but it was promising.
So in the weeks leading up to this solemn anniversary, we wondered: What has really changed in the past year? Are the uncomfortable but important conversations sparked by Floyd's death having an actual impact, still?
Quartz put that question to several business leaders, whose answers we published as a series of op-eds that make up our field guide this week. As you read these pieces, we hope you'll find encouragment and resolve in the blueprints for progress they provide.
Looking ahead can help us see how much there is to do, but reflecting is just as important: It forces an assessment of how far we've really come. After the public pressure subsides and the chorus of calls for change quiets, it can be difficult to maintain a focus on racial equity. That's the exact moment the work truly begins.
—Alex Ossola, membership editor
---
The billion-dollar question
How can corporate leaders move from words to action to make a real difference?
This was the question a number of CEOs privately asked Robert F. Smith, the billionaire CEO of Vista Equity Partners. In response he proposed what he calls the "2% Solution"—a principle by which large companies devote 2% of their earnings to any number of initiatives that help deliver racial equity. The number isn't arbitrary, he writes; the average American family donates 2% of its income to charity each year.
"Large companies should do the same," he says. "If enough companies did, they would deploy capital and expertise to unleash opportunity in Black communities, which would drive systemic and permanent change."
---
One big number
32%: incidents of anti-Asian discrimination that happened in the workplace or places of business.
George Floyd's murder brought increased scrutiny to the role of companies in advancing racial equity. But this year has been a particularly painful one for the Asian American and Pacific Islander (AAPI) community. Incidents of racism and discrimination targeting the AAPI community in the US have escalated, pervading our daily lives and having a pronounced impact in our workplaces.
"It is imperative that the business community steps up to address this issue and advance racial equity," write Cynthia Choi, Manjusha P. Kulkarni, and Russell Jeong, three leaders of the nonprofit Stop AAPI Hate. "Businesses and companies wield incredible amounts of power and influence and have a responsibility to ensure everyone, including our AAPI community, is afforded the opportunity to thrive at work and feel protected in places of business."
---
Cool job alert
Corporate America is hiring chief diversity and inclusion officers in record numbers.
That may seem like good news, but historically, corporate diversity and inclusion professionals have been put in a position to fail. They don't have a clear vision or aren't given full support from corporate leaders. As a result, it's harder (if not impossible) to implement equitable practices and dismantle systems that promote inequality.
Today, the stakes are too high for Black people everywhere for chief diversity and inclusion officers to underperform. Unless companies correct these impediments, in 2022 the Fortune 500 could experience a dramatic decline in chief diversity and inclusion officers. Moreover, these individuals themselves could be scapegoated when a company doesn't meet its commitments to equity.
Forest T. Harper, the CEO of INROADS, has some recommendations for how companies can empower their chief diversity officers to make them more effective.
---
Money where your mouth is
There's no question that there's lots of money in venture capital (VC) these days—spending soared to a record $131 billion in 2018. But barely 1% of VC funding that year went toward Black or brown entrepreneurs.
Anthony Oni, managing partner and CEO of Elevate Future Initiative at investment firm Energy Impact Partners, has some suggestions for how VCs approach opportunities to fund Black founders:
💡 Provide space for ideation and access to world-class technology
👯 Provide access to mentors and a supportive community
👂 Hear and empathize with Black founders' stories, demonstrating success against all odds
---
Spotlight on: Minneapolis-St.Paul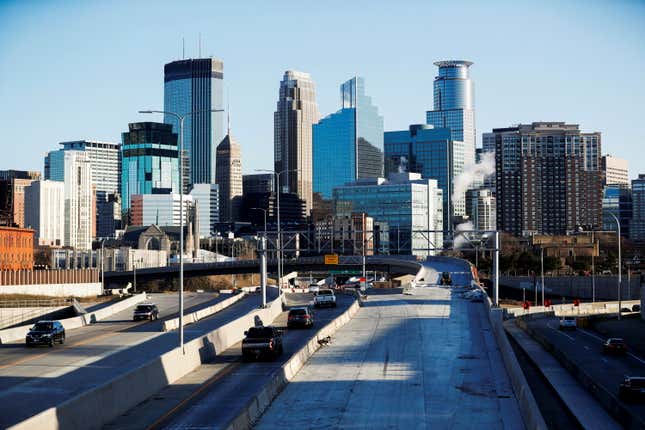 The Minneapolis-St. Paul metro area is home to over a dozen Fortune 500 companies, including Target, 3M, and General Mills. But in a matter of years, this global headquarter region has become a flashpoint of racial hostility from police brutality, with the murders of Philando Castille in 2017, George Floyd in 2020, and Daunte Wright in 2021.
One would think that the rush of corporate commitments to improve Black lives would at least take root in Minneapolis-St. Paul. It has not, write Tawanna Black, founder of the Minneapolis-St. Paul-based Center for Economic Inclusion, and Amy Liu, the Vice President and Director of the Brookings Metropolitan Policy Program. They have some ideas about how companies in this city and beyond can move past the highly visible efforts such as philanthropic commitments to do the real work of moving their city toward equality.
---
📚 Read the field guide
Companies must give more for an equitable world
Companies need to empower their chief diversity officers
How the venture capital community can better support Black founders
How businesses can create lasting change to advance racial equity for Asian Americans & Pacific Islanders
A year after George Floyd's murder, corporate promises haven't made Minneapolis more equal
---
Keep learning
How to build an anti-racist company (Quartz). This field guide, published in June 2020, offers fantastic advice for people running or working at companies working to combat injustice.
How to do reparations (Quartz). This series takes a present and historical look at how reparations have been done, and how they could be implemented for Black Americans.
We finally saw George Floyd's video for what it was (Quartz). This essay, in response to the conviction of Derek Chauvin for murdering George Floyd, pairs well with this piece about how to talk about it at work.
Reckoning with a reckoning (New York Magazine). This entire issue is devoted to a look back at the aftermath of George Floyd's murder. We particularly enjoyed this piece on the continued need for police reform.
It's painful to remember. We must remember (Washington Post). A thoughtful essay on what it means to acknowledge the anniversary of the deaths of George Floyd and others.
Read This Powerful Statement From Darnella Frazier, Who Filmed George Floyd's Murder (NPR). Frazier was 17 when she filmed the incident outside Cup Foods. A year later, she offers her perspective about what that incident meant to her.
---
📣  Sound off
How much progress has the business community made on racial equality in the last year?
They've made some great progress
There hasn't been much progress
Mixed bag—there's been some progress, but there's more to do
In last week's poll about the Arctic, 84% of respondents said opening the Arctic is bad on balance. The polar bears agree.