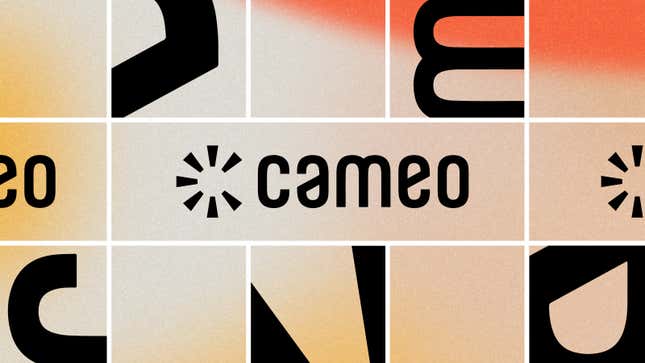 Hi Quartz member,
Last February, I woke up to a surprise on my birthday. Boston Scott, a relatively unknown running back for the Philadelphia Eagles, wished me a happy birthday in a 30-second video on Cameo. Scott charges $75 a pop for these videos; he recorded mine in 30 seconds while driving.
Chances are, you or someone you know has received (or will receive) a message like this from a celeb or influencer. The famous person in question may not be on the cover of People magazine—they may not be all that famous outside a specific circle—but they mean something to you. And the next time you're trying to think of a unique gift for a friend or family member, you too might find yourself scrolling through Cameo's sea of options for celebrity shout-outs.
Okay, now close your eyes and picture the mid-tier famous person you'd most want to hear from. We're digging into Cameo.
---
Fad influence
Cameo works as you imagine it would: After choosing a celeb by category or price—performers set their own prices—requesters fill out a quick form about their shout-out, input their credit card, and await their video. (Most requests take a few days.) For $50, Olympic gymnastics legend Nadia Comăneci will wish you a low-audio-quality happy birthday. For $75, To Catch a Predator's Chris Hansen will interrogate your friend Dan ahead of his wedding. For $449, pop star and former American Idol judge Paula Abdul will give your staff a pep talk. And if you really love Paula, you can direct-message her for $9.99, or join her Cameo "fan club."
Still confused? Don't worry. We paid Jon Lovitz $150 on Cameo to have him explain how it works. Watch the two-minute video here.
Since its launch in 2017, Cameo has grown into a $1 billion business based on the idea that fans want to pay for interactions like these, even if the celebs in question aren't A-listers (Lovitz notwithstanding). Cameo co-founder and CEO Steven Galanis says the company's mission is to create "the most personalized and authentic fan connections on earth."
Of course, it doesn't hurt that the internet supercharged fans' thirst for celebrity interaction—or that the pandemic turned every celebrity into an online influencer. "All of a sudden, the world's talent had more time, more desire for fan connection, and in some cases more need for different income opportunities," Galanis says. In 2020 alone, Cameo fulfilled 1.3 million requests, more than in all of its preceding years in business. Some 10,000 celebrities also joined the platform last year.
Not that Cameo was struggling before that. It had already carved out a weird little niche on the internet, nestled in that grainy space between capital-H Hollywood and the "creator economy." As those spaces converge, and more people find moderate fame on the internet, Cameo is positioned at a potentially lucrative intersection.
Already, Galanis has larger goals. Cameo is looking to expand its business-to-business offerings—things like employee engagement, recruiting, sales pitches, and marketing—in what Galanis describes as a "natural extension" of what the company already does. (Indeed, when pricing out a video on Cameo, there is a significant upcharge if it's for a business or brand.)
Cameo is also rolling out new options for consumers to engage with celebs, like fan clubs and live one-on-one calls. Yup, that's right: You can currently book two-minute calls with celebs as varied as adult actress and sports radio host Lisa Ann, actor Christopher McDonald (who played Shooter McGavin in Happy Gilmore), basketball legend and new Cameo board member Magic Johnson, and, again, Chris Hansen. Evidently, Chris Hansen will do just about anything on Cameo.
---
By the digits
$1 billion: Cameo's current valuation
$100 million: Cameo's latest funding round, in March
40,000: Talent profiles on Cameo
10,000: New talent who joined during the pandemic
178: Countries with Cameo users
$199: Price to book Sarah Palin on Cameo
2 million: Cameo downloads in 2020
300: Animal accounts on Cameo (including Buckley The Highland Cow, Lola the Sloth, and the Goats of Anarchy)
---
QZ&A
More tidbits from my conversation with Galanis:
🌎  On Cameo's talent pool:
"While we currently have over 40,000 talent on the platform, we believe there's over 5 million people globally who could be on it."
🤩  On Cameo talent's B-list reputation:
"It's a misconception that Cameo is for a certain type of talent—it's for those who care about connecting with their fans, and want to do so in a more personalized, positive, and controlled way than other platforms allow."
💸  On Cameo's charity integrations:
"Talent comes to Cameo to elevate and give back to the causes they care about. Our Cameo Cares program raised over $1 million for worthy nonprofits and causes in 2020."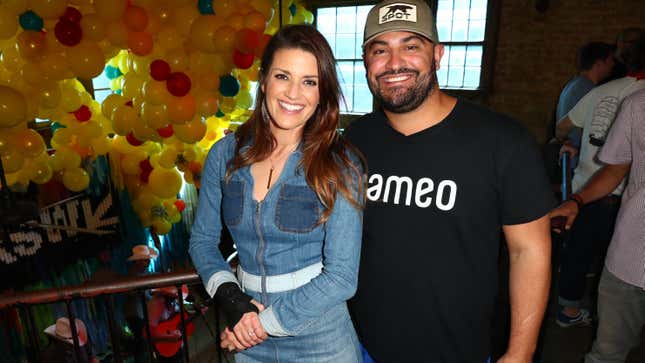 ⬆️  That's Galanis in 2019, next to venture capitalist Meredith Maines.
---
The creator economy
Cameo isn't the only digital service to capitalize on a direct relationship between influencers and fans. Its ostensible competitors include:
Patreon. A platform where users can subscribe to and finance their favorite creators, and receive access to content based on different payment tiers.
Substack. A newsletter service popular with writers, especially since creators get access to their full subscriber lists and payment data.
OnlyFans. This generally NSFW platform lets adult entertainers (and others) monetize their own content for paying oglers.
Mainstream social platforms are also building new ways for creators to get paid. That includes YouTube, TikTok, and Twitch, but also old-guard platforms like Facebook and Twitter.
Cameo is unique in courting the celebrity contingent, but how will the company evolve when celebs can also paywall their tweets and build merch shops on Instagram? In the age of the influencer, there are a lot of creators—and now a lot of platforms competing for their time, attention, and content.
---
The gender pay gap
Here's one not-so-fun fact: Quartz recently noticed that men appeared to be charging more per cameo on Cameo. So we ran the numbers—and discovered that among actors and musicians, the gender pay gap was striking.
Looking at the top 20 highest-priced actors who had more than 10 reviews (proving that they are active on the site), we found that women were charging an average of $326 per cameo, while men were charging an average of $626.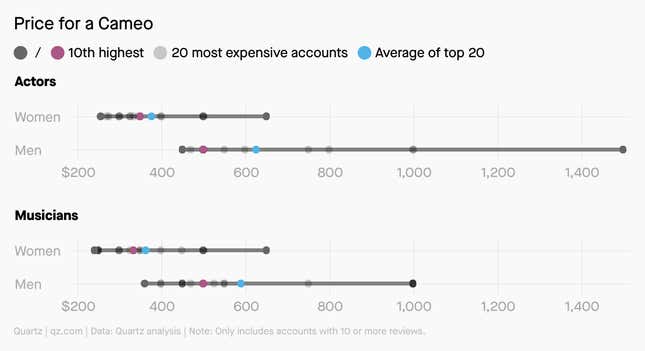 Asking $1,500 per cameo, Kevin O'Leary of Shark Tank fame charges the most for his messages among all actors. Chaka Khan, who is admittedly better known as a musician, charges the steepest price among women: a mere $650.
---
Keep learning:
---
Thanks for reading! And don't hesitate to reach out with comments, questions, or companies you want to know more about.
Best wishes for a star-studded end to your week,
Scott Nover
Emerging industries reporter
With contributions from David Yanofsky and Amanda Shendruk.