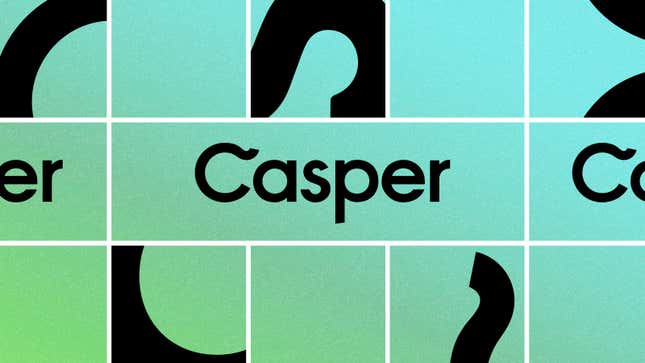 Hi Quartz member,
Once upon a time, a startup wasn't a startup unless it was on a mission to change the world. And few startups' lofty ambitions were as roundly questioned as those of Casper, which set out to "disrupt" the world of sleep… or at least the world of mattresses.
---
Should you sleep on Casper?
Just a few years ago, you couldn't get through a podcast without hearing an ad for Casper. The mattress-in-a-box startup was spending major marketing dollars to convince people that buying a mattress online is better than buying one in a store. The ad blitz worked: Within two months of its April 2014 launch, Casper sold $1.8 million in mattresses. Within five years, the company was worth $1 billion.
But as for so many of us, things got complicated for Casper in 2020. The company went public in February of last year—in hindsight, bad timing—to a resounding "meh" from the market. Its initial IPO target of $17 to $19 per share was cut to $12 to $13, reducing its valuation to $500 million. Casper soon conceded that it was no longer ramping up research and development.
The pandemic actually helped a bit: CEO Philip Krim said both lockdowns and the hot US housing market drove higher mattress sales, and after falling below $4 per share in March, Casper's stock started climbing. In May 2021, the company reported a narrower first-quarter loss and revenue that beat analyst expectations.
But 2020 is still haunting Casper. Last month, a class action lawsuit was filed against the company for misleading investors. It cites Casper's decision in April of last year to close its European operations and reduce its overall workforce by 21%; Casper's then COO/CFO also resigned, the lawsuit notes, "an extraordinary move so soon after the IPO." The company told Bloomberg the suit's claims are "without merit."
Over a year after its public debut, Casper is less focused on being "the Nike of sleep," and more focused on turning a profit, which it aims to do for the first time this year. The company is quietly putting distance between its more muted present and the days of eye-popping marketing spending and lawsuits against mattress reviewers.
With more people spending more time at home—and many people struggling for shut-eye—the consumer sleep market has plenty of room for growth. What's less clear is whether and how Casper will grow along with it.
---
By the digits
$30 billion: Size of the global mattress industry last year
$43 billion: Projected size of the mattress industry by 2028
$1.85 billion: Casper's seed funding round, in January 2014
832,000: Likes on Kylie Jenner's 2015 post featuring a Casper mattress
$350: Starting price for a Casper mattress (up to $2,750)
78: Staff members laid off by Casper in April 2020
67: Brick-and-mortar Casper stores as of Dec. 31, 2020
1: Sleep gadget currently sold by Casper (a lamp)
$8.24: CSPR's closing share price on June 30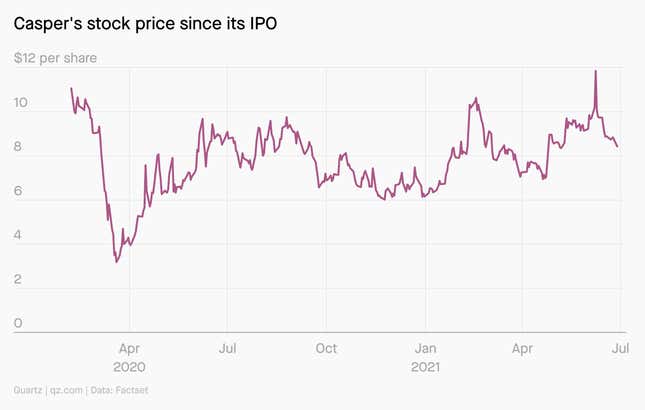 ---
The sleep network
The mattress space is crowded now, and being direct-to-consumer is no longer a major differentiator. Here are some of Casper's competitors:
Tempur Sealy: A mattress super-company formed when Tempur-Pedic International acquired Sealy Corporation in 2013.
Serta Simmons: The self-proclaimed largest mattress company in the US.
Purple: Direct-to-consumer brand whose mattresses are made from gel-like foam.
Tuft & Needle: A direct-to-consumer brand acquired by Serta Simmons in 2018.
Leesa: Bed-in-a-box company that donates one mattress to a family in need for every 10 that it sells.
Brooklinen: Sells luxury bed sheets and bed accessories, as well as the popular Floyd mattress.
---
Help us sleep easier
It's Sleep Week here at Quartz, which means deep dives on the future of sleep tech, the perils of sleep deprivation, the business of mattresses, and the phenomenon of sleepwalking. Want to make someone's dreams come true by giving them access to all of the above? Try the gift of Quartz membership.
---
Big dreams
"We believe we are the first company that understands and serves the Sleep Economy in a holistic way," Casper wrote in its January 2020 S-1 filing. Here are some of the sleep disruptors it was at the time aiming to pursue:
🌡️  Products that promote the ideal ambience for sleep, such as lighting, sound, scents, temperature, and humidity.
⏰   Sleep technology, such as tracking devices, medical machines, bedside clocks, and connected devices.
💊  Sleep supplements, such as sprays, pills, and vitamins.
📱  Sleep services, such as digital apps, meditation, sleep programming, and counseling.
💡  A $129 self-dimming lamp called the Glow Light. (Casper did end up making this.)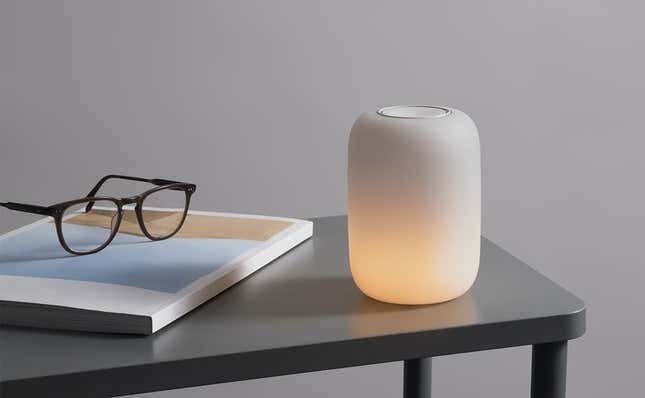 ---
Keep learning
---
Thanks for reading! And don't hesitate to reach out with comments, questions, or companies you want to know more about.
Best wishes for a dreamy end to your week,
Yasmin Tayag