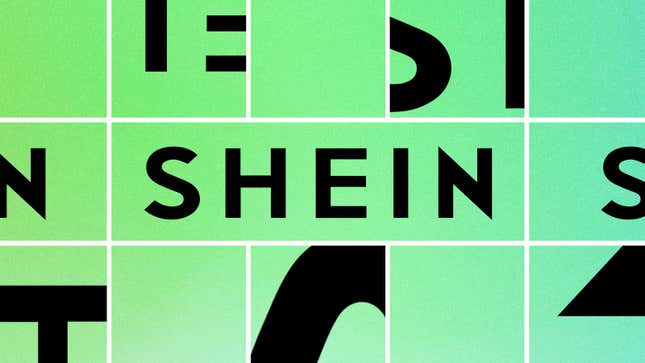 Hi Quartz members,
If you go to YouTube and type in "Shein haul," you might begin to understand the Chinese e-commerce site's grip on young shoppers around the world. For $16, an aspiring fashionista can acquire a cotton floral dress, for $6 an electric blue bikini, or for $2.50 a pair of dreamy fake eyelashes. The arrival of Shein clothing—which is quickly produced but can take awhile to be delivered—is akin to a fast-fashion unboxing.
It wasn't always this way: Five years ago, few people had heard of Shein, even as competitors like Zara, H&M, and Uniqlo were dominating global retail sales. But a combination of social media savvy, proximity to the world's largest manufacturing hub, and a quick grasp of Gen Z's taste has made Shein one of the hottest retailers in the world: In May, it surpassed Amazon to become the top shopping app by new downloads in the US.
Shein was founded in 2008 by search-engine expert Chris Xu, and spent its first four years in the wedding dress business before shifting focus. While Shein's model takes inspiration from Zara, it manages to be even faster thanks to its internet genes.
Step 1: The company uses tools like Google Trends Finder (link in Chinese) to track consumers' tastes by looking at the most searched words in each country. That allows it to predict which fabric, colors, or styles will take off in a region, according to Chinese outlet Late Post.
Step 2: Shein gives its suppliers, which are mostly based in China, access to consumers' search information and a design database, according to Bloomberg.
Step 3: The suppliers are required by Shein to complete production within 7-11 days, compared to the three weeks it generally takes Zara products to go from design to sales floor.
Step 4: Since Shein doesn't have physical stores, it can produce clothing in small amounts to test market reaction. Only once a style gets a good response does Shein order more from suppliers.
Step 5: Shein boasts an ultra low price point, in part thanks to policies in China and the US that exempt it from most export and import taxes. The company also promotes coupons constantly, a tactic often used by Chinese players like Alibaba's Taobao.
Step 6: Once they receive their Shein hauls, Gen Z-ers promote the website organically on social platforms (the hashtag #Shein has over 10 billion views on TikTok). Each sale gives Shein more data on customer preferences, which feeds back into Step 1.
At the moment, Shein looks unstoppable: With backing from investors that include IDG and Sequoia, the company's annual revenue is currently estimated at $10 billion. Still, increased restrictions for Chinese companies operating overseas—and increased pushback on China in the US—could limit Shein's made-in-China-but-serves-the-world approach. The company seems at least somewhat aware of that tricky position: On its website, you can find almost no trace of Shein's Chinese roots.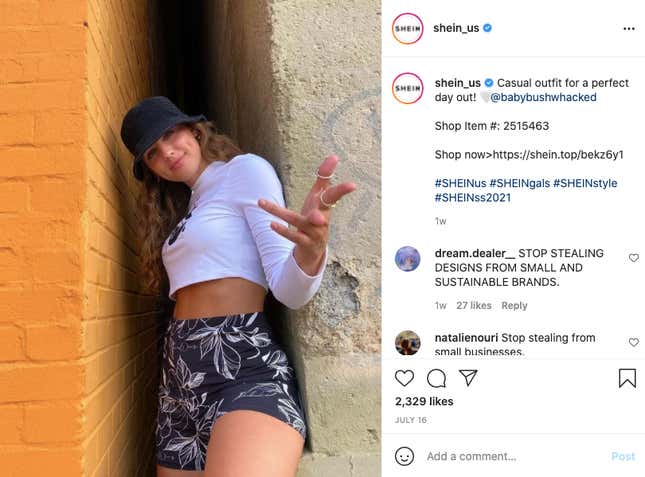 ---
A brief history of Shein
2008: Shein's predecessor was founded under Nanjing Dianwei Information Technology by Chris Xu Yangtian, who had worked in search-engine optimization. Xu's company would soon take the English name "Sheinside."
2009: Sheinside starts selling wedding dresses to overseas consumers.
2012: Xu shifts focus from wedding dresses to modern women's clothing.
2014: Sheinside is rebranded to Shein (pronounced SHE-in, a play on its previous moniker). Shein acquires a fellow Nanjing-based international clothing business, Romwe (link in Chinese), founded by a previous business partner of Xu's.
2016: Citing "local market research," Shein announces that it will stop using "suppliers of mediocre quality products" and will use all its own models in product images.
2020: Shein's valuation reportedly reaches $15 billion.
---
Growing pains
Shein's ascent has its critics. Here are some of the biggest concerns about the company:
♻️  Environmental impact. Many worry about Shein's fast turnaround times and use of cheap synthetic fabrics, which could end up in landfills for a long time to come. Shein has said it only produces between 50 and 100 pieces of each new product to avoid waste, and does its best to source from recycled fabric.
💼  Labor practices. Shein says it has never used any forced or child labor, and "proactively campaigns against unethical pratices" in this aspect. But according to Good on You, a Sydney-based rating site for brand ethics, the company has a "very poor" rating for both its labor practices and environmental impact.
🇨🇳  Xinjiang. It's unclear if Shein sources material from this region, where Beijing is accused of detaining 1 million Uyghur and other ethinic minorities in "re-education" camps. But the controversy around cotton from Xinjiang could affect Shein's image overseas. It might also sway influencers or celebrities who have collaborated with the brand, including Katy Perry and Lil Nas X.
👠  Copycat designs. Shein has faced multiple accusations from smaller designers who say the brand is stealing their looks. While other fast-fashion retailers often face lawsuits from luxury brands over trademark issues, complaints about Shein find their way to Twitter and TikTok, where thousands of commenters vow to boycott the company's products in response.
📚 Cultural faux pas. Going international requires a good understanding of different cultures… and their taboos. Shein has apologized for selling Muslim prayer mats as decorative rugs, and had to pull its listing for a necklace with a swastika-like pendant (which the company says was meant to portray a Buddhist symbol). Shein set up a product review committee to avoid future missteps, but the pace of its new items will make perfect oversight challenging.
---
By the digits
$15 billion – $30 billion: Shein's current valuation, depending on who you ask
$10 billion: Local estimates of Shein's annual revenue, according to Forbes
£300 million ($414 million): What Shein offered for Topshop parent Arcadia, a deal it eventually lost to Asos
220: Countries Shein ships to
500: New items added to Shein's website every day
7%: US teenagers from high-income households who say Shein is their favorite e-commerce site (second only to Amazon)
---
Person of interest
Shein founder and CEO Chris Xu is known for his low profile: When an acquaintance suggested Shein build a PR department to deal with interview requests, Xu reportedly said (link in Chinese) that he didn't care how the media wrote about the company, but would sue any outlet that wrote something inaccurate.
Some details on Xu come from Li Peng, a former business partner, who told Late Post that Xu is from a modest background and subsisted on steamed buns with soy sauce as a child. After the 2008 financial crisis, the two started talking about whether a struggling middle class would yield new opportunities to sell affordable clothing.
Like its founder, Shein stays under the radar at home. While e-commerce giants such as Alibaba capitalize on China's enormous consumer base, Shein has focused solely on overseas markets: Few in China have even heard of it.
---
Keep learning
---
Correction: Last week's email on Krispy Kreme said JAB still owns 78% of Krispy Kreme after the latter's IPO. JAB distributed shares to investors post-IPO; its ownership stake is now 38%.
---
Thanks for reading! And don't hesitate to reach out with comments, questions, or companies you want to know more about.
Best wishes for an affordable end to your week,
Jane Li 
Tech reporter in Hong Kong (and Shein window shopper)